Declutter Your Kitchen



For a faster, more profitable home sale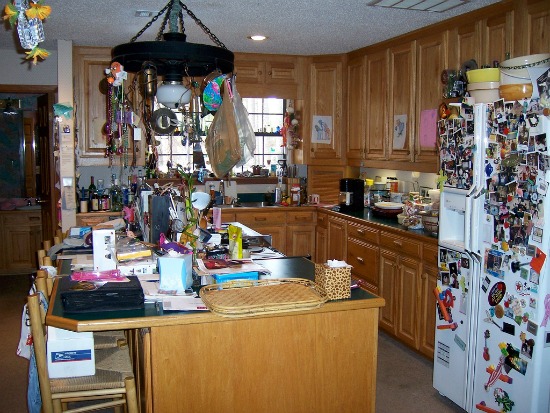 Would you buy this house after seeing this kitchen? Even the light fixture over the island didn't escape the chaos.
Declutter your kitchen before you place your house on the real estate market to keep buyers from walking away. 

The kitchen is one of the most important rooms to consider when buying a house. Buyers may love the rest of your house, but if the kitchen fails to meet their expectations, they may walk away.
Some Realtors even say that you are selling your kitchen, not your home!
Buyers are looking for spacious countertops, a good work triangle, updated appliances and plenty of storage space.
If your kitchen needs more than a little updating, a simple renovation could be the answer. Kitchens and bathrooms are two areas where a renovation can give you a big return on your investment when selling your home. 
If you're worried about a small kitchen and how it will show to buyers, see small kitchen decorating ideas for home staging tips on how to make small rooms appear more spacious.
Unfinished kitchen projects
Very few buyers will want to take on an unfinished renovation project.
This kitchen is very close to completion. It just needs matching appliances, window trim and flooring. A tile or granite backsplash would send this kitchen over the top.
Unfinished construction projects are a real buyer turnoff. It's a rare home buyer that will want to take on another's unfinished renovation project.
Despite what you see on TV, there just aren't that many do-it-yourself types out there that want to move into a new home and work on it while living there. 
Before You Declutter Your Kitchen
Collect boxes, totes, garbage bags, bubble wrap, tape and permanent markers. Label your boxes and bags appropriately; donations, move, throwaway or yard sale.

To make the job more palatable, divide this chore into segments of 20 minutes. If you're in a hurry, do it in two days. Work on upper cabinets the first day and lower cabinets the second.
How to declutter kitchen cabinets and drawers
Buyers will think your kitchen lacks storage space if the cupboards and drawers are crammed full.
Illusion plays a key role in the art of home staging. Leaving spaces around items will give the impression that there is plenty of storage room in your kitchen.
This is your chance to get rid of rarely used items. Donate appliances you never use and pack up grandma's punch bowl that you drag out only once a year. 
As you declutter your kitchen cabinets, you'll notice things out of place. Put these items aside for the appropriate cabinet later.
Organize your cupboards by grouping similar things together; canned items, plastic food containers, pots and pans, and so on.
Two Great Home Staging Tips
1. When staging the inside of your cupboards, return only 1/3 to 1/2 of the items . Leave spaces between items to create the illusion of more space. 
2. Use the grocery store trick of "facing" items toward the front so your cupboards look neat and organized.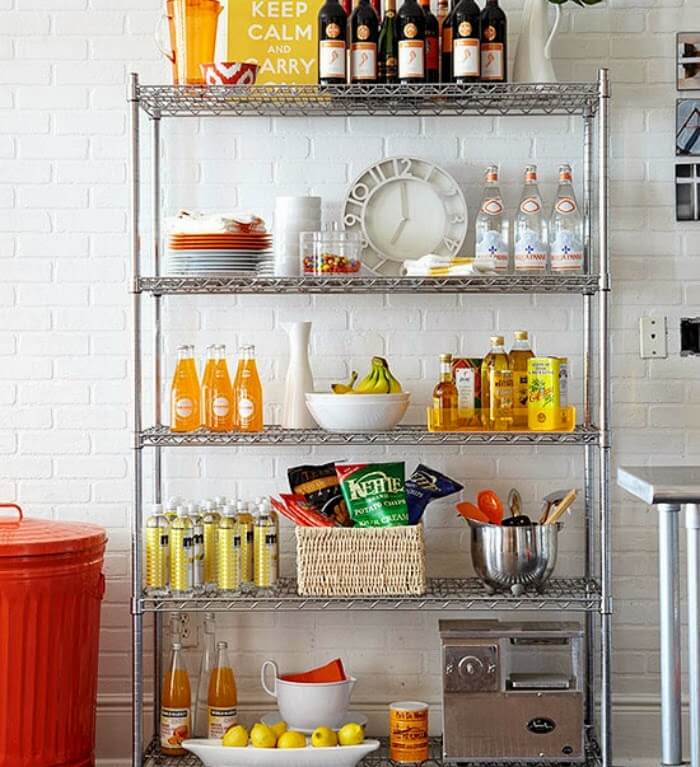 Photo by cozylittlehouse.com
If you lack storage space, yet have extra floor space in or near your kitchen, consider purchasing a shelving system like the one featured here. 
Group like items together on open shelves, facing items toward the front. Stash items in baskets, large jars or crocks so they look pretty.
If you have an excessive amount of plates, glasses, mugs, etc., box most of them up for your new home. 
Color-coordinate items on open shelving as well, as featured in this picture. 
Use organizing systems to arrange cupboards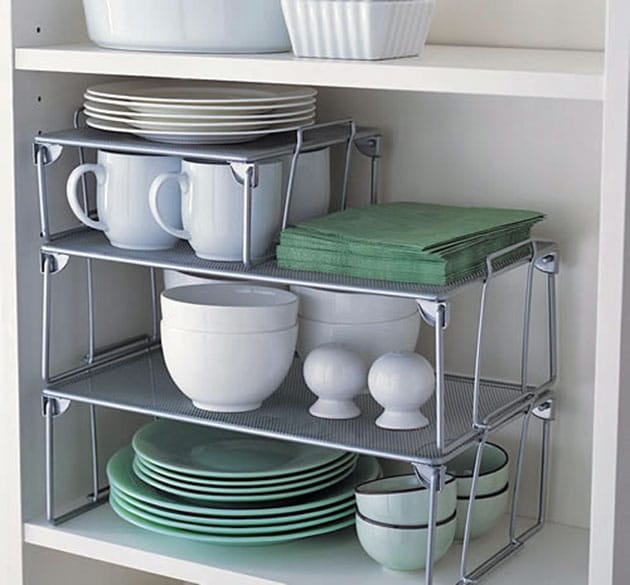 Organizing systems are a home stager's best friend!
Kitchen organizing systems go a long way to help you declutter your kitchen by creating extra storage vertically.
Beautifully organized cabinets, drawers and pantry will always make a good impression on home buyers
After seeing your neatly organized kitchen, buyers will assume the rest of the home has been well-maintained.

Organizing systems for the inside of pantries, cabinets, and drawers can be found practically everywhere; home improvement stores, Walmart, Kroger's, and of course, Amazon.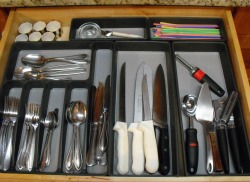 For messy utensil or "junk" drawers, use inexpensive trays and boxes to keep things tidy. 
Buyers are always impressed when they open a neatly organized drawer.

I particularly like the drawer organizer in the picture on the right-- I use it in my own kitchen.
It has rubber feet on the bottom that prevents any sliding when you open the drawer.
Look for this product and others like it at www.madesamart.com.

How to stage your pantry
Having a pantry in or near your kitchen is a huge bonus! Buyers love them and be get excited no matter how small it is.
If your pantry is overflowing and unorganized, pull everything out, purge some items then return only 1/3 to 1/2.
Stage your pantry as attractively as possible, using pretty baskets, jars, boxes and canisters.
If you have any outstanding glassware like; cake stands, colored jars, pottery, your finest dishes, etc., arrange them on the pantry shelves. 
If you do your own canning, line up your jars in neat rows on the shelves. Canned produce always looks pretty on display in a pantry and buyers will love the way they look.
Be sure to space objects wide apart as shown in the picture, to create an impression of spaciousness.
Don't forget to line items up precisely and face labels toward the front.
Kitchen cabinet solutions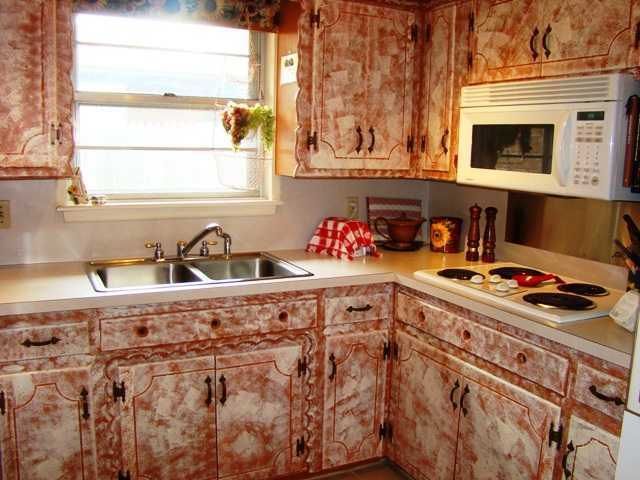 This "taste specific" kitchen could be a deal breaker, as it will most likely appeal ONLY to the person who painted it.
If you plan on renovating, be sure to avoid "taste specific" paint color schemes like red or neon lime green.
In fact, if you are thinking of painting your walls red, think twice. Once trendy, red is now considered the worst color in 2021 to paint your walls. if you have a house for sale.
Avoid trendy styles and embellishments, like stenciling or glazing. Browse through home decor magazines or go online to view custom kitchen cabinets for ideas.

Reface damaged or outdated kitchen cabinets
Damaged or outdated kitchen cabinets can be spruced up with a good cleaning, a coat of paint or by simply refacing the doors. 

If your kitchen cabinet doors are in bad shape or outdated, consider replacing just the door panels. It's easier and less expensive than replacing the entire cabinets.

When refacing, the boxes and frames of your existing cabinets are kept intact. You can buy doors already finished or refinish your own. DON'T reface kitchen cabinets if your cupboard frames are in bad shape.
There are a number of places that offer kitchen cabinet refacing. See kitchenreface.com for more information. Kitchen cabinet door suppliers; Ikea, homedepot.com and cabinetstogo.com
Paint old kitchen cabinet fronts
A fresh coat of paint is often the remedy for reviving tired and outdated kitchen cabinetry.
You must remove all the cabinet doors and hardware, sand, prime, dust, paint, sand again then paint your final coat. Plan on eating out for at least 4-5 days!
Use a High Quality Paint for Cabinets
My husband and I painted some outdated kitchen cabinets in an older home once. We used Benjamin Moore paint.
I was concerned that painting over old cabinet faces would look tacky, so I was astonished by the beautiful results! With updated cabinet hardware, the cabinets looked like new. 
Below is a video showing you how to paint your kitchen cabinets the right way. Video by Jennifer Stagg.

Update kitchen cabinet hardware
Adding new cabinet and drawer hardware is a quick and affordable way to update a tired kitchen.
You may need to fill the old hardware holes before you paint if they don't correspond with the replacement hardware. To avoid this problem, take the old hardware to the store with you and select new ones with matching holes.
If you are planning to sell your home, select neutral hardware like polished nickel, satin or brushed finishes. Avoid brassy tones or "taste specific" hardware that may appeal only to a few. I realize that brass hardware is popular in 2021, but it doesn't stand the "test of time" like the silver tones do.
Watch the video below by alchemyfineliving to learn how to fill hardware holes.
Do you need to update your kitchen countertops?
After you have decluttered you kitchen, it's time to think about your countertops.
Buyers have become very demanding in their kitchen countertop preferences these days, preferring granite, marble, or quartz over less expensive options.
If your kitchen countertops are in dire need of replacement, consider a precut slab of granite, Silestone or CaesarStone. Pre-cut slabs can be found at much lower cost at Home Depot, Lowe's, and other home improvement stores.
Most home improvement stores provide installation services or instructions on how to do-it-yourself, as well.
For a high-end look without the maintenance of marble, try engineered quartz countertops. They look beautiful and the surface is nonporous and durable.
Do you need a kitchen backsplash?
I always think a kitchen looks incomplete without a backsplash in the same way that a woman's outfit needs accessories to complete it. 
Adding a backsplash to your kitchen will bring color, texture and sparkle, plus it will make clean up easier.
A kitchen backsplash doesn't have to be fancy to look good. Affordable and always classic subway tile is will enhance any kitchen decor. 
Kitchen appliances should match if you're selling your home
If you don't do anything else in your kitchen, get matching appliances! Many a buyer has walked away from a home with mismatched appliances.

MATCHING kitchen appliances will bring a higher return for sellers, so get rid of old ones that make your kitchen look dated. If your appliances don't match, buyers will add this to a list of items to negotiate the price of your house down.
You don't have to go all in on stainless steel appliances. In fact, they may not look right in your kitchen.
If you can't afford to replace outdated kitchen appliances, try re-facing the fronts with an affordable sheet of stainless-steel film. EZ Instant Makeover offers a high quality vinyl film that will stick to the surface of any smooth-faced appliance you wish to update. 
In addition to kitchen appliances, you can also use this stainless-steel film on any flat surface, like counter tops, backsplashes and shelves. This product is scratch and heat resistant and easy to clean.
The kitchen sink
For instructions on cleaning stubborn stains and making your type of kitchen sink look great, see cleaning your kitchen sink.
If you have a smelly garbage disposal, throw a couple lemon halves in to freshen it. If that doesn't work, see removing bad odors for more ideas.
Cleaning and repairing kitchen tile grout
See cleaning grout for tips that will refresh the look of your kitchen tiles.
Sparkling kitchen tiles will help sell your house faster and keep home buyers from negotiating the price down.
If your kitchen grout is in need of replacing, watch the instructive video below for help in removing and replacing grout yourself. Video by essortment.
Be sure to clean and stage your refrigerator
Don't forget about cleaning out the fridge when decluttering your kitchen. Buyers often look inside the fridge to check out the space, so it's vital that it looks spacious and clean. 
When you've finished decluttering and cleaning your kitchen, it's time to move on to the FUN part of the home staging process. See staging the kitchen for home staging tips. 
Return from declutter your kitchen to declutter your home 
Go to home page