Cleaning Grout Tips



For a faster, more profitable home sale
Cleaning grout throughout your home can make the difference between selling your house fast or watching buyers walk away. 
Not only does dirty grout look awful, it may cause buyers to think your home has been neglected in other areas, as well. As a former real estate agent, I can attest to that.
Yes, I know it's a messy, time consuming project that requires tools, elbow grease, and the possibility of having to get down on your hands and knees.
On the bright side, cleaning tile grout is a chore that can be done in small increments! Plus, it's a diy task that almost any homeowner can do.
Using a good grout cleaning product can make the job easier. The right grout cleaner will go deep, breaking down the scum and dirt that collects between the tiles, making them look new again.
The result is well worth the effort, which will make your entire home appear clean and well maintained, thus more appealing to buyers.
How to clean tile grout



Note: Avoid using acidic cleaners or products containing bleach on natural stone tile, such as: travertine, granite, marble, slate and limestone. Acidic products and bleach will damage natural stone, and over time, damage the grout, as well.
Nontoxic and natural grout cleaners
There are a multitude of different methods for cleaning grout, some of them quite unconventional and crazy! I have personally tried all of the grout-cleaning methods on this page. I prefer not to use acidic grout cleaners, as they can destroy the grout as they clean.
White vinegar - Heat 2 to 4 cups of white vinegar, WARM, not hot. Pour into a spray bottle and spray on grout lines. Let it set for a few minutes, then scrub with a soft-bristled scrub brush. Rinse with clean water. (Note: DO NOT USE vinegar on unsealed grout! It must be sealed.) I was moderately pleased with the results.

Shaving cream - I was skeptical of this method, but simply had to try it. I grabbed my husband's shaving cream and tested it. The result was pretty good! After a little scrubbing, the grout was really white. I'll definitely use this cheap, nontoxic and easy method again. Here's what I did...
I sprayed the shaving cream (Gillette Fusion Pro-glide Gel) on the grout lines, and worked it in with my fingers. I let it set for 10 minutes, then scrubbed gently with a damp toothbrush, (or try a soft-bristled scrub brush). Rinse with clean water.
White vinegar, baking soda & lemon juice - To 7 cups of water add; 1/3 cup lemon juice, 1/2 cup baking soda and 1/4 cup vinegar. Mix together in a bucket, then apply the solution to the dirty grout with a toothbrush or an old paintbrush. Allow the solution to set for a couple minutes, then scrub gently with a toothbrush. Rinse well with clean water, then wipe off with a damp rag. (This is a very acidic mixture. DON'T use it on unsealed grout.)
Listerine? - If you google "How to clean grout," a bunch of websites will pop up proclaiming the miracle of using Listerine on tile grout. As a true skeptic, I had to try it. Sadly, there was no miracle, and I was NOT impressed with the results-- it did okay, but required far more scrubbing than other methods.
If you want to try this, spray full strength Listerine on grout lines and leave on for at least 5 minutes. Use a soft scrub brush or toothbrush to scour the dirt away. Rinse well with clean water.
Baking soda & vinegar - Make a paste of baking soda and vinegar. You'll need a damp toothbrush or small scrub brush. Apply the paste to the grout lines and scrub gently with the brush until the grime comes off. Rinse with clean water. 
See the video below by "essortment" for a demonstration on how to do this.
Commercial grout cleaners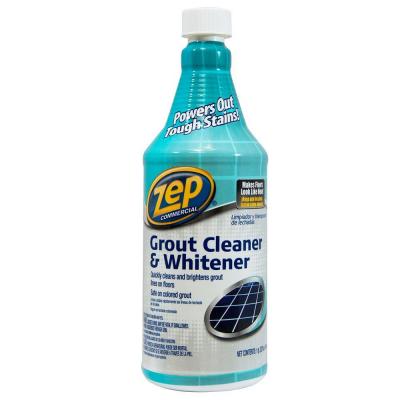 Zep Grout Cleaner & Whitener
Zep cleaning and whitening product has received many great reviews. Although it's only for use on floor tile, I confess to sneaking a little on my shower tiles as well, because it works so well.
Don't use Zep Grout cleaner and whitener on marble, stone, metal or Corian. ZEP doesn't contain any bleach and requires very little scrubbing to clean grout.
Another positive is the lack of noxious fumes. Zep Grout Cleaner and Whitener is inexpensive, easy to use, and renders immediate results.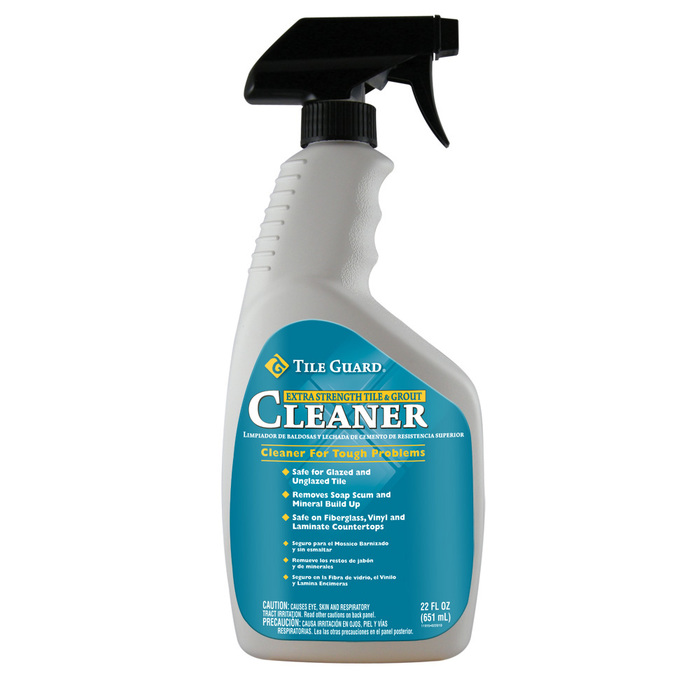 Homax Grout Whitener & Sealer
Look for Homax Grout Cleaner at any home supply center.
Homax Grout Cleaner will not only whiten the grout, it seals it too, making it more resistant to soil, stains and mildew.
To use, simply apply the product carefully to the grout lines according to the instructions. Scrub the grout clean with a stiff grout brush.
This product is suitable for use in showers and on floors.
The best grout cleaners for natural stone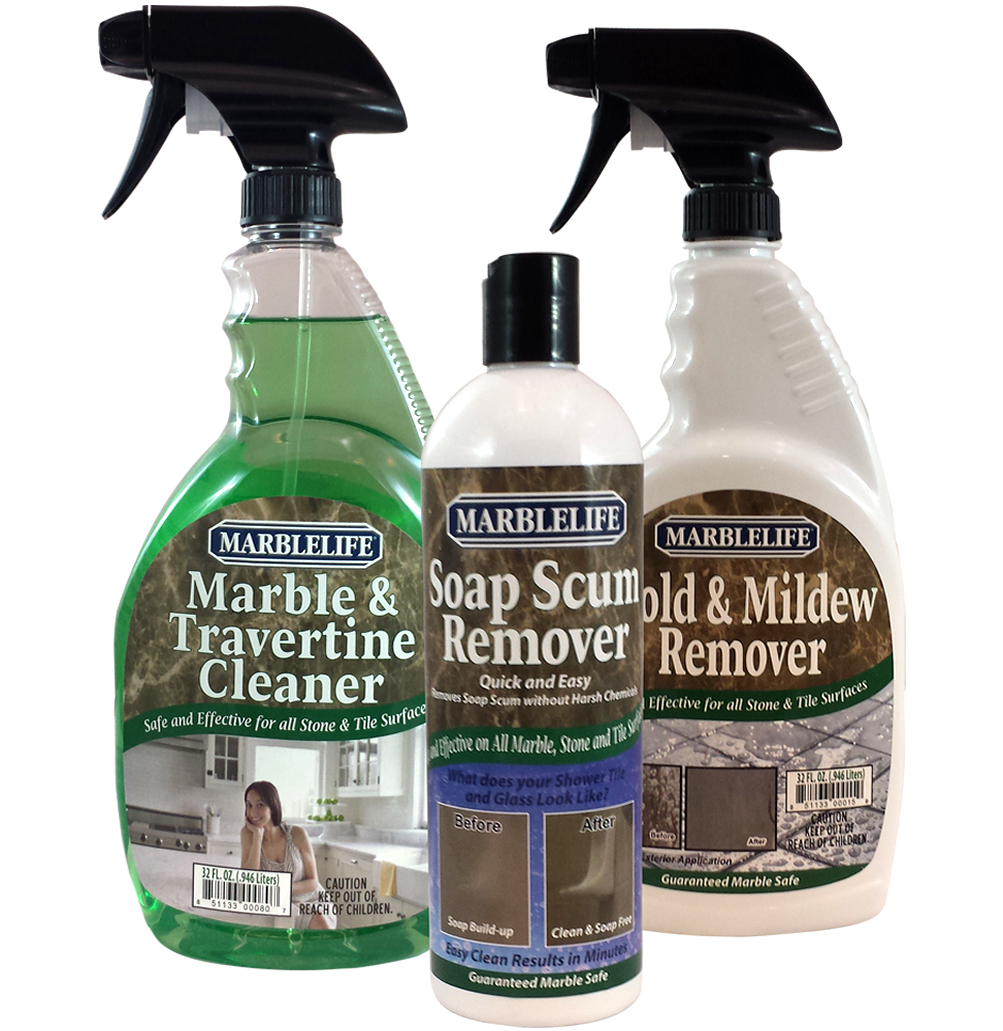 Rather then running the risk of damaging your natural stone tiles, it's best to use products made specifically for them. There are plenty of good products to choose from, but I have had success using Marblelife on my travertine shower tiles.
Marblelife also makes a handy grout cleaning kit that includes the following products below. 
Stone Cleaner (32 ounce)- Selected and formulated for your surface.
Soap Scum Remover (16 ounce)- designed to remove soap scum with ease and without scratching your glass, metal, tile or stone surfaces
Maxout Grout Cleaner (32 ounce) – to remove built up dirt to see the natural grout color again.  See our video and you'll literally see the sand crystals in the grout glinting back they are so clean.
Microfiber Towel – These high surface area towels can clean effectively themselves as they adsorb oils and streak materials with ease, supercharging and already powerful line-up.
Black Diamond Ultimate Grout Cleaner was voted the best grout cleaner for 2022! This product can be used on tile floors, as well as kitchen and bathroom tile.
This is a gentle grout cleaner that's safe to use on natural stones and colored grout. It won't even hurt your skin! In addition, this acid-free formula also will not damage your grout as it cleans.
The manufacturer's instructions recommend that you spray the cleaner directly onto the grout and let it soak for up to three minutes. Scrub well, then rinse with clean water. They also admit you'll need to apply some elbow grease, which I can attest to. 
Oxygenated bleach, a "green" method for cleaning tile grout
Oxygenated bleach -  This is a compound of natural soda crystals and hydrogen peroxide that is non-toxic to humans. This is the preferred product for those wanting to be "green." (Note: This product may damage colored grout, but is safe for use on all tile types.)
You'll need:

Oxygenated bleach
Bucket
sponge
scrub brush
rag
1. Dissolve 2 tbsp. of oxygenated bleach into 2 cups of warm water in the bucket. Stir well to fully activate the oxygen bleach. Use this mixture right away for best results.
2. Test the bleach in an unobtrusive section first to make sure it doesn't bleach or discolor tile or grout.
3. Working in manageable sections, pour the bleach onto grout lines, fully immersing the grout lines. With a nylon bristle brush, work the solution into the grout lines in a back and forth motion, then let it set for two minutes.
4. For stubborn stains, dip the brush directly into the bleach powder and brush onto the grout. Rinse well with water and dry the tile with a towel.
See the video demonstration below on how to clean tile grout with oxygenated bleach. Tim Carter uses a slightly different method than the one above. Video by stainsolver.com.

When all else fails, try muriatic acid!
I have personally used this product in my tiled shower with great results. Be careful not to splash it on your skin, like I did when I was trying to remove grout haze. It stings!
Work in a well-ventilated area; open the window and turn on the fan. Wear gloves, goggles, and protective clothing, (long sleeves!).
Mix 1 gallon of water to 1 cup of muriatic acid in a bucket according to the manufacturer's instructions: Pour water in the bucket first, then add the acid.
Warning:  Always add muriatic acid to water, not the reverse, as doing so will create a toxic chemical reaction.
Try this clever method by Michael Slone in the video below.
After you've cleaned the grout with the muriatic acid, you'll need to neutralize the grout area, as the acid is still working. Rinse the grout with a baking soda and water mixture to stop the action.
Don't Forget to Seal the Grout
After you have cleaned any tile grout, you MUST reseal the area with tile and grout sealer to further protect it. Sealing your tile will make the tile easier to maintain, as the sealant provides a protective barrier that keeps moisture from penetrating.
Be sure to get the right sealant for your tile type. 
Products that failed for me
Bleach Pens - Sure, they whiten the grout, but at what cost? Leaving bleach on grout can eat away at it. Besides, it takes a slew of expensive bleach pens to get the job done, plus I still had to scrub a lot!
Magic Eraser - Do they work? Somewhat. But very expensive, just like the bleach pens. 
Return from cleaning grout to declutter your bathroom
Go to home page
Updated 11-15-2022