Small Bathroom Storage Solutions




DIY Home Staging Tips




for a faster, more profitable home sale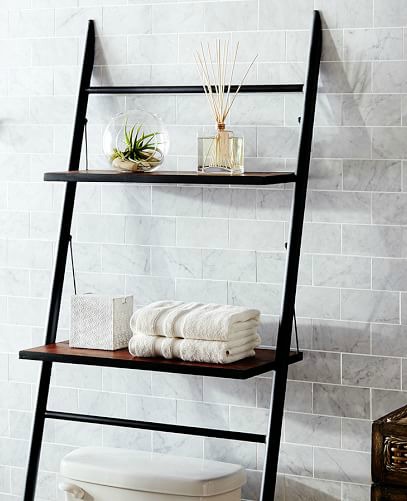 This ladder shelving by Pottery Barn takes up very little visual space
Check out these small bathroom storage solutions that will help you overcome the limitations of your small space. 
Just because your bathroom is small doesn't mean you have to sacrifice on storage and style!

When adding storage to a small bathroom, you need to weigh the risk of sacrificing aesthetics against gaining more storage. Everything visible should be appealing to the eye.
Anything you move into a small space will most likely make it look smaller and cluttered. 
Read on to learn some small bathroom storage solutions that will add style and function, without cluttering up your small space.
See small bathroom design ideas to learn some home staging tips and tricks on how you can make a small bathroom appear larger!
Small bathroom storage solutions
Bathroom design ideas for shelving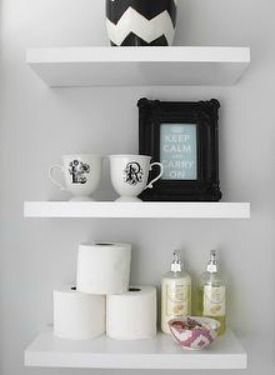 Open shelving gives you a clean, contemporary look
Install open shelving instead of closed bathroom cabinets for extra storage. 
I love floating shelves, because they look so clean and contemporary, and take up less visual space than those with heavy corbels and ugly brackets.

Open shelving reduces visual weight and adds extra depth by allowing your eye to travel all the way to the wall. Use shelving narrow that won't protrude too far into the room.

When you accessorize open shelving, keep plenty of space between objects. This creates breathing room, which translates to that open, airy feeling. 
Focus on using just a few standout accessories on your shelves instead of a collection of small objects, which can look cluttered.
Glass shelves increase a room's sense of space because they can appear invisible. Items placed on them seem to float in space.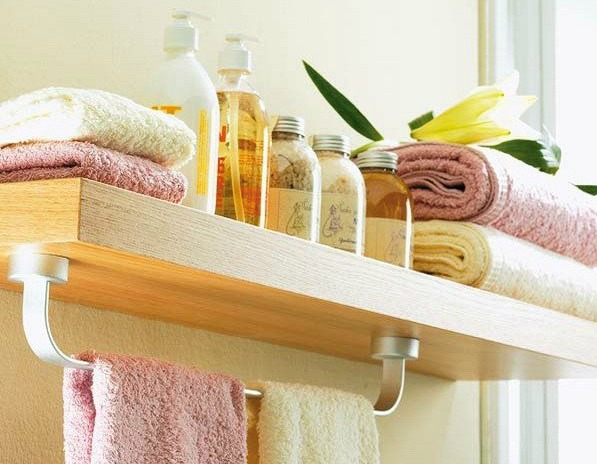 Hang a shelf with a built-in towel bar
Hang a shelf with an attached towel bar over the toilet, or elsewhere in the bathroom.

Using vertical space for small bathroom storage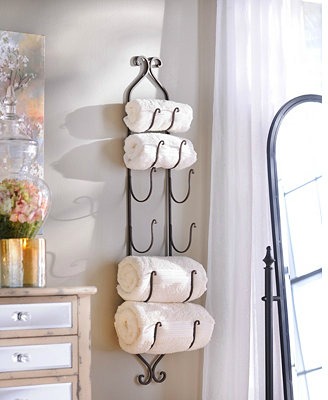 Hanging towel/wine rack by Pottery Barn
Using vertical lines will seemingly "raise" the ceiling, making a small bathroom look larger.
Take advantage of unused vertical space by replacing bathroom cabinets with taller ones that go all the way to the ceiling.
Hang open shelving that goes all the way to the ceiling. 
How about the area above the toilet? There's a lot of potential storage space in this often neglected area of the bathroom.

Copy a practical and pretty bathroom design tip that hotels have been using for years. Hang a combination shelf and towel holder above the toilet or elsewhere in the room.
Lean ladder-style shelving unit over the toilet, or elsewhere in the room.
Accessorize your ladder with accessories, towels, reading material, or baskets filled with daily essentials.
Gain storage by placing an over-the-toilet shelving unit above the toilet. Hide daily essentials inside baskets and pretty boxes with lids.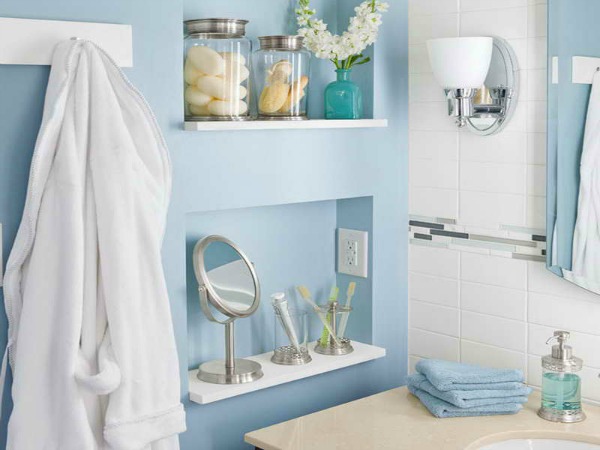 Gain storage by opening up space between wall studs for recessed shelving
Open up a wall and build recessed shelving between the studs for extra bathroom storage. 
Add a ledge to a window sill for extra storage for items like a basket of towels or soaps, pretty colored bottles, or candles. 
Add a shelf at the top of the bathroom door for extra storage. Reserve the space for items used infrequently, like cleaning supplies. Hide them in pretty baskets.
Storage cabinet space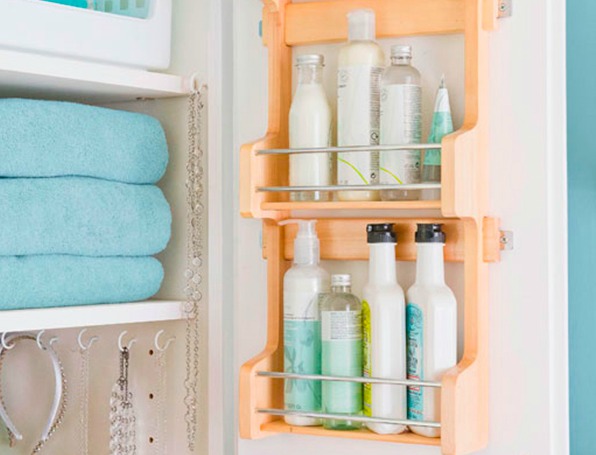 Mount spice racks inside bathroom cabinet doors for extra storage. Available at Lowes.com
Install kitchen spice racks on the inside of bathroom cabinet door for storing skincare products, makeup, and bottles. Look for spice racks at; The Container Store, Lowes, Amazon, Bed Bath and Beyond, Ikea, and Wayfair.
Mirrored medicine cabinets can hide a lot of stuff! Opt for a recessed medicine cabinet over the style that protrudes into the room, which takes up valuable space.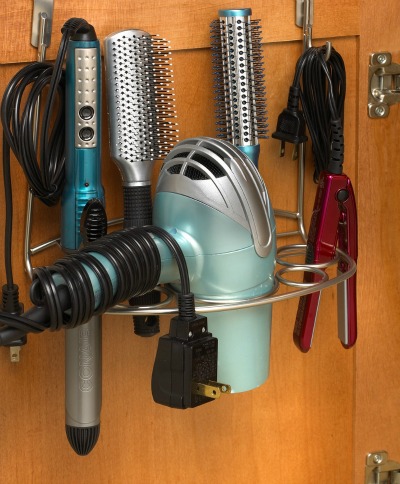 This hanger available at Wayfair.com
Double your storage cabinet space by installing two identical recessed medicine cabinets side by side. The extra mirror will reflect more light and space, giving the feeling of more room.
Replace a pedestal style sink with a solid cabinet style with cupboards and drawers to gain bathroom storage. If you're worried about losing the "visual space", replace the cabinet door fronts with clear glass (not colored!) to keep sight lines open.

Keep see-through cabinet interiors uncluttered and neat with attractive storage containers to hide cosmetics and toiletries.
Install sliding drawers or shelving inside a bathroom storage cabinet for easier access. This allows you to use that space in the abyss at the back that's usually too hard to reach!

The inside of bathroom cabinet doors can be used for storage, as well. Install a hanger for a blow dryer and curling irons.
Furniture for small bathroom design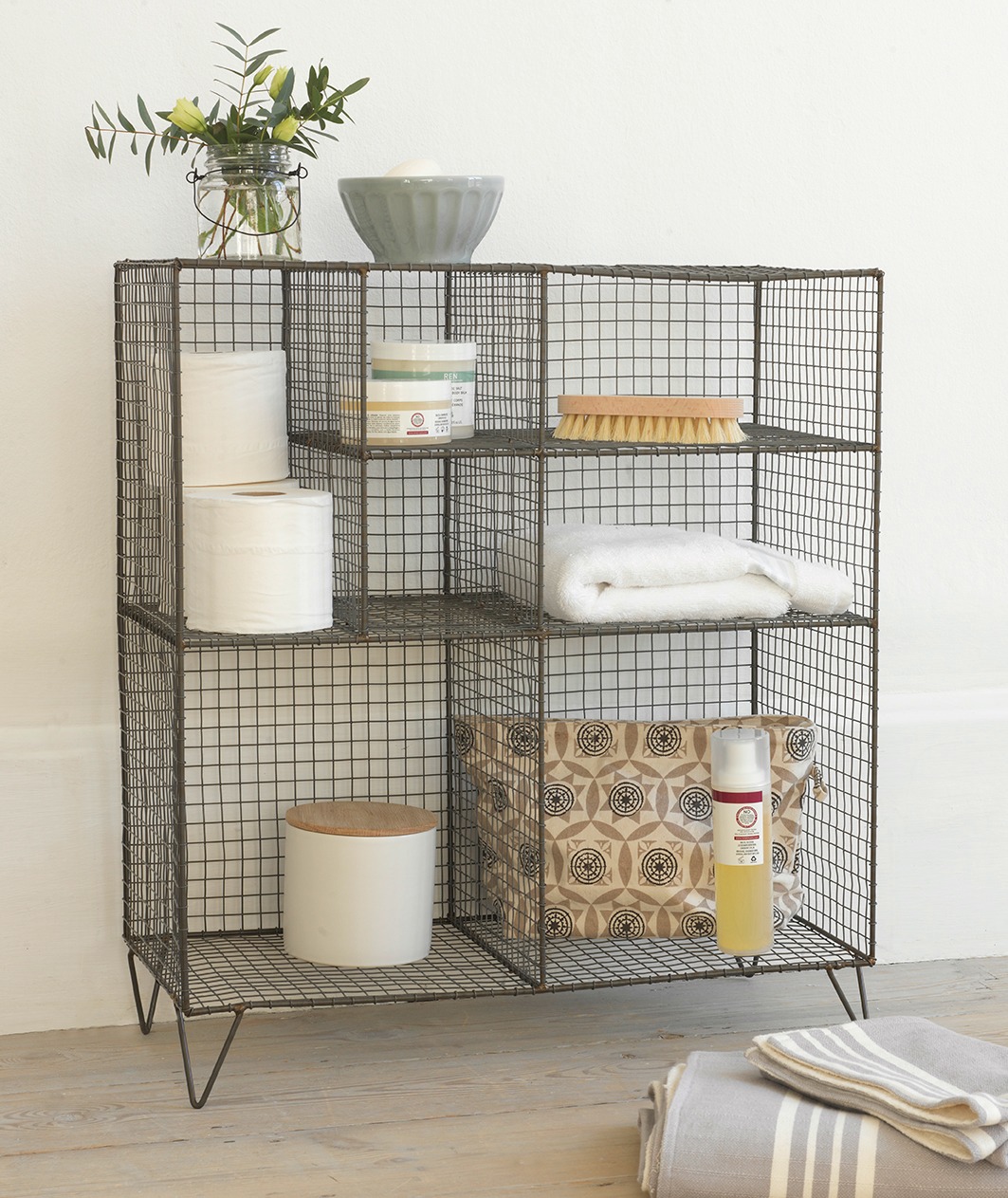 Wire rack unit available at loaf.com
Scour local flea markets, yard sales, and antique stores for possible small bathroom storage solutions that will fit into your small bath.

Use one larger piece of furniture rather than lots of smaller pieces that crowd the room. 
The wire basket storage unit on the right appears to take up very little room, because you can see through it all the way to the wall.
If you need seating in your small bathroom, take advantage of multi-functional furniture, that can serve as seating and storage.
Select a clothes hamper that can double as seating.
Look for a chest, ottoman, or trunk with a lift-top that can provide seating and storage for towels and linens.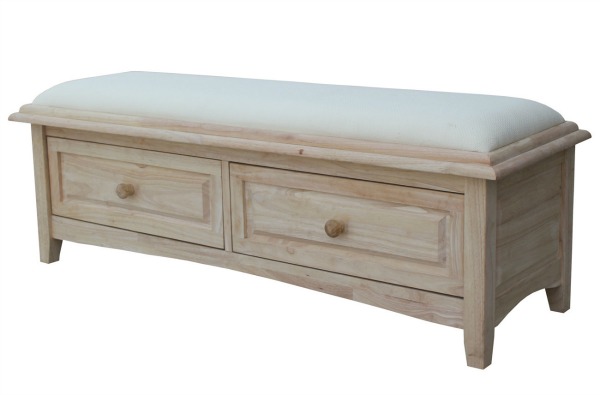 Storage chest is available at Wayfair.com
A picnic bench is narrow enough to fit nicely against a wall in your small bathroom.
An old school locker can fit snugly in a corner, or turn it on its side for a different effect. Spray paint it a fun color!
Look for a small vintage bedroom dresser, or nightstand for holding towels and other bathroom essentials.
Small bathroom renovation ideas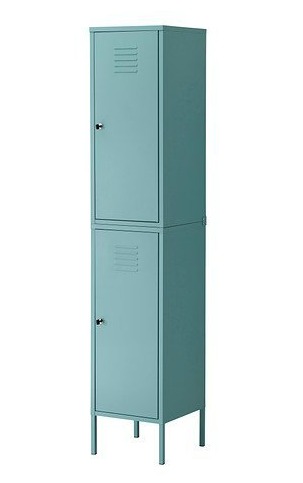 Find this pretty turquoise locker at IKEA
Like kitchens, bathroom renovations can really pay off in the end if you are trying to make a home sale.
If you are planning to do a bathroom remodel for the sake of adding more storage, here are a few bathroom renovation ideas that will increase the size of your tiny space: 
Steal a little space from the closet of an adjoining room. Take only a portion of the closet if you're worried about resale value, because technically, a room without a closet doesn't qualify as a bedroom.
Remove a wall between an adjoining room to enlarge your small bathroom. This can be a risky proposition, as you may be downsizing the number of bedrooms in your home, possibly decreasing the value of your home. But, if the remodeled bathroom is simply stunning, you may actually increase your home value.
If you have a separate shower and tub, remove both and replace with one amazing walk-in shower. You'll have that extra space where the tub was for storage cabinets. 
Replace the bathroom door with a sliding pocket door. This will give you more floor space inside the bath, as the old door will no longer protrude into the room.
Open up a wall and gain extra storage by building recessed shelving or bathroom cabinets between the studs in a wall. 
Return from small bathroom storage solutions to small bathroom design ideas
Go to home page