11 Best Tips for Staging the Foyer


(The First Impression Room)



For a faster, more profitable home sale
Before you place your house on the real estate market you need to consider the very first room that buyers will see.
Your curb appeal got buyers this far; don't let them down now!
This all important "first impression" room should WOW buyers as they walk through the door so they'll want to proceed through the rest of your home.
If they find themselves stepping over a flotsam and jetsam of shoes, backpacks and coats, they may assume that the rest of the house is just as disorganized and lacking in storage.
There's often a fine balance between appeal and the need for utility in an entryway. How can you make this space look welcoming without sacrificing on storage?

Your foyer doesn't have to be grand to impress buyers. A modest front entry can be welcoming too, as long as it is clean, organized, warm and inviting. 
According to the principles of feng shui, a positive landing place just inside the front door will welcome and direct the flow of energy into the house, rather than pushing it away or weakening it.
1. Declutter the entryway first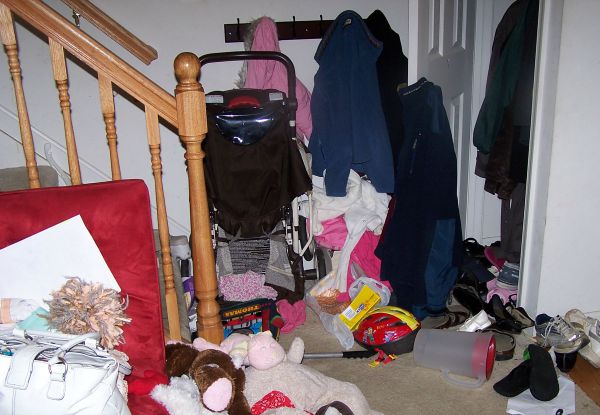 Home buyers will not progress past this point. They will not want to!
Nope, you just can't avoid this step. It's a necessary evil. And when you look at the above picture, it all becomes clear.
Decluttering the foyer will instantly make the space more functional and inviting for your family, guests, or home buyers.
Start decluttering by removing everything from the foyer
After everything is cleared out, stand back and assess the status of your entryway.
Look at your foyer with "buyer's eyes." Ask yourself what kind of feeling home buyers might get as they enter. Ask a friend for their opinion.
What is the condition of the walls and flooring?  Does it feel dark and gloomy as you enter, or is it well lit with natural lighting? Does it feel welcoming?
Head here for some helpful decluttering tips that will make the task more palatable.
2. What condition is the flooring in?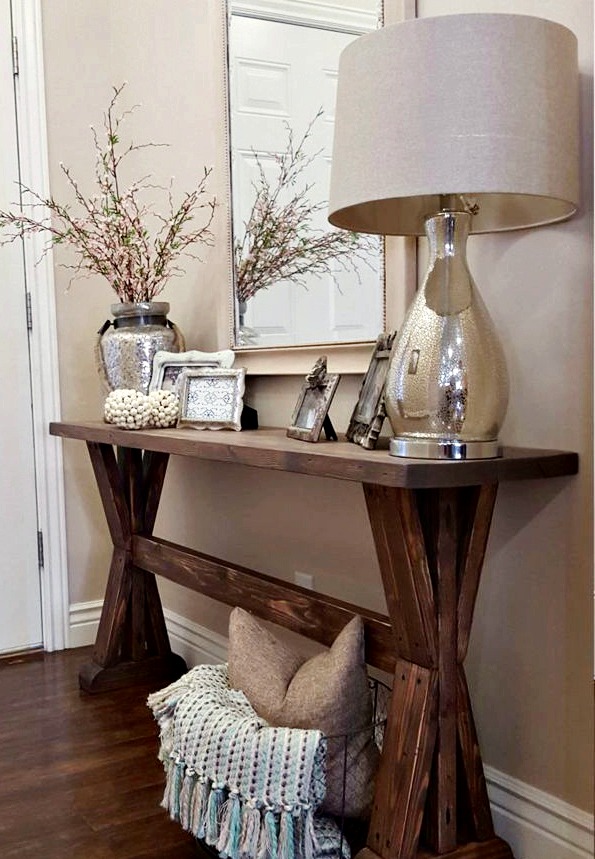 Floors can really take a beating in this high-traffic area.
If your flooring is in bad condition, this is a good time to replace or re-furbish it.
Doing so will bring added value to your home and keep buyers from negotiating the price of your house down.
If you do replace the entryway flooring, tile is an obvious choice, because of its durability and wide range of choices.
Slate tile works especially well in a foyer because the color and texture of this natural stone is great at hiding dirt.
Wood floors always look beautiful in a foyer, but are prone to scratching. Be sure to refinish your hardwood flooring if it needs it.
Protect wood floors with a door mat, runner or an area rug. An area rug will bring added color, style and warmth to your entry, as well.
3. Organize the entry closet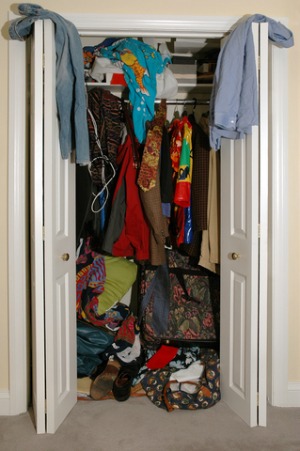 This closet sends a clear message to home buyers...no storage!
When I was a Realtor, I observed that pretty much every buyer will open closet doors to check out the storage situation.
Be sure that your closets are prepared for this kind of scrutiny.
Begin organizing your closet by taking everything out.
Pack up out-of-season clothing, boots, hats and gloves for your new home, or move to another location in your home.
Get the family onboard with carrying their items to another room while your home is on the market.
Sort items into various boxes; pack, keep or donate. This is also an opportune time to prepare for a garage sale.
If your entry closet is showing signs of wear, this is a good time to repaint the interior, trim and door.
Install a shelf or closet organizing system, if needed. Buyers love organizing systems!
Assess the closet lighting. Is it too dark? Install some puck lights or swap out incandescent lighting for an LED light bulb. 
LED lights are brighter than other types of lighting of the same wattage.
4. Repaint the foyer in a light, neutral color
Why do home stagers always insist on light, neutral colors when preparing a home for sale?
Because neutral colors appeal to most people, whereas excessively bold, bright or dark paint colors are taste specific, meaning fewer people will like it. This applies to wall paper, as well.
You'll also want to select a paint color that relates to and flows easily into the next room.
A light, neutral color will do wonders for a small, dark foyer. It'll brighten and create a sense of a larger space. 
White is always a great choice for any small room. Select a white paint color with warm undertones to keep your foyer from feeling cold.
Only the essentials in this small entry. Light, neutral colors, warm area rug, small table and accessories.
Use a single color palette in a tiny entry. Uniting walls and flooring in the same color will make the space feel even larger, because the eye can flow freely without a color break interruption.
If you have a closet, painting the door in the same neutral color as the walls will add to this feeling of spaciousness. 
Painting window trim and ceiling and floor trim the same color will have the same effect. 
A low ceiling painted white will seemingly "raise" the ceiling, as well.
What about a large foyer? Large foyers can often feel cold and unwelcoming. Paint walls and ceiling in a darker neutral tone to make the space feel cozier. Select a warm shade, as they are "advancing" colors that will draw a space in. 
Foyer baseboards can really take a beating when people kick off their shoes and send them flying. Take this opportunity to repair and repaint scuffed or scratched trim work, window sills and baseboards.
5. Look for a focal point in the foyer
If you're lucky, your front entry will have a focal point, like a stunning chandelier, an interesting architectural detail, a stained glass window or a sweeping staircase. 
In the photo above, the elegant staircase is easily recognized as the focal point in the room. The foyer itself feels a bit stark though, with white walls, cold tile floor and an area rug in the wrong color and style.
How to make your own focal point in the foyer
Replace an outdated or boring light fixture with a striking pendent or contemporary chandelier;
Place a console table, an antique dresser or chest in the entry-- it can double as storage; 
Hang a large, colorful painting, fabric art, ornamental mirror or clock over a console, or let a piece stand alone if there's no room for furniture;
Place a tall leafy floor plant in a corner; be sure that people don't brush against it when they walk by.
Place a warm and colorful area rug in the entry;
If there isn't room for furniture, install a narrow wall shelf instead. Hang or lean a large mirror above to expand the space. Mount hooks for coats.
6. Update the lighting in the entryway
If you have a window(s) in your entry, be sure to keep it clean, to allow maximum natural light in.
Wash foyer windows until they sparkle! If you hate washing windows as much as I do, try this product; E-Cloth. No chemical spray, just water and a bit of elbow grease. It cleans windows better than anything I've ever tried, so I'm happy to recommend it even though I don't get paid to. 
If the light fixture(s) in your entry is outdated or taste specific, this would be a great time to swap it out for a new one.
7. Place seating in your entry if you have the room
Few things are as welcoming as a place to sit down while taking shoes on and off in a foyer. 
If you have the room, by all means place a bench or cushioned seat just inside your door. If it has storage--that's a bonus. Guests and buyers will love it!

8. How to create storage in a narrow entryway
If your foyer is a narrow passageway with absolutely no room for furniture, you just might find room for a shallow shelf on the wall.
Be sure that the shelf is not deeper than 5-6" so people don't brush their shoulders against it as they walk by. 
Hang a shelving unit with hooks for hanging keys, hats, jackets, etc.
Place a mirror above a shelf to bring light and depth into a narrow space. A large mirror will visually widen the passageway.
If you have room, place a hall tree on the floor for hanging hats, coats and scarves. A corner often works.
9. Create a separate entry with a room divider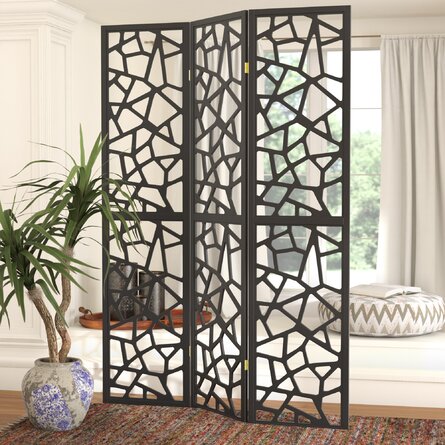 Find this room divider screen, and others at Wayfair.com.
Most people feel uncomfortable walking directly into a living space from outside. And, there's always the question of what to do with your shoes and coat. 

If you don't have a foyer and walk directly into a living room or kitchen, there are a few things you can do to remedy this.

You'll want to create a separation between the room and the front door to create an "impression" of a foyer. 
A room divider doesn't necessarily have to block out the spaces. It simply needs to create the impression of two separate spaces.
Here are a few ideas for a room divider:

a folding screen

hinged large shutters

tall leafy potted plants 

add a pony wall (half wall)

add a column or vertical rustic wood beam

fill a rectangular planter with foam blocks and stick bamboo poles or tall grasses, like pampas grass, into the foam.

build a see-through shelving unit

a narrow console table with two tall lamps or potted plants on top

a padded bench with storage

even the tall back of a sofa can serve as a room divider
10. How to stage your foyer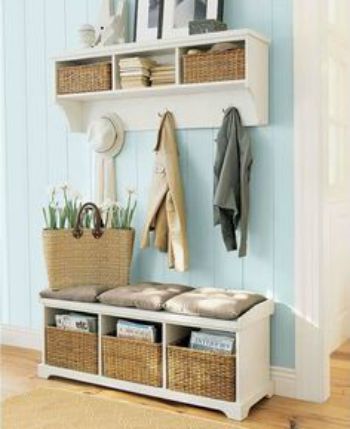 Everything looks good in a basket! A storage bench and shelf is the answer for an entry without a closet.
For a large empty wall that is begging to be accessorized, hang a tapestry, mirror, large colorful painting, or turn the wall into a gallery of your favorite pictures;
An elegant arrangement of flowers or a potted green plant on top of a table will liven up the space;
A large area rug or runner can add color, warmth and texture to your entry. As a bonus, a patterned rug will hide tracked-in dirt.
Don't use an assortment of small rugs in the foyer-- it will look messy.
Group potted plants of varying heights on a table, (no more than three) or a tall leafy plant on the floor. 
Create a drop spot near the door with key hooks, a wood tray for mail or an umbrella holder. Or place a basket or pretty bowl on a console table
If your foyer has a nearby powder room, be sure to keep the door closed during home viewings. Buyers WILL open the door to peek, so be sure to keep the toilet seat down, as well.
11. Be sure to keep the foyer clean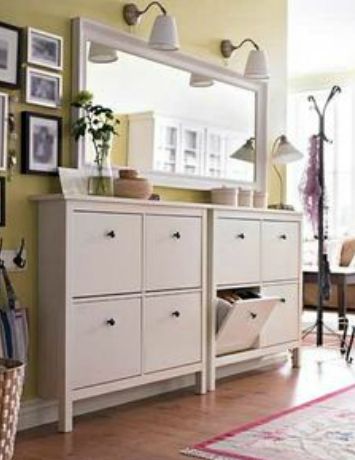 Polish doorknobs, door kickplates and light fixtures. 
Take down dusty light fixture shades and run them through the dishwasher.
Remove dim lightbulbs and replace with the highest wattage allowable. This is especially essential is a dark foyer.
Keep ceilings and walls free of dust and cobwebs
Wash and replace broken or cracked outlet covers and switch plates. Be sure they all match.
Electrical outlets and switch plates are a distraction to the eye if they contrast too much with the wall color. If possible, match them closely to the paint color on the wall.
Go from staging the foyer to home page
Updated 07-19-2023