Leaning Pictures and Mirrors




DIY Home Staging Tips




for a faster, more profitable home sale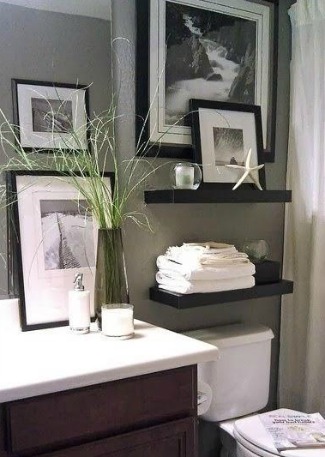 A black and white color scheme will unify varying pieces
Leaning pictures and mirrors against the walls in your home is an easy interior decorating alternative to hanging them up.
Leaning artwork and mirrors, instead of hanging them, results in a less formal, casual look. Plus, it's the perfect home design tip for those who have a fear of commitment!

My mother, who is a natural born interior decorator, has been leaning pictures and mirrors against the walls as far back as I can remember, long before it became vogue.
She has a knack for creating the most delightful vignettes, color combinations, and original interior decorating ideas throughout her home.
Whether you are redesigning your decor or planning to do your own home staging in preparation to selling your home, the following ideas for leaning pictures and mirrors should inspire you.

Benefits of leaning pictures and mirrors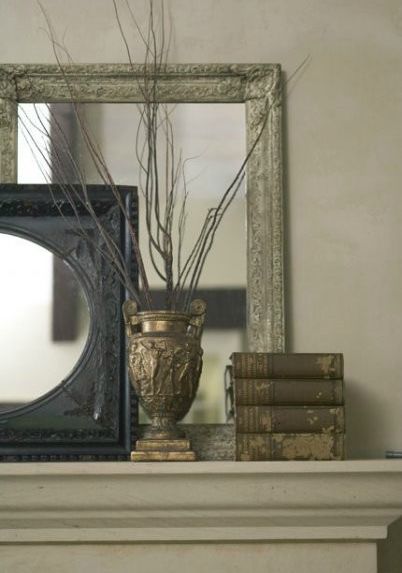 Using mirrors will add extra dimension to your home design
You can display pictures or mirrors without the hassle of measuring and putting nail holes in the walls.
Leaning a heavy floor mirror against the wall in a tiny room will make a small space appear larger.

Leaning pictures, instead of hanging them will prevent window glare from obscuring the art.
Leaning pictures and mirrors against walls (or furniture) lends a casual, yet elegant look to your home design. If you prefer a more formal look, opt for hanging artwork instead.
You can easily move your artwork to another part of the house when you get bored with the placement. 
You can swap out, or rotate your artwork when it pleases you.
Leaning pictures and mirrors can be used to hide unsightly things like, inconveniently placed electrical panels, wall outlets, unsightly wires, or damaged walls.
You will never have to straighten pictures again! They will always be level.
Leaning pictures and mirrors is the ideal interior decorating tip for renters— they won't have to repair holes in the walls when they move.
If you've always wanted one of those popular floor mirrors in your house design, but couldn't afford it, watch the DIY video below on how to create your own affordable leaning floor mirror. By pinksofoxy.

Where to lean pictures and mirrors
Leaning pictures on the window frame adds color and horizontal line to this room
You can lean pictures and mirrors practically anywhere;
On the floor, against a wall
Shelves, inside bookcases
Table tops, like sofa tables or consoles
The top surface of an upright piano
Any room, even a bathroom
I've even seen pictures leaning (successfully) on the back of a toilet!
What kind of artwork can be leaned?
You aren't limited to only artwork and mirrors. Anything that pleases your fancy, enhances your home decor, or makes a design statement will work.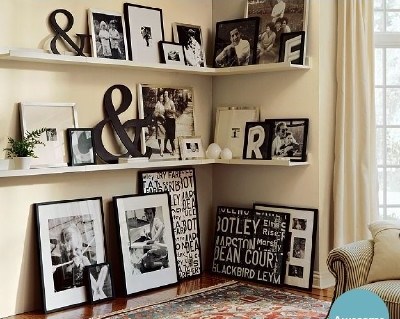 Leaning pictures and objects of similar color combinations or design will tie them together
You are limited only by your imagination! Following are just a few home decor ideas:
Rustic or brightly painted shutters
Weathered wooden bed frames
Rustic iron bed frames with ornate design elements
Weathered wood, like reclaimed barn siding
Large letters, (old neon giant letters are really popular right now, thanks to interior designer, Joanna Gaines, of HGTV's "Fixer Upper.")
And of course, artwork and mirrors!
Lean large, heavy books, (coffee table size) against walls, layering and displaying the prettiest ones in the front.
Even pretty cards look great, scattered around the house. My mother has them leaning against kitchen walls, on top of bedroom dressers, even in the bathroom!
Layering pictures and mirrors; creating vignettes
Layering pictures and mirrors with other objects can add dimension and excitement to your room designs. You can add color, texture, and variety of height and shape by layering. (See how to make a vignette.) Have fun experimenting by incorporating some of the following interior decorating ideas: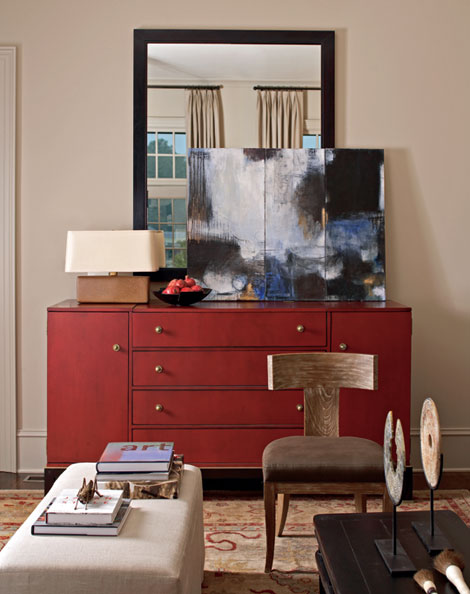 Overlap leaning artwork slightly, so that each item is visible
Work in odd numbers, threes, fives, and so on. Odd numbered arrangements are the most pleasing to the eye-- they appear less studied. (See art of accessorizing.)
Large heavy objects on the floor, like mirrors or shutters, can look great when layered with live plants and 

sculptural objects, as long as the items are in proper scale. Don't accessorize with a bunch of small objects on the floor; they will look like clutter from a distance.
Try arranging items according to theme; landscape pictures, antique pictures, pictures of sunset, beachy items, black and white photographs, and so on.
Use canvases and frames in the same color palette for a sophisticated look.
Lean artwork in many different color combinations for a bohemian look.
Cluster artwork of varying heights for added interest.
Objects that work well in layering; dried starfish, a stack of books, (no paperbacks, only attractive hardcover books with the jackets removed) rustic ironware, baskets, trays, plates, candles, vases, candlesticks and lamps. Don't be afraid to play around with different variations in your home design schemes.
For home staging purposes, don't display wedding pictures, baby pictures-- any personal photos. Why? Because home buyers will be distracted by them, making it hard to see themselves in your home.
When I was a real estate agent showing houses, it never failed... home buyers always stopped to check out the personal photos!
How to secure a leaning mirror to the wall
If you have kids running around and are concerned about the heavy leaning mirror you have in your home, attach a hook to the back of the piece and secure to the wall.
Below is a video showing one way to secure a heavy leaning mirror.
See the video below on how to secure a leaning mirror to the wall. Video by MirrorLot of canvaslot's channel.
More interior decorating ideas
Leaning a large floor mirror can make small rooms appear larger
A good rule of thumb is to place a mirror where it'll reflect the outdoors. This will visually add more light and space to a room. If this isn't possible, try placing the mirror where it'll reflect an artificial light source, such as a pretty chandelier. This will bounce more light around the room.
I like to place a small piece of carpet grip or rubber drawer liner under leaning items on table tops to prevent them from slipping. Cut it thin and place it to the back of your leaning object so it won't show.

Another way to prevent slippage; put a heavy object in front of leaning pictures and mirrors. A pretty rock, (like a geode or fossil) a large candle, a stack of books, or a small piece of statuary will hold things in place.
Another way to display pictures is to place them on an artist's easel. Easels are handy for interior decorating because you can place them wherever you want.
Avoid leaning small pieces of artwork or mirrors on the floor. They will be lost in the landscape of the room.
When layering, DON'T allow acrylic canvass surfaces to touch, as they will often stick together, especially in warm weather.