Six Must-Have Online Real Estate Photos



For a faster, more profitable home sale
Online real estate photos are the first place home buyers go when they are searching for a new home-- over 90% to be precise. 
A recent survey found that 86% of home buyers stated that online real estate pictures were the most important and useful feature of their search. 
Additionally, most buyers said they skipped right past listings that didn't have real estate photography to view. If you want to make a fast home sale, you MUST include visual elements of it online.

Don't disappoint buyers by leaving out the six most important features that should be included in your online real estate photo gallery. 
Six must-have online real estate photos
1. Home exterior pictures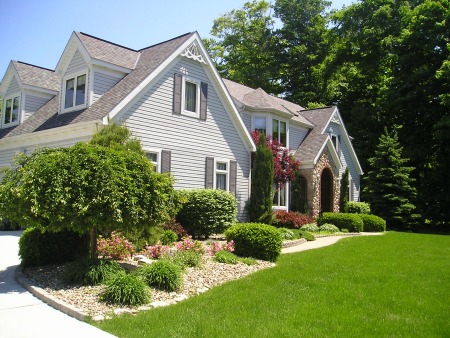 Shoot home exterior pictures from an angle, not head on. This shows the depth of the house.
A picture of the home exterior should be first in your online picture gallery.
When I see real estate photos that are missing an exterior shot of the house, my immediate thought is, "What don't they want us to see! Is there a gravel pit next door?" 
A collection of listing photos should always include a good mix of interior and exterior shots. 
Home exterior shooting tips:
Don't shoot the home exterior dead on. Take pictures at an angle, from one corner of the yard. Doing so will emphasize the depth of your home. 
If you have an attached garage, don't make the mistake of shooting from the garage side of the property. This will make the garage look enormous and out of proportion with the rest of the house.
Take seasonal landscape pictures, as well. If it's summer, who wants to see a property buried in snow? Think holidays too. Prospective buyers who are searching for homes during the holidays are usually serious buyers. Tasteful holiday decorations can be emotionally appealing for many home buyers. 
Take exterior house pictures from a ladder, especially if using a wide-angle lens. 

Avoid shooting pictures in the full glare of the sun, as the house windows may reflect back the sun's glare and cast shadows on your home.  
Remove cars from the driveway and garage, toys from the yard, garbage cans, flags, and anything with your name on it before taking pictures outside. See depersonalizing your home.
Frame landscaping pictures by shooting from behind a hedge, shrub, or other decorative feature... This will add perspective to your photo. 

Shooting from one corner of the yard to the other will make your yard look more appealing.
Be sure to include pictures of outbuildings, like a shop or greenhouse. But only if they look good. Please, no photos of collapsing sheds or greenhouses with shattered glass.
2. Outdoor living spaces
If you have it, flaunt it!
Present a fun lifestyle to buyers by including pictures of a sparkling swimming pool, a hot tub, a patio or deck with a built-in barbecue, a porch swing... make a faster home sale by showcasing the good life.
Home buyers with children will be interested in property with play equipment in the backyard, while others may be looking for the privacy of a backyard wilderness.
Be sure to highlight any attractive outdoor features your property has to offer. 
3. Kitchen photos
Most buyers regard the kitchen as the yardstick by which they measure the rest of the house. If the kitchen design doesn't meet their expectations, it can be the deal breaker in a home sale, no matter how great the rest of the house may be. You MUST include the kitchen in your gallery pictures lineup.
If you have any outstanding features in your kitchen, by all means, showcase them.
Take close-up shots of high-end details like; a farm-style kitchen sink, chef's range, granite countertops, glass-faced cabinets and stainless steel appliances.
Know what the current target audience wants-- if you have it, show it off!
4. Master bedroom photos
Today's buyers are looking for a master bedroom as a place of retreat from the stresses of the world.
When photographing your staged home, make it more attractive to potential buyers by presenting the master bedroom as a haven of luxury and rest.
Emphasize intimacy and comfort in your photographs by staging with luxurious-looking bed linens, draperies and pillows.
If you have an extra large master bedroom, set up a cozy sitting area with an upholstered chair and small table. Create a tempting vignette by staging with a lamp, books, tea set or other comforting items.
A walk-in closet is always on a buyer's want list. If your master bedroom has a walk-in closet, be sure to feature it in your online real estate photos.
If it has a built-in closet organizing system, post pictures of that as well.
Showcase your walk-in closet by staging it attractively. 
5. Master bath photos
Like the kitchen, a bathroom renovation can bring you a big return on your investment when you sell your home.
Today's home buyers have a strong preference for an en suite bathroom. Everyone wants that spacious, relaxing, spa-like bathroom right off the master bedroom. 

Make a quick home sale by showcasing the master bath's best features by featuring them in your online real estate photos.
If you have a  jacuzzi or soaking tub, a beautiful glassed-in walk-in shower or double sink vanity, be sure to include photos of these details in your gallery pictures.
Be sure to feature any extras like storage cabinets. Buyers love lots of storage!
It's often tricky shooting pictures in a bathroom without getting a "mirror selfie." You may have to stand outside the door to keep your image out of the photographs. 
6. Living room photos
The living room is one space where proper home staging will pay off. This may be the most important room of all, because of all the family activities that take place here.
Your goal is to present an inviting lifestyle, by showing buyers a room they can relax and entertain in. 
Highlight the most attractive features in your real estate photography. Shoot pictures of focal points like; a fireplace, French doors, crown molding, beautiful windows, a great view, wood beams, arches or high ceilings.
Float furniture (away from the walls) and arrange into cozy conversational seating. This will make your living room appear larger and more inviting, instead of cold and impersonal like a doctor's waiting room where furniture is pushed against the walls.
Anchor your seating zone with a large area rug, which adds warmth, color and style to a space.
If you have a great view, stand in the far corner of the room opposite the window view to shoot your photo; try to encompass the outdoors into your living room shot.
Encompassing the outdoors into your living room shot will create a feeling of spaciousness and depth, as in the photo above.
What to do when posting your photos online
Do not post blurry photographs. It's frustrating for viewers. Post about 20 to 30 photos and be sure to label each picture so viewers know which room they're looking at.




Make sure your photos aren't upside-down! Yes, unbelievably I have seen this many times. By real estate agents too!



Post your pictures in an order that makes sense, as if you were walking through the house. Start with the exterior front, entry, dining room, etc, ending with the backyard. Include a number of photos of each room from different angles, especially the kitchen.    
Before You Post Your Pictures!
Read about real estate photography
"fluffing" and "fraud" here.
Return from online real estate photos to photographing your staged home
Go to home page