Holiday Home Staging - 

A Good Time to Sell Your House
For a faster, more profitable home sale
Holiday home staging can be a fine balancing act between trying sell your home, yet wanting to celebrate the holiday season in your usual fashion.
Of course you want your home to be cozy and festive during the holidays, but there are a few things to consider when it comes to decorating at this time of year.
For starters, you may need to tone down your decorating. Neutralizing your usual holiday decor will allow buyers to more easily visualize themselves in your home.
Keep reading for helpful home staging tips that will let you enjoy that holiday spirit, yet allow buyers to envision themselves in your home.
Selling your home during the holidays
This isn't the most convenient time to sell a home, but for those with no other option, it's helpful to know that most house hunters at this time of year are serious buyers.
Why would anyone want to spend this special time of year looking for a house unless they're ready to buy?
Winter brings out the serious buyers, though there are people who just like to look at houses.
"However, these looky-loos tend to be scarce during winter months, says Jennifer Baldinger, licensed associate real estate broker at Julia B. Fee Sotheby's International Realty in Scarsdale, NY.
"When I have buyers looking for homes in January and February, they're real buyers looking to make a purchase--especially if it's a great house. They don't want to take the chance of waiting until spring and losing out on the home," Baldinger says.
In addition, you'll face less competition on the marketplace, as most people prefer to sell their home in spring and summer. With a limited inventory of houses on the market, you may be able to sell your house faster and for more money! 

If you stage your home properly and price it right, you could be on your way to your new home sooner than expected.
Curb appeal should be a top priority during the holidays
Curb appeal may just possibly be the most important aspect of home staging. After all, if buyers don't like the outside, they'll just drive on by.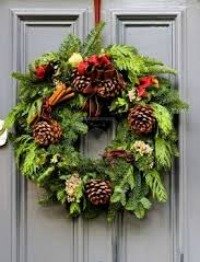 First impressions are vital when you're selling a home.

It's a critical moment when buyers drive up to the curb in front of your house and decide whether to go in or drive on past!

Now isn't the time to inflate that 10 foot tall Frosty the Snowman or haul Santa and all his reindeer up to the roof.

It's best to depersonalize your Christmas decorations of religious items as well, as many people are so easily offended these days.
Maintaining the exterior of your house is also important in fall and winter, as bare trees and dormant flowerbeds leave your home looking unadorned and barren.
Be sure to keep the landscape spruced up, and the sidewalk and stairs free of snow and ice.
Christmas decorating ideas for the home exterior
Flank the front door with holiday trees placed in urns.
Check that your outdoor lighting is in good working order, with no missing bulbs and such.
When placing holiday lighting outside, keep in mind that white lights are classy, whereas multi-colored or "zip" lights, although fun, can be a distraction. White lights will brighten the exterior better, as well.
Avoid garish colors or tacky blinking Christmas lights when doing your holiday home staging. 
Place lights where they will emphasize and draw attention to lovely architectural details on the exterior of your home.
Use lighting on your home exterior, as well. A simple strand of white lights on the eaves of the front porch or around pillars will add an elegant touch and make your home look special.
Hang a tasteful holiday wreath on the front door. A cedar wreath with a bow is always pretty.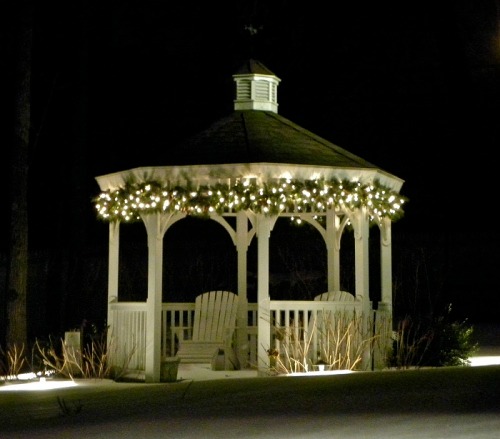 Highlight an outdoor living space with white lights.
Flank potted shrubs or small Christmas trees on each side of the front door and dress with elegant white lights.
Fill window boxes or large baskets with greenery; use fragrant cedar boughs, holly with red berries, or flocked twigs wrapped in white lights.
Place a festive, but classy door mat at the front door. 
Flank the front door with large urns, (or one off to the side) and fill with cedar boughs or canes, something with height.
Use white lights to draw attention to lovely outdoor living spaces or special features like; a pretty gazebo, patio, greenhouse, guest cottage, an arbor, or natural features like ornate trees in the front yard. 
Spruce up your entryway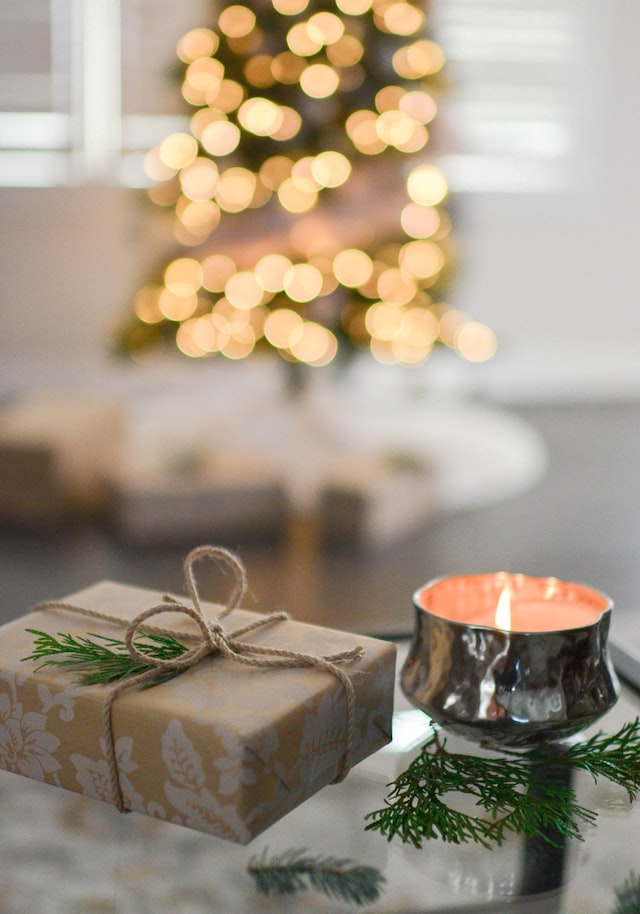 Photo by Element5digital, Unsplash.
The entryway is called, "the first impression room" for a good reason!
This is the moment when buyers decide whether they want to leave or proceed through the rest of the house. In other words, this room needs to really WOW them. 
If you haven't already done so, be sure to touch up any dirty spots on the walls, floor trim and molding with paint.
Remove grime from switch plates and dust from any light fixture(s).
Don't leave buyers fumbling in the dark. Brighten your foyer by replacing incandescent lightbulbs with LEDs in the highest wattage allowable.
LED lights are not only brighter, they are more energy-efficient.
Be sure to provide a place for buyers to hang coats and kick off their shoes. If you don't have a closet, mount hooks on the wall for coats and place a bench or foyer table below.
Don't crowd the entry with so much furniture that buyers have to maneuver around. Keep holiday decorations simple and classic.
Take advantage of those feelings of warm holiday spirit
Photo by Katie Azi, Unsplash.com.
This is a cozy time of year when family and friends gather, goodies are baked and hot drinks are shared.
Set the stage for your home sale by arousing feelings of seasonal spirit with tasteful holiday decorations, yummy goodies and wonderful smells.
Cozy up your home with battery operated candles and warm throw blankets with winter themes. 
Nothing says warm and cozy like a fireplace, so adorn your fireplace mantle with Christmas decorations and place a basket of firewood (birch logs are always pretty) near the hearth. 
Before you start your holiday home staging, be sure that you have decluttered, depersonalized, cleaned and completed any unfinished projects around the house.
Minimize decorations during the holidays
Home staging is all about neutralizing and paring down to make your home look larger and more appealing to as many buyers as possible.
Now isn't the time to bring out little Pam's paper mache manger scene from the second grade, or Christopher's army of cotton ball snowmen.
Stash away your Santa collection so buyers can focus on your home, not your collection. Think minimal when it comes to decorating to avoid a cluttered look.

Now is a good time to pack up your treasured holiday ornaments, Christmas crafts and personalized decorations for your new home. 
Good color schemes for holiday home staging decorating
Use a holiday color scheme that complements your home decor.
Decorate with neutral-colored objects from nature like; pinecones, cedar boughs, holly, cinnamon sticks, baskets, glass, driftwood, chestnuts and seashells.
Christmas decorations for the home interior
Highlight the focal points in your home
Decorating any home interior should always begin by locating the focal point(s) of a room. This applies to holiday home staging, as well.
Highlight these focal points with tasteful holiday decorations, so that buyers can't help but notice them.

Focal point Christmas decorating ideas:
Accessorize a fireplace mantle with white candles, a fir garland, lanterns, or glass canisters filled with Christmas ornaments or objects from nature. 
Hanging Christmas stockings is great, just avoid personalized ones--as it just makes it harder for buyers to envision themselves in your home.
Stage your holiday home with at least one LARGE floral arrangement. Large for greater impact, as a small arrangement will fade into the background, going unnoticed.

Cluster pots of poinsettias in groups of three. Why three? Odd-numbered arrangements are simply more pleasing and appear less studied to the eye.
Sabrina Soto, interior decorator from HGTV, advises NOT to use any object "smaller than a grapefruit" when accessorizing. Small accessories tend to "disappear" in the overall landscape of a room.
Fill baskets with glass ornaments or fir boughs and place on a coffee table, floor, or flanking a fireplace.

Fill large glass canisters with Christmas ornaments or objects from nature, like pine cones, cinnamon sticks or mandarin oranges; place one on each side of a fireplace mantle.
Hang an evergreen wreath over the fireplace mantle, or suspended from a ribbon in a window.

Everything looks great on a tray! Arrange Christmas ornaments, greenery, candles, pinecones or Christmas cookies inside a wood tray.
Accessorize kitchen countertops or the dining table with a bowl of pomegranates or mandarin oranges. If you're feeling energetic, stud oranges or lemons with cloves and place in a bowl. It will look and smell great!
Keep counter tops clear of anything not decorative to make your kitchen look more spacious.
Create a simple holiday centerpiece for your dining table.
Stage bathrooms by hanging towels in holiday colors and stacking holiday-scented soaps in a pretty bowl.
The best places for a Christmas tree
Be sure to place your Christmas tree where it won't interrupt the flow of traffic through a room.
Place a Christmas tree in the center of a beautiful bay window.
A large Christmas tree can make a small room look even smaller. If you must have a tree, choose a small skinny one or use a tabletop tree.
If you have a two-story space for your Christmas tree, by all means, show off the ceiling height with a tall tree!
For an elegant look, select impersonal Christmas ornaments like; white lights, clear glass balls, silver, gold, blue or red glass balls, icicles, ribbon, birds, snowflakes, snowmen and pine cones.
Stage your home interior with Christmas lights
White lights are always elegant inside and outside the home. Avoid blinking lights, as some people are agitated by them. 
Place lights where they will emphasize and draw attention to lovely architectural details, like a a cove or trey ceiling, a staircase rail or a beautiful window.
Fill pretty jars or glass canisters with these charming white LED string fairy lights pictured here. To use, simply bundle them into the jar. Place one or two on your fireplace mantle or on an entry table just inside the front door. 
The holiday season is a great time to have an open house!
If you're planning an Open House, here are a few tips to help buyers remember your home above all the others:
Appeal to the sense of smell  
A home that smells wonderful will leave a positive impression on buyers. Leave a pot of apple cider with cinnamon sticks or other Holiday spices simmering on the stove.
Infuse your home with the smell of baking. Arrange holiday goodies attractively on a tray with napkins.
House hunters will certainly appreciate a plate of cookies or something warm to drink, like hot chocolate, apple cider or coffee. Avoid chocolate treats, as "little fingers" may smudge your freshly painted walls.
Cedar boughs are especially fragrant; fill baskets with cedar, hang a cedar wreath on a wall or door, or dress a fire place mantle with boughs.
Avoid artificial odor remover products…they smell fake and the plug-in oil ones leave a nasty, viscous feeling in your mouth. Buyers can usually detect a bad odor lurking under artificial sprays. Instead, find the source of the odor and fix it.

Keep your home warm and toasty
Turning up the heat during your Open House will tempt buyers into staying longer. A cold house is hard to sell! A crackling fire in the fireplace is always a winner.
Buyers that sit down is always a good sign. They are imagining themselves living in your home.
The "WHAT NOT TO DO" of outdoor Christmas decor when you're trying to sell your home during the holidays! But buyers will never forget this house.
Go from holiday home staging to home page
This page last updated 12-02-2022