Focal Points


DIY Home Staging Tips


for a faster, more profitable home sale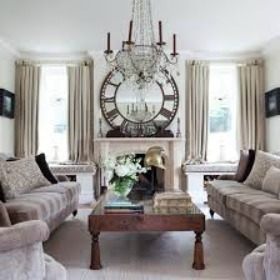 The decorative mirror over the fireplace grabs your attention right away
Focal points should be highlighted in every room of your house when staging your home for sale. Your goal is to enhance and draw attention to the special features of your house design, so buyers will fall in love with your home.
Typically, when you enter a room, your eye is immediately drawn to one feature that stands out. It might be a window with a breathtaking view, dramatic architectural design, a spiral staircase, a beautiful french door, or a lovely fireplace. 
The placement of furniture and accessories should be arranged to draw attention to focal points.
A striking focal point may also distract home buyers from seeing the flaws in your home!
Some rooms may contain more than one focal point, as many as two or three, while others will simply be blank walls with an unassuming window.
Below you will find home staging tips to help you enhance natural focus points, or create your own through the use of furniture and accessories.

Identifying focal points
Look for architectural details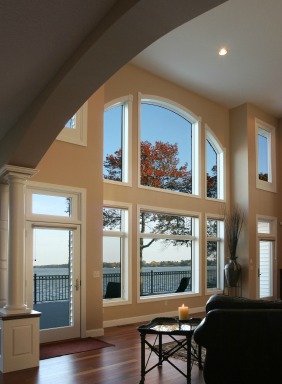 Beautiful windows with view is the focal point in this living room
Interesting ceiling details, like tray ceilings, exposed wood beams, box beams;
Rooms with multiple focus points
Some rooms have more than one focal feature. How do you decide which one to highlight?

Where does your eye go first when you enter a room? Look for the predominant one-- it may be the largest and most dramatic element in a room.

A fantastic view will usually trump a fireplace as the center of attention. If you are undecided, ask a friend where her eye is drawn when she walks into the room.
You can create your own focal points for rooms that are lacking one.
First, determine the function of your room, than design a point of focus that best suits that function.
Create your own focal points
Stage with an armoire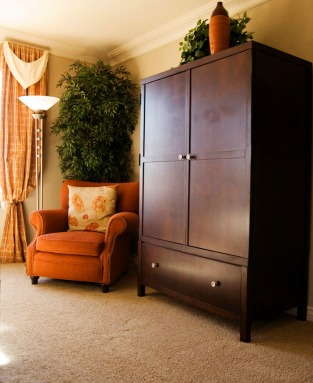 An armoire can serve as a focal point
Armoires are the perfect size to work as a bold focal feature in your home design. Their sheer size is enough to command attention in any room.
Accessorize the inside of an armoire by displaying a collection of colorful dishes or other attractive accessories inside. Leave the doors open to show off the contents.
Follow the advice of HGTV designer and home staging expert, Sabrina Soto, when accessorizing; "Never use anything smaller than the size of a grapefruit."
Or, keep the doors closed and hide a TV or small office inside.
Create an appealing vignette on top of the armoire if you need extra height against a tall ceiling. Accessorize with baskets, plants, vases, any number of things.
Be sure to balance the bulk of an armoire on the opposite side of the room.

Create an accent wall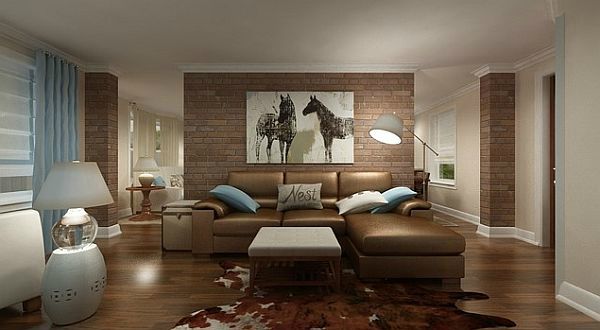 I love this brick accent wall with the horses. But, horses will capture my attention anytime, anywhere!
Create an accent wall with one of the walls in your room. An accent wall is meant to break up the pattern of a room, but must also work well with what you have.
Paint the wall in a color different than the other walls, maybe in a darker shade, or a complementary color.
You may want to use an accent wall to highlight a decorative element, such as a large colorful painting, a tapestry, antique quilt, or wrought iron sculptural piece. 
Accent walls are often surfaced with other materials, like brick, wallpaper, weathered barn siding, and so on. I don't recommend doing this when you are trying to make a home sale. These types of permanent changes are very taste specific and may turn buyers away-- save this for your new home!
Stage with mirrors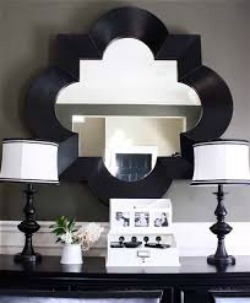 This vignette with decorative mirror and lamps is eye catching!
Mirrors add light and dimension, by bouncing light around a room and creating the illusion of more space.
Mirrors with ornate and interesting frames work really well as focal points. Today's dramatic starburst mirrors, for example, immediately catch your attention as you enter a room.

Be careful of what the mirror reflects; you don't want to reflect something undesirable. 

Mirrors can be hung alone or in wall groupings, just like artwork. The same rule of scale and balance for artwork also applies to mirrors. 

Go to leaning pictures and mirrors to find more accessorizing ideas. 

Lighting fixtures
A stunning light fixture can serve as a main attraction in any room, whether it's the foyer, bedroom, dining room, or over the kitchen island.
A current home decorating trend at this time is a chandelier in the master bathroom, sometimes right over the bathtub. I even saw a photo of a laundry room with a chandelier-- talk about an unexpected focal feature.
Chandeliers aren't the only stars in the light fixture world, though. There are endless options of gorgeous contemporary light fixtures that will fill any focal point void. 
Stage with plants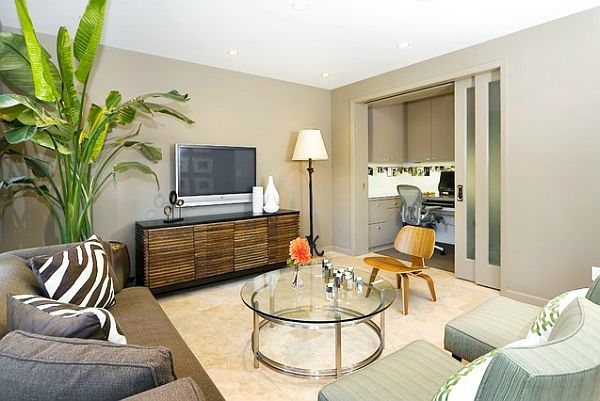 Bright green plant makes a splash in this living room
A single tall, leafy tree, such as a palm, fiddleleaf fig, or banana tree can be attention getters.
A grouping of small plants that look good together can create an impact, as well. Be sure to arrange plant groupings in odd numbers of three or five. Odd numbers are just more pleasing to the eye than even-- they appear less studied. 
Use plant groupings on top of an armoire, as a centerpiece on your dining table, on a buffet or console table, or flanking a fireplace or window to draw attention to these features.
Stage with artwork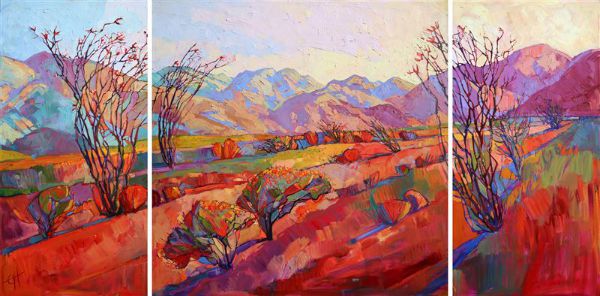 What an accent piece! Triptych artwork by expressionist, Erin Hanson
A single piece of large, colorful artwork can serve as a focal feature in a room. The art should be in proportion to the scope of the wall-- large wall, large piece of art, for instance. 
For a long wall, hang triptych artwork, (like the one above) or arrange a collage of photographs in a gallery type fashion. See hanging artwork and mirrors for information on creating wall groupings.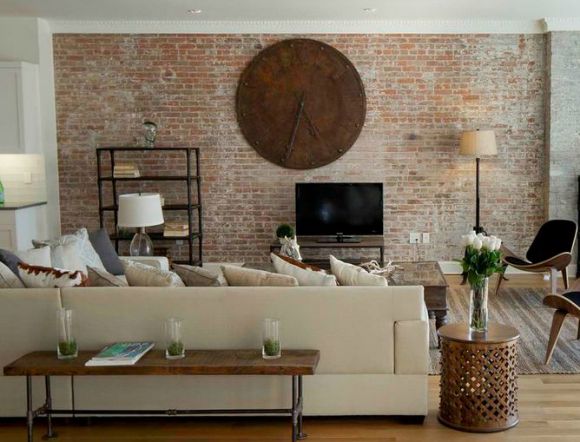 The large clock certainly commands your attention!
Hang any large sculptural piece of art, made of wood or metal. Decorate with a colorful contemporary quilt, a large clock, rustic antique doors, old lattice, painted shutters, or any other form of 3-dimensional art.
Be sure that objects are in scale with the size of the room, and large enough to make a grand artistic statement.

Focal point decor ideas for your rooms
Living room decor
The purpose of this room is visiting, relaxing and entertaining. I'm not a fan of arranging furniture around a big screen television--always makes me think of idol worship. But, since so many buyers want that big flatscreen TV, it has adapted itself into the world of home interior design.
These days, many interior designers and home stagers are placing the flat screen TV over a fireplace or an entertainment console as a room design element. Or, you can hide the TV inside an armoire, entertainment unit, or in a room specifically designated for TV viewing.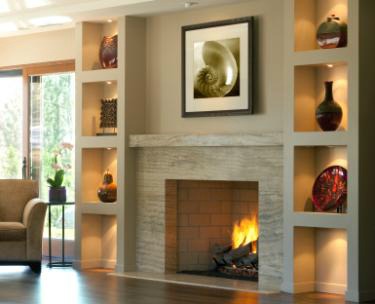 Focus attention on a fireplace by accessorizing with colorful objects
I once showed a brand new house to a prospective buyer who kept casting his eyes around the living room. I knew exactly what he was looking for...a spot for his big screen TV! The builder hadn't planned a space for a large TV, so the buyer walked. 
If you have an attractive fireplace in your living room, it's important to focus attention toward it. A large mirror or piece of art hung above or propped on the mantle will draw the eye to this area. 

Focus attention on a large window or french doors that offer a nice view-- keep window treatments simple (or none at all) so you don't block or detract from the view. If you need window treatments, matching them to the color of the wall will focus attention to the outdoor view, because they will seemingly blend into the background decor.
Flank a view window with tall trees to emphasize the outdoors.
A piece of bold furniture, like a sofa, can work as a focal feature. Arrange the rest of your furniture around the sofa, and decorate it with colorful pillows in a variety of sizes and textures. Drape a throw across the sofa for more color and accent.
If your sofa is placed along a long wall, hang a large painting or beautifully framed mirror above it. The size and weight of the sofa with a large painting above will function in the same manner as a fireplace or other natural focal point.
Bedroom decor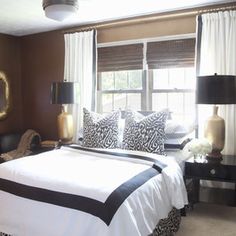 The window treatments, window, and lamps accentuate this focal point bed
If you have no other point of reference, your bed should take center stage. The bed is almost always the main feature in a bedroom simply because of its size.
As a rule, the bed should be placed against the longest wall, but this isn't always possible. Many rooms don't have a long wall without windows and doors, so placing the bed in front of a large window is another option. A window is a natural focal feature and can also serve as a dramatic headboard, of sorts. Ceiling to floor draperies add impact, as well. See staging the bedroom.
A large headboard can be the star in your bedroom. Dress the bed with beautiful linens and pillows in soothing and neutral shades to entice buyers into wanting to linger.
Dining room decor
A stunning light fixture will always captivate home buyers in the dining room.
The dining table can serve as a point of focal point too, simply by setting the table with beautiful dinnerware and creating a lovely centerpiece. For more drama, create a tiered arrangement to add extra height.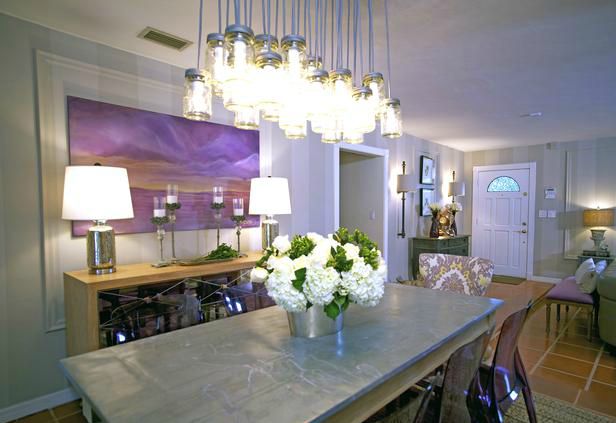 This dining room has multiple focal points. Where does your eye go first?
In this dining room photo, your eye naturally goes to the very interesting light fixture over the table, and the slightly more subtle painting over the console. The flower arrangement on the table might be considered a focal point, as well.
In the world of home design, some think that a centrally located dining table shouldn't be staged as a focal point. The opinion is that the focal point should dominate one wall. To make this possible, place a buffet or sideboard table against one wall and hang a mirror or an oil painting above it. Flank with two chairs, table lamps, or tall plants to draw more attention to it.

A large window with an attractive view can serve as a focal point in a dining room. Hang ceiling to floor draperies for drama, and flank with chairs or tall plants.
For combined dining/kitchen/living rooms, each area should have it's own focus point, regardless of the shape of the room.
Kitchen decor
This shiny range and hood will certainly draw attention
A stunning range hood and stove top can be a focal point, as in the picture to the right. A large farmer's sink is always an attention getter, too.
A sleek glass tile backsplash will highlight the entire kitchen. For home staging purposes, though, keep backsplash fairly neutral so you don't turn away home buyers.
Other less expensive options for the kitchen; overhead pot racks, attractive pendents or chandelier lighting over your kitchen island, or sleek modern faucet fixtures.
Create colorful arrangements inside glass-faced kitchen cabinets, or install floating shelves and accessorize to make a feature wall.   
As usual, a gorgeous window view is a built-in focal point, even in the kitchen!
Foyer decor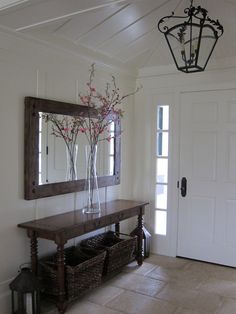 Mirror, table, and light fixture make multiple focal points
This is such an important room because it's the first impression home buyers get of the inside of your home. The foyer must be appealing enough to lure buyers deeper into your home.
The size of your front entry doesn't matter, it's how you manage the area, and the feeling buyers get when they first enter. Having a great focal point to "lock" onto when they enter will entice them to continue their house tour.
If the focal point is a high ceiling with a stunning light fixture, you are in luck. Especially if it can be seen from the street!
For walls facing the front door, hang a large oil painting in warm, serene colors, or a framed mirror (great for making small spaces look larger).
If there's enough room, place a console table, dresser, or bench near the entry. Hang a mirror or colorful artwork over the furniture.
For very small spaces; install a narrow floating shelf, and prop a picture or mirror on it. 
Other foyer ideas; an attractive coat and hat rack, a chest or bench for removing shoes with art hanging above, an antique dresser with a lamp, a lovely antique armoire serving as a closet.
See staging the foyer.
Return from focal points to home page