Curb Appeal Tips that will get Buyers in the Door



For a faster, more profitable home sale
What is curb appeal? Curb appeal is that first impression you get as you approach a house from the street.

It includes the home exterior and all of its elements, landscape, front, side and back yards, driveway, and walkway leading up to the front door and even the street in front of the house.
If you plan on selling your house, a bit of home exterior improvements can potentially add thousands to the value of your property, help it sell faster and for more money!
The first glimpse of your home should impact buyers in a positive way. You have only a minute to convince perspective buyers to get out of their car instead of driving on by. 
Your goal is to make the exterior look so appealing that buyers can't wait to see the inside!
Curb appeal ideas that work
 First, take a look at your home exterior with "buyer's eyes"
Stand across the street from your house and try to see it from a buyer's perspective. What stands out? Perhaps you can't even see your house because it's hidden by overgrown trees and shrubs.
Do the exterior paint colors clash with the rest of the neighborhood or does your house follow the "Principle of Conformity?"
Principle of Conformity
Select exterior paint colors that fit in with the other houses in your neighborhood.
In Real Estate terms, this is called the "Principle of Conformity," which means that the highest value is created when a property is in harmony with its surroundings.
For instance, a mid-century modern house in a neighborhood of Victorian-style homes will be the one house that stands out. It may be a great house, but it becomes the "oddball" in the neighborhood that many buyers won't want to own.
Every thing that's wrong with your house WILL BE NOTICED by home buyers. They'll take note of every flaw and use it as ammunition to negotiate the price of your house down.
Be sure to view your home at night, as well. Many buyers can only view houses at night, so be sure to enhance your home with some outdoor landscape lighting.
If you're having a hard time evaluating the curb appeal of your own home, ask a neighbor or friend for their opinion-- don't be offended if you don't like what they say. Remember, your ultimate goal is to sell your house fast and for more money.
Declutter, depersonalize and clean the yard
Start your curb appeal improvements with a yard clean-up. Remove outdoor clutter; gardening tools, hose, kid's toys, rusty swing set, sports equipment, shoddy patio furniture and any taste specific decorative objects like garden gnomes or flamingos.
Don't neglect the sides and back yard. Once you've lured buyers in with the front yard curb appeal, they'll want to check out the side and back yards, as well.
Clean up your pool or hot tub. A clean, sparkling swimming pool is often the tipping point in a sale. 

There's nothing pretty about a rusty fuel tank. Scrape the rust, then paint in the same color as the house to make it less conspicuous.
Clean out a dirty air-conditioning condenser by turning off the power. Clear out leaves and debris that may be trapped inside. Use a garden hose to wash out the coils. 
Fill in bare spots in the garden with inexpensive nursery annuals. 

If you're in a hurry, bury potted flowers or shrubs straight into the garden beds. With a layer of mulch on top, no one will ever know.
Curb appeal landscaping ideas
Prune trees and shrubs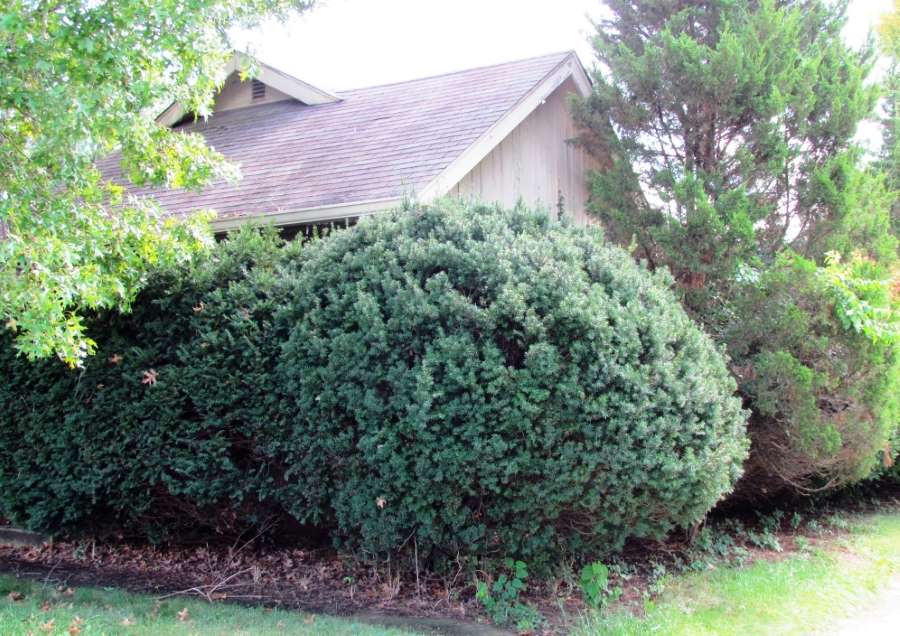 Overgrown shrubberies hide the entrance to this home. This bodes poorly for the inside! Nothing to see here--keep driving. Photo by homegardenandhomestead.com
The picture above is a perfect example of a buyer "drive by." Because you can't see the exterior, you can't determine if there's any damage. This is why curb appeal is so important!
Prune back any overgrown trees or shrubs that block the house from the street, hang heavily over the roof, or that prevent natural light from entering the home interior. 
Large or tall trees should be left to the experts. If you don't know what you're doing, you can potentially damage your house, your neighbor's house, power lines or the car in your driveway. 
For professional tree services, contact Evansville Tree Service, a nationwide provider at: https://www.thelocaltreeexperts.com/in/evansville/. This company performs a variety of services, such as tree removal, tree trimming, tree cutting, stump removal and arborist.
Tidy up the lawn
Don't neglect the sides and back yard, and do consider using some artificial turf if you have patchy areas where grass doesn't grow well. Once you've lured buyers in with the front yard curb appeal, they'll want to check out the side and back yards, as well.
Front porch curb appeal ideas
Charm buyers with a porch swing! Emphasize the front porch as outdoor living space by laying down an area rug. Photo by homesfeed.com
Keep the front porch clear of boots, shoes, umbrellas, kid's toys, etc. Buy a tasteful door mat for the front porch.
Enhance the front door
Your front door can play a crucial role in the curb appeal buyer snare. The front door is often the only focal point for a house, so it should look outstanding enough to lure buyers in.
According to the principles of feng shui, the front door and foyer should welcome and direct the flow of energy into the house, rather than push it away or weaken it.
This is where you want to use a bold or fun color. Select a color that coordinates with or complements the paint colors of your home exterior. 
Use a high-gloss paint on the front door for a lovely reflective quality. 
Be sure to keep door hardware and kickplate polished and gleaming with a good metal cleaner like "Brasso Metal Polish." 
The doorbell should be in good working order and house numbers easily seen from the street. Choose a number style that complements the house.
Replace outdated porch light fixtures with those that reflect the style of the house, as well.
House exterior curb appeal ideas
If you can't afford to paint your house exterior, be sure that its clean. A bucket of soapy water, a long handled brush or a power washer may be all you need.
To clean exterior brick, go to How to clean brick in 7 steps for some good tips.
If soap and water aren't working, try a solution of 1/2 cup TSP (trisodium phosphate) dissolved in a gallon of water. TSP can be found at any home improvement store.
I have successfully removed green mold from my wood-sided house, using a mixture of 20% bleach and water. Wet the siding first with a hose, apply the bleach mixture to the exterior with a long-handled brush, then rinse well. Repeat, if needed. Check for rot on wood siding and replace if needed.
Clean engineered wood, aluminum, or vinyl siding with an all-purpose cleaner using a soft nylon scrub brush.
Wash windows until they sparkle!
There's just something about dirty or broken windows that make a house look so forlorn.
Here's the best window washing tip ever!  I detested washing windows until my sister gave me an E-Cloth kit. E-Cloth is a microfiber window cleaning kit that requires no nasty cleaning products, just water. This method cleans better and faster than anything I've ever tried.
Paint your home exterior for the best curb appeal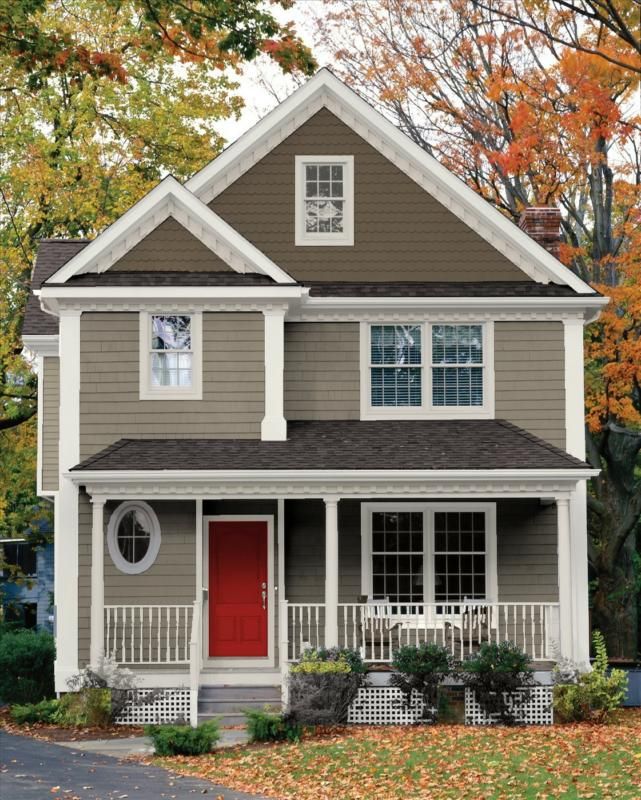 A beautifully painted home exterior will have buyers excited to get inside.
The most commonly offered advice from real estate pros, home stagers and appraisers is to paint your home exterior. 
This is a big job that will cost you time and money, but it can be the difference in whether your house is sold quickly or languishes on the market for months.
Yes, painting your entire house will be expensive, but the appraiser will figure that cost into the value of your home, so in the end, you'll recap your expenses.

If you can't afford to paint the entire house, just painting the front and sides that can be seen from the curb will make a huge difference.

Even a fresh coat on the front door, porch, or exterior window trim will punch up the curb appeal of your home.
The best exterior paint colors that will sell your home
This isn't the time to get carried away with a bold or unusual exterior paint color.
Be sure that the color you choose fits in with the other homes in your neighborhood. Remember the Principle of Conformity.
Unusual paint colors will have buyers thinking of all the re-painting they'll have to do.
Mask an ugly garage door by painting it the same color as the garage to make it less obtrusive. Otherwise, paint it in a shade that complements your exterior house colors.
Repair any roof problems
If you don't take care of roof problems now, you will pay for it later when the home inspection comes back. Buyers will insist on a brand new roof for any little problem.

Stand back from your roof and look at it with a pair of binoculars. Look for curling or missing shingles or damaged metal flashings. Replace missing shingles and repair damaged flashings.
Remove moss, lichen and algae. Sweep loose moss from the roof with a push broom.  
Moss and lichen that are more difficult to remove may need a power washing. When power washing a shingled roof, always aim the water spray down the roof, not up. If you spray up, you risk getting water under the shingles.
Don't forget the gutters
Clean out gutters and downspouts and be sure they are working properly. If your house doesn't have gutters, you might consider having them installed.
Gutters keep your home healthy by moving water away from the building, preventing potential damage. 
Treat insect problems
If you suspect that you have an insect problem, take care of it now. The presence of insects will be disclosed during a home inspection and will most likely discourage buyers from continuing the home sale.
For best results, call a pest control inspector, like the ones at Terminix for a cost estimate on getting rid of the problem.
Driveway and sidewalk curb appeal
Power wash driveways and sidewalks to remove stains and debris. For cement driveways, use a pressure washer with at least 3,000 PSI. Remove grease stains by soaking in cat litter or sawdust overnight, or use a concrete degreaser. 
Replace missing or damaged pavers or bricks on walkways and patios. Sometimes you can salvage pavers and bricks by flipping them over.
Repair concrete or pavement cracks with a patching kit. For asphalt or blacktop, try "Black Jack Blacktop Ultra-Maxx 1000 Driveway Filler and Sealer." For concrete, try "Quikrete Concrete Crack Seal."

Gravel surfaces can be refreshed by adding new rocks or doing a power wash.
Curb appeal home staging tips
Flank the bottom of the porch steps with tall urns; fill with spiked plants, shrubs or topiary.
Place a wood bench or white wicker rocking chair on the porch; create a welcoming vignette with a small table, pitcher of lemonade and glasses.
Place an arbor at the end of the walkway, or near the entry for an old-world charm.
Add shutters in a complementary color to the house.
Plant clusters of flowers at the base of trees, the mailbox or along the walkway.
Be sure that your mailbox is in good condition. Repaint or replace, if needed.
Add solar landscape lighting along each side of the path leading up to the house. 
String elegant white lights around the deck or front porch eaves for evening viewings.
A fence gate should open easily and be free of squeaks. Oil hinges with WD-40. Paint, stain, and mend the fence, if needed.
Watch the video below by Askthebuilder.com demonstrating how to repair cracks in asphalt. He has a great tip for camouflaging cracks as well.
Return from curb appeal tips that will get buyers in the door to home page.
Updated 08-22-2023