Staging the Kitchen



How to sell your home and make a faster, more profitable sale
Staging the kitchen before placing your home on the real estate market can make the difference between a quick sale or having your home linger on the market for months. 
Kitchens rank very high on a home buyer's priority list, and the condition of your kitchen can make or break a home sale. 
With high expectations for this room, home buyers are looking for updated kitchens with that "holy grail" duo of stainless steel appliances and granite countertops.
If your kitchen doesn't meet these standards, don't despair! You don't have to do a complete kitchen renovation to sell your home fast. There are many diy fixes and home staging tips that can make your kitchen look more appealing to a larger number of home buyers.
If you plan on doing a kitchen renovation before placing your home on the market, avoid making it too trendy.
You don't want to invest in a kitchen renovation that loses favor five years down the road. Home buyers know this and may not want to buy a house where the most expensive room is too "taste specific."
Before staging the kitchen, you should declutter, clean, and make any necessary repairs.
Staging the kitchen countertops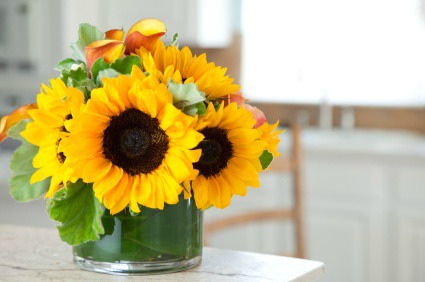 Fresh flowers will add color to your staged kitchen. The color yellow and orange are best and very feng shui.
When staging kitchen countertops, don't go overboard with your kitchen decor. I have seen many before-and-after staging photos where the "after" photo looked more cluttered than the "before."
Every countertop doesn't need to be filled with fruit, appliances, vignettes or trailing ivy. I see many pictures of staged kitchens with ivy strewn across the countertops, tucked in a pile in a corner, or creeping down the sides of upper cabinets! The result always looks messy.
Keep it simple, yet elegant. Keep in mind that the more bare countertop you see, the larger the workspace will appear. Following are a few interior decor ideas for staging:
Limit yourself to no more than two appliances on the kitchen countertops, IF you have plenty of space. For small kitchens, remove all appliances. I know this is difficult if you are occupying your home during the sale, but remember, your goal is to make your kitchen look more spacious.
Place a live plant or vase of flowers on the counter-- just one will do the trick.

Create one tempting vignette on a kitchen counter, using elegant bottles of oil and vinaigrettes in varying heights and shapes. Place together with a small breadboard, bread knife, and a rustic loaf of bread. 

Lay out contemporary (no ruffles or lace!) placemats, place settings, wine glasses for two, with a bottle of wine on your island countertop or peninsula.
Practically everything looks good when arranged on a tray. Be creative, create a vignette inside the tray with; a tea set, desserts, a loaf of homemade bread, glass containers filled with herbs, a utensil crock, and so on.
Cupcakes or cookies look irresistible when placed on a pretty tiered cake stand!
Be sure that the work station (sink, stove, and fridge) has proper task lighting when staging the kitchen. If not, install strip lighting under the cabinets for task lighting. Go to lighting for kitchen lighting ideas.
Apply affordable battery-operated puck lighting for task lighting. Puck lights stick on with an adhesive, you simply press them into place wherever you want. Puck lights can be found at any home center store, or Amazon.

Display colorful fruit in a pretty bowl or basket. Oranges, limes, and lemons add a fresh splash of color to any kitchen decor, and will make feng shui buyers happy. 

During the holidays, fill bowls or glass containers with pomegranates or mandarins.
Fill a wire or straw basket with natural colored eggs.
Add a cluster of grapes to your kitchen decor, allowing them to flow creatively over the edge of a bowl.
To freshen your kitchen before viewings, run some lemon or lime halves through the garbage disposal.
Kitchen appliances
The most important thing you can do in the kitchen when selling your home is to have  all matching appliances. If you don't, a demand for matching appliances is sure to find it's way on the sale negotiation list.
If your kitchen appliances are in really bad shape, you might consider buying new ones. They don't have to be expensive. The fact that they are new and clean will have a lot of appeal to home buyers.
If you have an older, but still functional electric stove, buy shiny new burner plates. Make sure the entire stovetop gleams as much as the new burner plates.
Your oven and dishwasher should be spotless inside and out when staging the kitchen. Home buyers WILL open them to peek inside. If they are squeaky clean, buyers will get the impression that the appliances have been well taken care of.

Remove the art gallery from your refrigerator door! Anything on the outside of the fridge will make the entire kitchen look cluttered. See cleaning your refrigerator for fridge staging tips.
Staging the kitchen island
If you have a place at your kitchen island for seating, be sure to put bar stools or chairs under it. This will show buyers know that it's a great place to hang out.
Don't crowd too many chairs around the island in the attempt to impress home buyers with the number of  people that can be seated. The effect will only make your kitchen look smaller and crowded.
Set out a couple of colorful placemats and table settings at the bar area when staging the kitchen.

No island? If you have a single wall of kitchen cabinets and plenty of floorspace, consider getting an inexpensive rolling cart with an wood top and storage underneath. 
Another option is a free-standing butcher block table. Wood is a popular choice right now with many beautiful options available. Wood warms up a kitchen and home buyers will appreciate the extra storage and workspace.

Another option when staging the kitchen is a free-standing table in the middle of the kitchen. A rustic farm table with warm wood tones will add charm and character, in addition to providing more work surface. You should have at least three feet of maneuverable space around an island.
Make a small kitchen look bigger
Use open shelving instead of closed cabinetry. This adds depth to a kitchen by taking your eye all the way to the wall.
Illusion is a valuable tool in the home stager's bag of tricks. Following are some tips that will visually expand a small kitchen:
Don't diminish the size of your kitchen with clutter. At most, display one item, like a flowering plant or bowl of fruit on the countertop.
Avoid patterned tile and flooring. Patterns can be busy and busy comes across as cluttered in a small space.
Use a light color palette of no more than two or three different tones. If cabinets and walls are all the same light color, the small space will appear larger. 
Limit the number of accessories on display on open shelves or inside glass-fronted cabinets. Keep them neat and arrange in odd numbers. See art of accessorizing.
Use a neutral cool color on the walls-- cool colors have a receding effect. 
Expand and unify the kitchen by sticking to one neutral palette on the walls, cabinets, and backsplash. This includes electrical outlets as well-- match them (as close as possible) to wall colors to keep the eye from stopping at each one. Many people use colored outlet plates that contrast with the backsplash, creating a zig zag effect that breaks the flow of the eye.
For a low ceiling, use vertical lines in the backsplash tiles to draw the eye upward.
If you are putting in new kitchen cabinets, consider going all the way to the ceiling. Not only will this give you more storage, it will create a strong vertical line that will visually expand your small kitchen. See small kitchen decorating ideas for more tips.
More kitchen home staging tips
Open window blinds to let in as much natural light as possible. Make sure that the windows are sparkling clean!
Turn on all the kitchen lights before viewings.
For dark cabinets, paint walls in a light neutral color. Dark cabinets will look striking against light walls.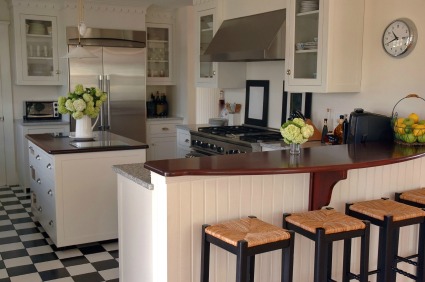 Decorate your kitchen with flowers and colorful fruit
If your kitchen lacks pizzaz, consider adding a new light fixture to serve as a focal point.
Kitchens have lots of hard edges that can be softened with window treatments. Add a simple window valance for color and texture. Keep the valance classic with clean lines. No poufs, tassels, or ruffles.
For kitchen nooks or eat-in kitchens with just enough room for a small table, see the video below by RealEstate4NH from the Home Staging Channel.

Below is a video by "for dummies" with some basic tips on staging your kitchen for sale. The video contains one staging faux pas... let's see if you can spot it. Check your answer at the bottom of the page.      
What NOT to do in the staged kitchen!
Don't leave bottles of dish soap, froggy soap dispensers, washrags, scrub brushes, and sponges at the sink. When I was a Realtor, I used to stash these items under the sink when I was doing an open house.
Hide the dish rack under the sink. 
Don't hang grimy dishtowels and potholders.
Banish all magnets, photographs and shopping lists from the front of your fridge.
Never have a garbage can on display during viewings. If you can't hide it under the sink or inside a kitchen cabinet, take it outside during viewings. A kitchen with an exposed garbage can screams, "No room!"
Hide knick-knacks or cutesy fabric items like quilted toaster covers when staging the kitchen. They will make the kitchen look dated.
Answer: The kitchen staging faux pas was the garbage pail left out in plain sight.

Return from staging the kitchen to home page