15 Best Small Bedroom Decorating Ideas to
Make it Look and Feel Bigger

For a faster, more profitable home sale
Before you put your home on the real estate market, why not apply some small bedroom decorating ideas to your tiny room to make it look and feel bigger?

It's to your financial advantage to make each room look as spacious as possible. 
If you aren't currently selling your home but want to make your bedroom look bigger-- this page is for you too!
When I was a Realtor, I saw more then a few buyers scratch a great home off their list because of small bedrooms or a tiny master bedroom.
What many buyers fail to realize is that many bedrooms only APPEAR to be smaller than they really are.
A room can simply be so crowded with stuff that you can't see from one corner of the room to the other.
Too much clutter, furniture, dark oppressive wall colors and heavy draperies can make even an average-sized bedroom feel cramped. Many prospective buyers can miss the potential of a room if they can't see it!

You can physically increase the size of any small space simply by decluttering. But don't stop there! Keep reading to discover some home staging secrets that will visually enhance the size of any room.
1. Declutter your bedroom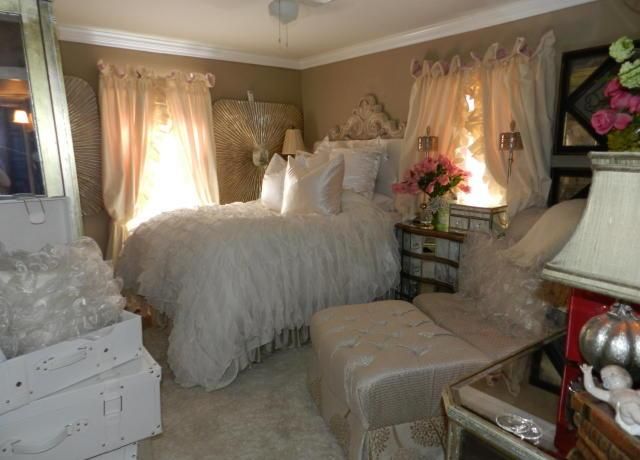 There is simply too much furniture and frou frou in this room! It looks positively miniature, like it belongs in a doll house. Note how the curtains block the light.
I know, groan. Who wants to deal with clutter? But it needs to be done before you do anything else. Decluttering is the first step in the home staging process.
Overwhelming clutter makes it hard for prospective buyers to see the true potential of a home and may cause them to scratch your house off their list.
Instead of seeing all the great features of your home design, buyers will only see your stuff. You aren't selling your things, so pack them up for your new house. Plus, the clutter may be hiding some great features in your bedroom.
Some interior designers say that the eye travels more quickly through a small space. Eliminate anything that stops the flow of the eye, like clutter, contrasts in color and dark heavy draperies.

A good rule of thumb is to remove 1/2 to 2/3 of the furniture in a small room, depending on how much you started with.
Remove the television, electronics and exercise equipment from the bedroom. They just add to the clutter and don't create that relaxing retreat that home buyers are looking for.
2. Use light, neutral colors in your small space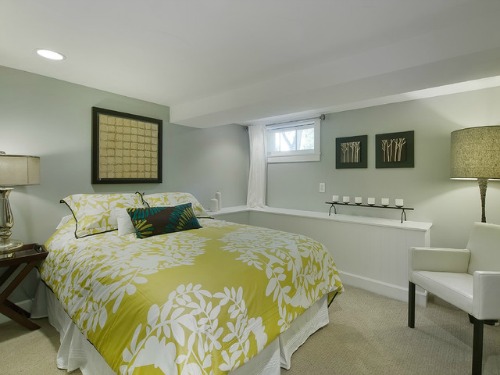 This basement bedroom should be dark, but the combination of pale colors, good lighting and open-legged furniture make it feel light and airy in spite of a tiny window!
Your goal as a home seller is to make your home appeal to the largest number of buyers possible, and since neutral colors are liked by more people than any other color group, it's the best choice for home staging.
Color is one of the keys to all successful decorating— it can work magic by visually expanding or shrinking space, raising and lowering ceilings. 

Paint is the cheapest and the fastest way to update a room.
The right color can fool the eye into thinking a small room is larger than it really is.
Good small bedroom colors are white, beige, pale blue, lavender, gray and green.
Painting walls, window trim and ceiling the same light neutral color will have an expansive effect in a small space, because it creates an uninterrupted space without breaks of color contrast to stop the eye.
If your small bedroom is broken up by doorways, awkward angles, poorly placed windows, nooks, or slanting ceilings, make them less conspicuous by painting them the same color as the walls.
Electrical outlets, switch plates and radiators are also distractions if they contrast with the wall color. Paint them the same light color as the wall.
A Few Basic Color Rules
Pale colors reflect light and can visually expand a small bedroom by giving the impression of "pushing back" the walls
Dark colors absorb and deflect light and give the impression of the walls closing in on you
Cool colors appear to retreat, warm colors advance
A successful room will have a combination of cool and warm colors in the design palette, but one should dominate
Too many different colors in a small space will overwhelm the room and make it look cluttered
The best color for a small bedroom is white. Paint the ceiling, trim and doors white for the greatest impression of space
3. Employ a monochromatic color scheme in a small bedroom
A monochromatic or monotone color scheme is the BEST color scheme for a small space. This is my favorite room color design, as I find it elegant and relaxing.
What's the difference between monochromatic and monotone? A monochromatic color scheme will consist of varying shades of one color, whereas a monotone will adhere closely to one color in the same shade.
Both room color schemes can be very sophisticated and calming, and done successfully, can create the illusion of a more expansive space.
This room design style is built around one color in varying shades, tints and tones in the wall paint, upholstery, bedding, draperies, flooring and so on. Any color can be used.
Create your own monochromatic room color scheme by selecting a color;  white, off-white, grey, beige, even blue! (See the blue room at the top of the page-- it's gorgeous!)
A monochromatic color scheme is typically accented with white trim work, lamp shades and accessories. 
It may sound boring to design a room around just one color, but by incorporating variations in tones and textures, accessorizing with glass, metal, wood, and objects from nature, you can create a feeling of relaxation, spaciousness and sophistication. 
4. Select the right paint finish 
When selecting paint for a small room, be sure to choose one with an eggshell or satin finish. This type of finish is semi-glossy and will help reflect light, creating the feeling of more space.
Avoid a glossy paint finish, as it is very reflective and will highlight flaws on the wall. A semi-gloss or glossy paint is best for trim work.
Avoid paint with a flat or matte finish, as it doesn't reflect light. A flat paint finish is typically used for ceilings or areas where a wall is less than perfect.
5. Be careful with pattern and texture in a small bedroom
In the absence of wild patterns and bright paint colors, a little bit of pattern and texture can add excitement to a small room, but keep it to a minimum.
Shiny, satiny fabrics on a bedspread, window treatments, or accent pillows can illuminate and impart a feeling of luxury to a small bedroom.
Avoid heavily brocaded fabrics and dark colors in small room design.
Solid colors create that high-end look buyers are looking for. Add color or pattern in small accents, like pillows. 
Wide,

subtle

 horizontal stripes on the walls can visually widen a small bedroom.
Use fabrics with texture rather than pattern on larger furniture pieces, like an upholstered chair, so as not to overwhelm a small space.
6. The best lighting for a small bedroom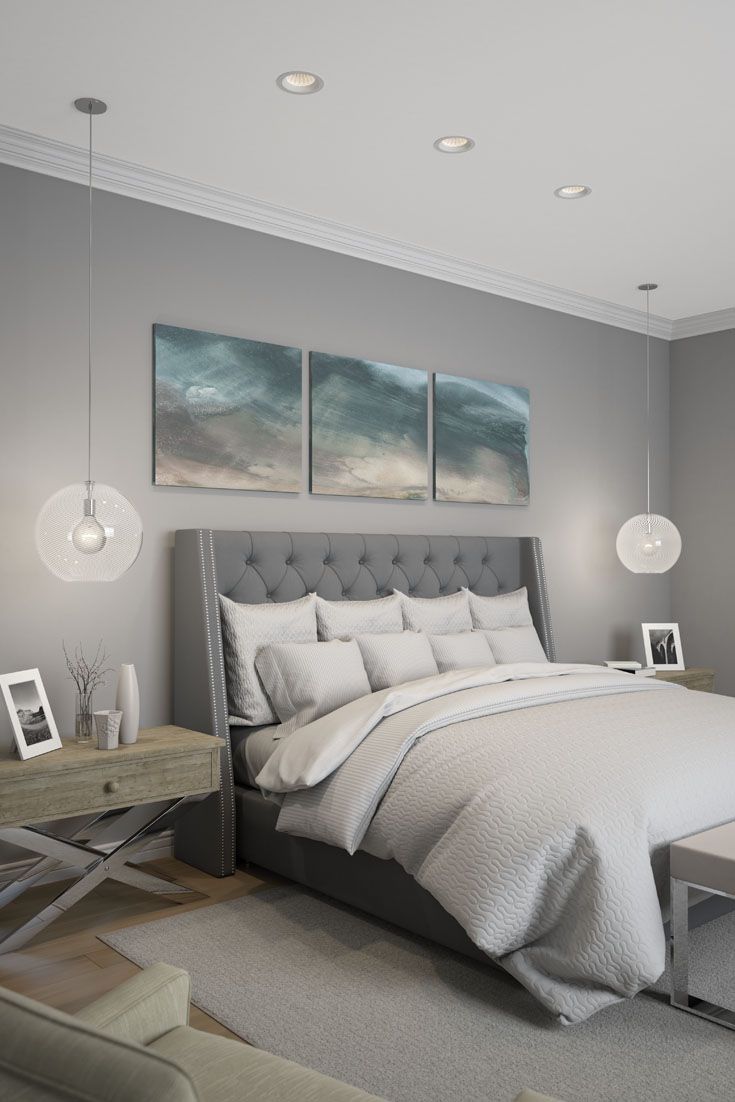 Recessed lighting and clear pendants take up very little "visual" space in this bedroom. Photo by homedecormalaysia.com
Proper lighting plays a key role in making a small space look bigger.
Bedroom lighting should always be relaxing and come from several different sources.
Open drapes to allow as much natural light in as possible. Better yet, remove window treatments to bathe the room in natural light, which has an expansive effect. 
One glaring overhead light fixture can dominate a small room, drawing the eye to that one spot. Add another source of light to keep the eye from fixating there.
No room for bedside lamps? Mount light fixtures on the wall on each side of the bed, or one over the middle of the bed.
Mount floating shelves on each side of the bed for your lamps. This will free up more floor space, contributing to a more open look.
The most practical task light fixture for reading in bed is a swing-arm wall light.

Or, hang pendent lights from the ceiling on each side of the bed.

Dark unlit corners can "visually" shrink a room. Light up a dark corners with recessed lighting. You could use table or floor lamps, but they would only add to the cluttered look.

Recessed lighting is the answer for low ceilings, as they don't take up space by protruding into the room. 
7. Use light colors on ceilings and floors
Ceiling treatments for a small bedroom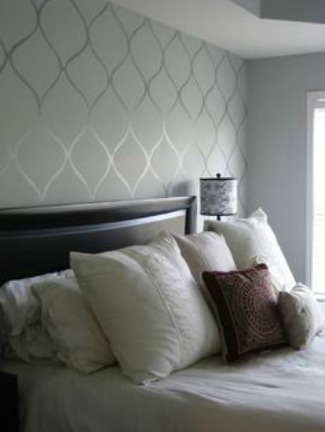 A vertical pattern on walls can make low ceilings appear taller.
Visually "raise" a low ceiling by adding a subtle vertical pattern to the walls, as in the picture to the right.
A dark color on the ceiling can make a small bedroom feel like a cave.
Uniting the walls and ceiling in one light receding (cool) color can make it harder for the eye to see where they meet, making the room feel larger. 
Lower a high ceiling by painting it a dark, warmer color than the walls. 
Bring the color down at least 6" or so onto the wall for greater effect. 
Draperies hung all the way to the ceiling will create a strong vertical line, causing the ceiling to feel higher.
 The best flooring for a small bedroom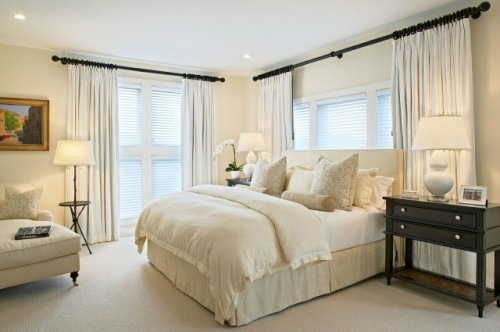 A light color, from ceiling to floor, creates a spacious feeling. Ceiling high window treatments make a strong vertical line, "visually" raising the ceiling.
Light-colored hardwood flooring or carpeting can make a small room feel larger. The more exposed flooring that you can see, the bigger a space will feel. 

An area rug with wide stripes can make your room appear longer or wider. If you use an area rug, be sure it doesn't go all the way to the wall. This will appear to "shrink" the space.
Generally, a minimum of 6 inches and a maximum or 18 inches of space should exist between the rug and walls for the best effect. For a small bedroom, reduce this number to about 8 inches.
Check out this simple guideline by Rugs Direct to find the correct rug placement and size for your space.
Or place two identical rugs, evenly spaced on each side of the bed to draw the eye outward and seemingly stretch the room horizontally. Extend the visual length by using area rugs with stripes.

8. Use appropriately sized furniture in a small room
A tiny room doesn't mean you have to use small furniture, but you should use pieces in scale and proportion to the room size and each other.
For instance, picture a pair of really tall lamps perched on miniature nightstands. This will make the room feel off and you may not even know why.
Scale usually refers to the size of an object in relation to the human body, or to the room itself. Proportion refers to the size of an object relative to other objects in a room.
Select a bed size that gives you enough room for 1 or 2 nightstands.

To demonstrate how scale and proportion work together, consider how dining room chairs need to be in scale to the dining table, and the chandelier above should be in proportion to the table below.
9. How to position the bed in a small bedroom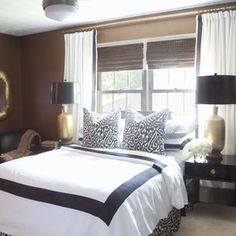 Don't be afraid to place a bed in front of a window if there is no other option. The window will act like a focal point.
Every good room design begins with locating a focal point, then planning your arrangement around it.
If your bedroom is devoid of any outstanding features, the bed naturally becomes a focal point because of its size and importance.
Interior designers recommend that you place the bed where it looks best as you enter the room, but you may have little choice due to the confines of your small room.
Ideally, the foot of the bed should be the first thing you see as you walk into a bedroom and placed furthest from the door, typically in the middle of the longest wall. 
Downsizing the bed is one of the best small bedroom decorating ideas ever!
Downsizing the bed instantly makes a small bedroom look larger by introducing more "breathing room" into the space.

Often, you are left with no other option than positioning the long side of the bed against a wall. This is perfectly acceptable. Use a daybed instead and stage the room as a pretty sitting area.
Another option is to position the bed on the diagonal, which is the longest line of a room. This will feel more spacious, but won't work in a super tiny bedroom.
10. The best furniture styles for a small bedroom
Use fewer pieces of furniture, instead of a lot of small pieces that can make a room feel more crowded. The farther the eye can see into a room without stopping, the better.

Consider scale when choosing furniture for a small bedroom. Avoid heavy furniture, like sleigh or canopy style bed frames. Their massive size will swallow up space.
Remove the footboard from your bed frame to reveal more visual space.
Use armless furniture to create more visual and physical space.
Don't be afraid to have one large piece of furniture in your bedroom. Using one bold piece, like an upholstered armchair or armoire, will actually make a small space seem less cluttered then many smaller pieces.

Select furniture with an open design, like a metal bed frame or open legged nightstands.
Use lucite, furniture that you can see through. 
Take advantage of vertical space by using a tall piece of furniture instead of a lower wide one. You will gain floor space.
Don't stage a small room with a suite of matching furniture. Bedroom furniture suites are outdated and will "shrink" a room.
For extremely small bedrooms, remove all the furniture except the bed and nightstand. 
11. Use mirrors and reflective surfaces in a small space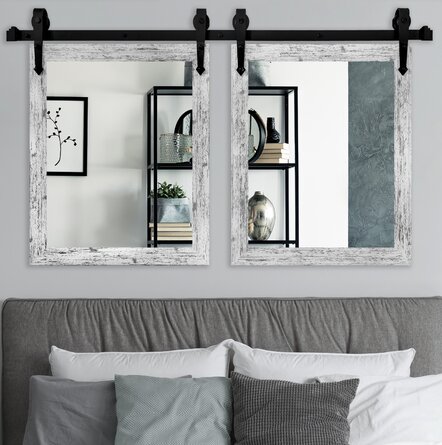 Photo by Wayfair.com.
Mirrors add depth to a room by seeming to extend the room through the glass. 

Place a mirror opposite a window to add dimension and extra natural light.
Use fabrics with reflective qualities in the draperies, bedding or upholstered furniture.
Accessorize with decorative objects that have reflective qualities, like a jewelry box or vase.
12. Use multi-functional furniture in a small space
Storage issues can be solved with the purchase of a lift storage bed or a bed frame with built-in drawers.
Use nightstands that provide inside storage.
13. Go vertical in a small space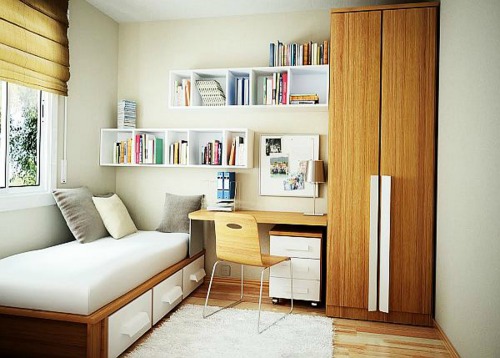 Floor to ceiling closet draws the eye upward. Lots of clever storage in this bedroom!
A strong vertical line will draw the eye upward, making a room feel more spacious. Vertical storage will free up precious floor space.
Replace a long dresser with a tall one.
Go from floor to ceiling with built-in shelving if you have the room.
14. The best window treatments for a small bedroom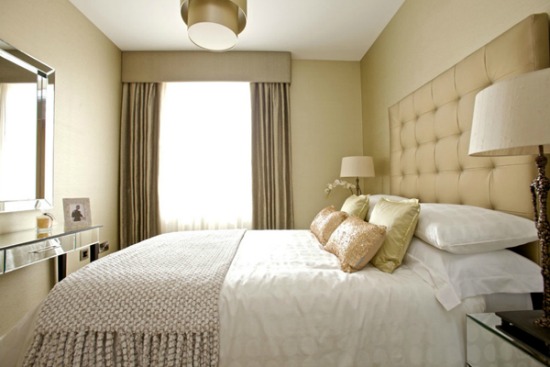 Hang draperies from ceiling to floor to create a strong vertical line, "visually" raising a low ceiling.
Leave windows bare of window treatments if you can. Let natural light infuse your small space, for an expansive effect. If you need privacy, hang sheers for an open, airy feeling.
Make narrow windows appear wider by extending curtain rods well beyond the width of the window, wide enough so that curtain panels don't cover any glass when opened. 

Dark, heavily textured window treatments can have a confining effect. 
Match draperies or curtains to the wall color for a seamless effect that allows the eye to keep moving, making the space feel bigger.
No window? Consider installing a skylight.
15. Staging your small bedroom to sell your home
For extremely small bedrooms, remove all the furniture except a bed and one nightstand. 
Limit collectibles to one or three pieces, or one large outstanding accessory that functions as a focal point.
A large floral arrangement can overwhelm a small room. Instead, display a single elegant bloom, like an orchid or peony.
Use accessories with reflective or see-through qualities that will blend into the background.
A landscape picture is a great idea for a small room because it has perspective. This will draw the eye in, like looking out a window.
Hang floating shelves instead of shelving with ugly bracketing or heavy corbels. They take up less visual space. Accessorize sparsely.
For more small bedroom decorating ideas to make rooms look bigger, watch the cute video below by Libby Landon.

Return from small bedroom decorating ideas to home page