Outdoor Lighting




DIY Home Staging Tips




for a faster, more profitable home sale
Outdoor lighting will make your home stand out in the neighborhood and accentuate the positive features of your home and garden.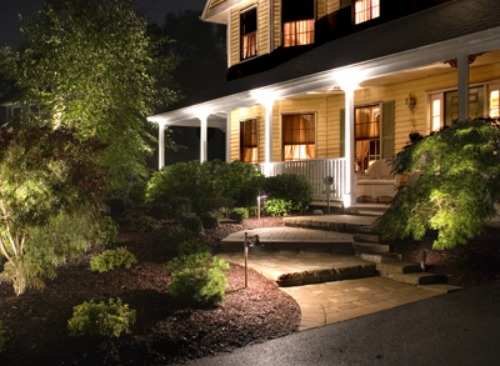 Outdoor landscape lighting will enhance the positive features of your home exterior at night
A well-lit home looks classy and shows buyers that your home is well taken care of. Outdoor lighting will also add value to your home by increasing the curb appeal and help sell your home fast and for more money!
Because many home viewings occur at night, why not add some outdoor landscape lighting that will lure buyers into wanting to see the rest of the house. Capture the attention of those "drive-by" viewers who like to cruise through neighborhoods at night, or those people wanting to check out a house and neighborhood before committing to a viewing. 
Outdoor landscape lighting will also add a measure of security to your home by protecting against intruders and falls. 

Outdoor landscape lighting
A well-lit home is essential for safety, security, function, and aesthetic reasons. Before adding night lighting to your home exterior, you should analyze the landscape, architecture, and safety needs to create effective nightscaping. A well-planned outdoor area will include a variety of lighting types for different functions.
Ideally, you should have enough light along stairways, steps, and paths for safety reasons, even if it's just one row of lights along one side.

Landscape lighting will extend the time you can enjoy the outdoors and will add interest and beauty to your home design. It can be subtle or dramatic, depending on your taste. 
If finances are limited, simply adding a few lights to the front of the house can increase the curb appeal of your home. 

Outdoor landscape lighting ideas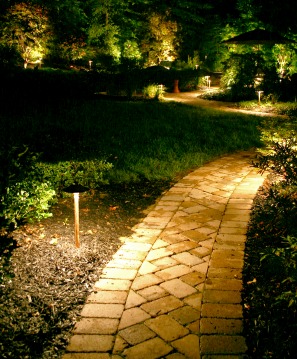 Lure buyers along garden paths with outdoor lighting
A well-lit front door is always welcoming to visitors. Flank your front door or garage with wall sconce lighting, or hang a decorative lantern off to one side.
Porches or inset entries may need additional lighting. Recessed lighting fixtures will brighten up these areas.
Double door entries look better with two outdoor lighting fixtures, one on each side. A small porch with a single door will benefit from a single light fixture, an overhead or recessed lighting fixture.
Be sure to match the style of the outdoor lighting fixtures to the style of your home. See room styles.

House numbers should be well lit so they can be seen from the curb. Or, light up the address on your mailbox by installing a post light.
Sidewalk or path lights will accentuate the entrance to your home, guide people safely to your front door and draw them into your home.
Line the driveway with post lights or ground lights that can be inserted into brick or stonework.
Install LED rail lighting on a deck, or light up the newel posts.
Place outdoor landscape lighting where it will show off your garden.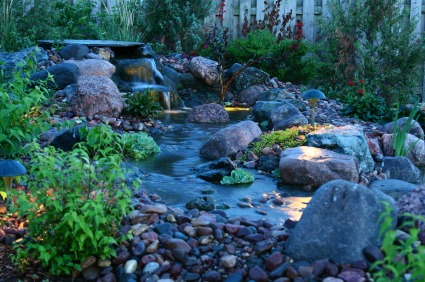 Spotlights draw attention to this beautiful water feature
Water features, like fountains, fish ponds or bubbling brooks look very elegant with night lighting.
Drape rope or string lighting around the eaves or rails of your front porch.
Use spot lights to accent sculptural elements in the landscape, like statues, birdbaths, or beautiful trees.
Line a meandering path with outdoor landscape lighting.
Highlight an outbuilding, playhouse or gazebo with outdoor lighting fixtures.
Architectural features of your home will stand out with night lighting.
Show off your swimming pool and/or hot tub with landscape or pool lighting.
Types of outdoor landscape lighting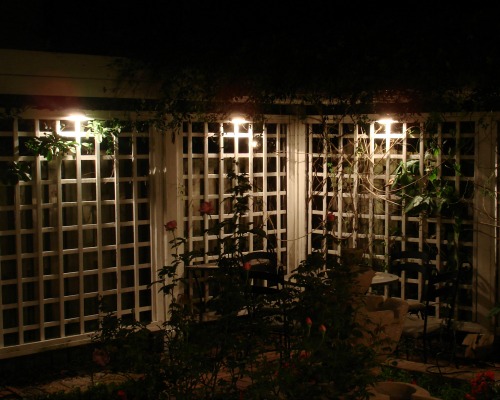 Downlighting
Downlighting
Downlighting is used to highlight objects below the light source. It is similar to moon lighting, except it offers brighter light. 
Downlighting is typically placed up high, for instance; in a tree, the eaves of a house, in the top of a trellis, a patio, or gazebo.
Downward flood lighting is often used to illuminate large spaces for safety and security reasons.
Uplighting
Uplighting is used to light anything above the light source. Landscape uplights are usually mounted on the ground, (or below it) and shine light upward.
This form of nightscaping is commonly used to draw attention to beautiful trees, interesting architectural features, garden walls, fences, or the textures of stone or brick on the exterior of a home.
Place one to two fixtures at the base of the tree and point upwards to show off the trunk of the tree.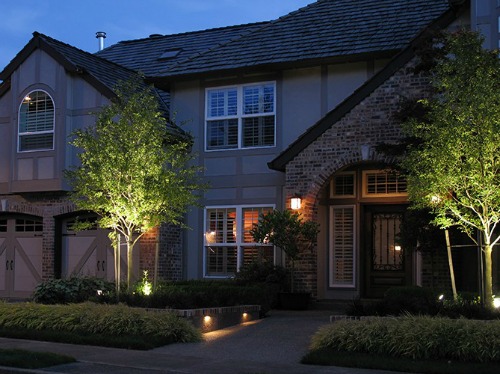 Uplighting draws attention to the trees, by enhancing their color and texture in this nightscape
Uplighting creates an ambient light (see lighting) for added security. It is also effective at creating drama with shadows on walls. For instance; shadows created on bare tree branches in the winter can often have an eerie skeletal effect, so beware of what you're trying to highlight.

Uplight fixtures inserted in the ground among tall shrubs, trees, bamboo and grasses presents a luminescent light. Floodlights, spotlights, and bollards work well in uplighting. Low-voltage light fixtures with halogen or led bulbs are commonly used.
Backlighting or 

silhouette lighting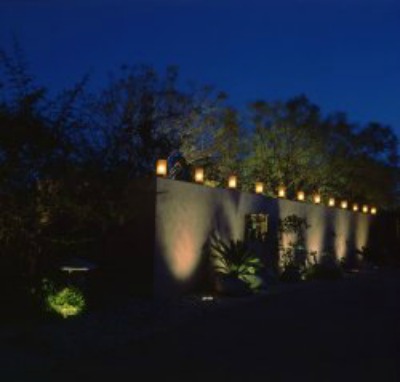 Backlighting behind the shrubs
Backlighting is used to shine light behind objects to create a silhouetted effect. Most of the subject will be in shadow. A spotlight is placed behind the subject feature, but pointed toward an adjacent wall. Doing this illuminates the backdrop and outlines the feature.
Be wary of backlighting certain garden sculptures; backlighting can turn a charming cupid statue into a creepy gargoyle!
Backlighting is also used to show off special plants and shrubs. Sometimes multiple fixtures are needed.
Front lighting
Front lighting focuses light directly ahead. Front light will fall on the the subject and fill in most all the details.
Accent lighting or spot lights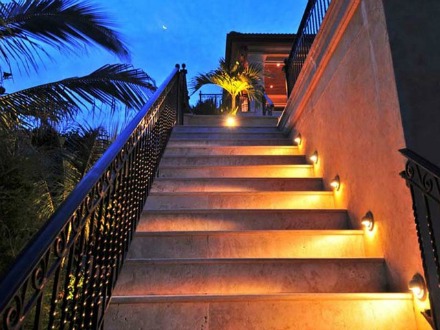 Accent lighting makes this stairway safe and beautiful
Accent lighting allows you to draw attention to and highlight a specific feature or object in the yard.
Accent lighting can be angled up or down to point at a garden scupture, an architectural feature, trees, shrubbery, water features, or a stone wall.
Position your accent light a few feet away from the object; use low-voltage to prevent washing out the area around the object with too much light.
Underwater accent lighting is used to draw attention to water features like, fountains, koi ponds, and swimming pools.
Moon lighting
Moon lighting is a term used to describe lighting that mimics the soft natural effect of moon light.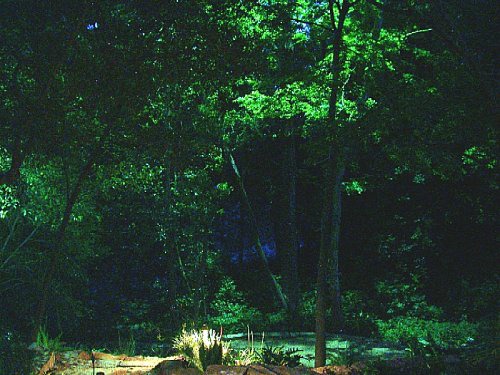 Moon lighting mimics the soft romantic light of the moon
To create this soft, lovely dappled effect, install multiple low-voltage lighting high up in your trees, pointing the light down through the branches and leaves. 
Moon lighting is also an effective way to downlight a patio area.
Path lighting
Path lighting is used along the borders of sidewalks, driveways, patios, or garden paths for safety and aesthetic purposes. They come in several different forms; ground lighting or post lighting. 
Don't go overboard by placing lights in "soldier-like" rows along each side of a path. Avoid that "runway" effect by placing path lights randomly. Give visitors enough visual cues to nudge them forward to their destination. 
Placing path lights near flowers and plants will add texture and color to your nightscape.
Shadow lighting
In the same manner as silhouette lighting, shadowing focuses a light fixture toward a wall, but the fixture is positioned in front of the subject instead of behind. The light will be shining through the shrubs, creating a shadowy effect.
If a breeze is blowing, the effect can be very interesting, sometimes eerie.
Wash lighting or grazing
Wash, or graze lighting is used to diffuse light over vertical subjects, like garden walls or the side of a house. It is used to highlight and enhance the texture of surfaces. 
Wash lighting highlights the texture and shadows of the stone siding
Place lighting off to the side (abutting) your subject and point the light upward. The light will "wash" over the object, bringing out the textures and shadows. 

Wall lights, floodlights, and spotlights can be used to achieve this soft glowing effect. 

Selecting outdoor lighting
Low-voltage outdoor lighting
Low-voltage outdoor lighting offers a soft romantic light that works well for outdoor parties at night, for highlighting trees, artwork, gardens and most other landscape features. It's also very energy-efficient and safe.
Low-voltage lighting is safe, cost effective and easy to install. Low-voltage light kits can be found at any home improvement center. 
LED lighting systems (light-emitting diodes) are an example of this form of night light. They are used more for effect and design rather than for lighting up an area. LED lighting emits a white and colored light. Low-voltage lighting systems work well for down-lighting.
High-voltage outdoor lighting
High-voltage lighting will light up more outdoor area than low-voltage, allowing you to extend your time spent outdoors. This type of lighting is typically used for safety and security reasons.
If you install high-voltage outdoor lighting, be sure that you place it where it won't glare into your neighbor's windows at night! High-voltage lighting should be installed by a professional, because it may require putting in a new circuit system and must be up to code. 
Outdoor solar lighting
Outdoor solar lighting provides a dim light that is typically inadequate at lighting up an entire landscape. Use them for spot effects along steps and paths. Solar lights come in yellow, silver or blueish light, providing a soft glow that creates an intimate sort of mood. The great thing about them is that you can just shove them into the ground and they're affordable! No wires to mess with and no need to turn them on and off. They will come on by themselves at night.
On the downside, solar lights will lose their intensity after a few hours. 

Creative home staging ideas for outdoor lighting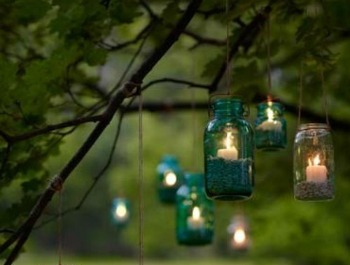 Beautiful and romantic. Pinterest photo
Insert small ground lights into large flower pots on the front porch.
Line up tiki torches along a path or around a patio.
Hang lanterns or old mason jars filled with glowing candles from trees, your porch, trellis or around a patio.

String LED lights around tree trunks, decks or porch railings, umbrella or flag poles. Use white lights instead of colored-- it's more elegant and will offer more light.

Float candles in a birdbath.
Create an attractive outdoor room by setting your patio table with dinnerware, lanterns, candle-filled mason jars or candles. Home buyers LOVE outdoor spaces-- it's like adding extra square footage to a home, which can help you sell your home fast!
Hang Chinese lanterns in bright cheerful colors around your outdoor dining area or gazebo.
Line your front path with luminarias!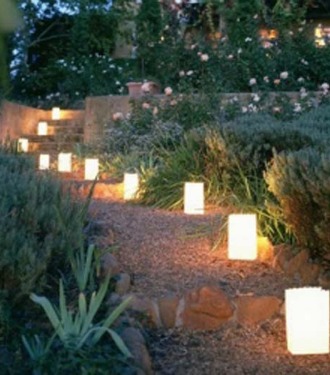 Luminarias are fun to make!
To make you will need: 
Scissors, hole punching device, paper bags, sand, votives candles in glass containers.
With scissors or a hole punching device, make cut-outs in your flattened out paper bags.
Open the bags and and fill the bottom with enough sand to safely nestle glass-encased voltive candles in.
Light your 

luminarias right

 before an open house; home buyers will be charmed by this quaint custom of greeting visitors. 



Common mistakes with landscape lighting
Try to hide the light fixture! You want to see the EFFECT of the light fixture, not the fixture itself.
Excessive light! You don't want to be those people with bright lights shining in the neighbor's bedroom windows at night-- nightscaping should be used in moderation.
Don't install your own high-voltage lighting systems. Get a pro to do this.
Don't place post or ground lights where they will get knocked over by a lawn mower.
Don't light ONLY the top of a staircase. Doing so you will cast a shadow on the steps, making it hard to see the stairs. Add lights at the bottom and top for safety.
Return from outdoor lighting to interior lighting
Return to home page