Staging the Bathroom

---
How to sell your home and make a faster, more profitable sale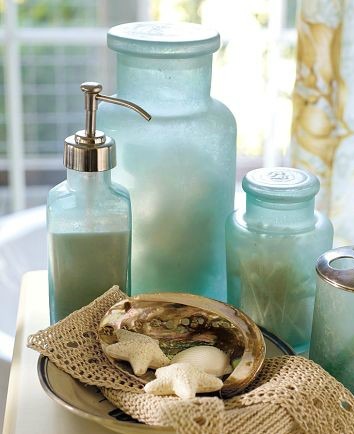 Create a pretty vignette in your bathroom. Photo by Pottery Barn
Staging the bathroom before you show your house can often mean a difference between a home sale or a rejection in the real estate market.
Home buyers will be looking for at least one bathroom with a luxurious soaking tub, decent sized shower, great storage and excellent lighting.
The spa-like look is still greatly desired by home buyers and is easier to create than you may think, even in a small bathroom. It's all about light, color, texture, and accessories. 

After your bathroom is decuttered, cleaned, and all repairs have been made, you should be ready to add the essentials to your bathroom design that will entice reluctant home buyers. Follow the bathroom decorating ideas below to sell your house fast and for more money.
For home staging tips to make small bathrooms appear more spacious, see small bathroom design ideas.
The master bath
Although this elegant bath is painted in a dark neutral color, the natural light, sparkling accessories and bright white accents make a nice contrast. Photo by House Beautiful
Create a spa-like ambience when home staging a master bathroom. 
Paint walls with a semi-gloss paint in pale neutral colors like; aqua, turquoise, sage, cream, tan, warm pale yellow, or white. See interior colors for home staging.
Paint trim work and doors white to freshen the space and add a contemporary look.
Decorate the bathroom with crisp white towels and a white fabric shower curtain. 
Roll fluffy towels and display on bamboo mats, in baskets or wooden bowls. Rolled towels make a bathroom look elegant.
If you have room, place a comfortable chair in the bathroom to create a sense of relaxation. 
Fill a basket with sea sponges, bath brushes or pretty soaps and set by the bathtub or corner of the vanity.
Fill tall clear jars with cotton pads, Q-tips or bath s

alts.
Staging the bathroom with artwork and mirrors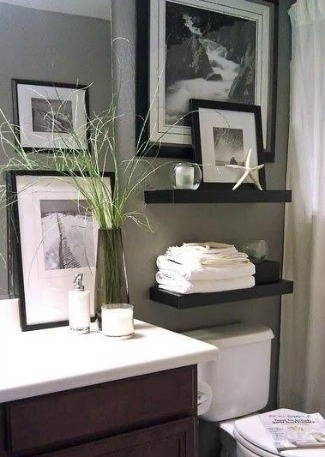 Display artwork on a shelf by leaning it
When staging the bathroom, be sure to use neutral artwork; not personal photos. See depersonalizing your home.
Unify multiple pieces of art with common features; color, frames, subject matter, and so on. The unifying feature in the pictures in the photo on the right are black and white photographs. 
Don't clutter the bathroom with too many small pieces of art. Hang a single large piece of art above the toilet or towel bar.
Hang pictures so that the middle of the artwork is at least 60 inches high.
The best place to hang a mirror is where it will reflect light, like opposite a window with a great view or a sparkling light fixture. This will bounce extra light around the room, creating the illusion of more space. 
Mirrors add depth to a room by seemingly extending the room through the glass. 

Be careful of what the mirror reflects in the bathroom; you don't want to hang it where it reflects the toilet! See hanging artwork and mirrors.
Hanging towels
Arrange towels artfully on a towel rack by folding a bath towel lengthwise into thirds. This keeps the edges from showing. Hang a matching hand towel over the bath towel in a layer, also folded in thirds, or of a coordinating or contrasting color. 
Hang a towel folded into thirds and drape it over the edge of the bathtub. Layer a folded washrag on the towel, then place a beautifully wrapped bar of luxury soap on top.
Roll towels and arrange in a basket on a shelf. 
Watch the video below by curbNotes for unique towel folding and hanging ideas for home staging.
Bathroom decorating ideas for home staging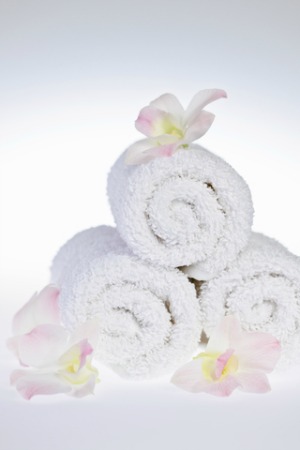 Rolled towels impart a feeling of luxury
When staging the bathroom, you want everything to look and feel fresh, as if it's all new.
Hang a new shower curtain in a white or neutral color, or select one with a geometric pattern to add a contemporary flair to the space.
Leave the shower curtain 2/3 open to reveal the interior of the shower or bath. This will give the bathroom more visual depth, making it feel bigger.
Visually increase the size of your bathroom by replacing a shower curtain with a clear glass door. This will extend sight lines into the bath, making the space appear larger.
A frameless glass shower door will make the bathroom look even bigger! 
Here's a quick bathroom renovation idea. Swap out ugly dated cabinet hardware with new fixtures that are sleek and modern. Be sure to match the hardware with other metal finishes in the bathroom.
Create a lovely bathroom vignette
For winter viewings, stage the bathroom with towels in rich, dark colors. In the spring and summer, lighten up the bath with fresh light colors. When in doubt, fluffy white towels are always a winner.

Here's a quick bathroom update. Swap outdated metal fixtures with new ones that are sleek and modern. If you don't, buyers will only be thinking about how much it's going to cost to replace them and may negotiate the price of your house down. Be sure to match as much of the hardware as you can with other metal finishes in the bathroom. This includes faucets and sink assemblies, tub, shower fixtures, towel bars and toilet paper holder. Keep light fixtures in the same metal tones as well. It's really not necessary to match everything completely, I prefer to mix in a few unexpected textural elements. But for those home buyers who are particular about these things, it's a safe bet to match fixtures. When in doubt, go with a satin nickel, bronze or chrome finish, as they appeal to most people. 




Keep floors clear to maximize the square footage of the bathroom. Remove the garbage can for home viewings.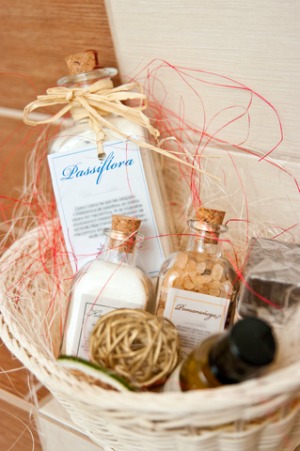 Fill attractive containers or jars with Q-tips, cotton balls, beach glass, bath salts and tiny molded soaps. Be sure to use odd number groupings and vary the heights of accessories when creating arrangements.

Place a luxurious new rug next to the shower or bathtub. Or hang the rug on the bathtub.
Swap out an ugly builder's grade mirror for an updated model or two framed mirrors. For directions on removing builder's grade mirrors, see removing a glued on mirror.
Soften an empty corner with a LIVE green plant. If you brush up against it as you walk through the bathroom, remove it. It will take a beating once prospective buyers start going through your home. A bit of greenery will freshen and help create that spa-like feel that so many people love! Read the infographic below by Modern Bathroom, to learn which plants will thrive in the b

athroom.

Plants That Trive In Bathrooms created by
Modern Bathroom.
What Not to do in the bathroom!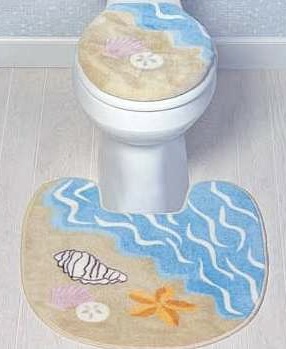 Fluffy bathroom accessories are outdated
Remove pink ruffles, knick knacks and cutesy items, like crocheted toilet paper holders and towels edged with tatting. Keep things gender-neutral.
Don't leave a soggy bar of soap in the bathroom, anywhere.
Remove damp, ratty towels and old bathrobes from the back of the door, as they WILL turn buyers off. Believe me, buyers WILL judge your home by such small details as these! See depersonalizing your home for more on this subject.

A recent survey on the biggest buyer turnoffs showed that a soggy soap bar, damp towels, and a toilet seat left up were the biggest buyer turnoffs for most people.
Return from staging the bathroom to home page
Small bathroom storage solutions