Staging the Bathroom



For a faster, more profitable home sale
Staging the bathroom before you place your house on the real estate market can often mean the difference between a fast home sale or having it linger on the market place for months.
Buyers will be looking for at least one bathroom in your home with a decent soaking tub, roomy shower, great storage and good lighting.
A spa-like bathroom is still a greatly desired feature in today's home marketplace and it's easier to create than you may think, even in a small bathroom.
It's all about creating the right atmosphere, by utilizing the right colors, lighting, texture and accessories. 

After you have decuttered, cleaned and made any necessary repairs in your bathroom, you should be ready to move on to the fun part of staging.
Keep reading for bathroom decorating ideas that will entice home buyers to make an offer on your home.
How to stage a master bath in a spa-like manner
You can decorate ANY bathroom to have a spa-like atmosphere. Size or location really doesn't matter.
Use the right colors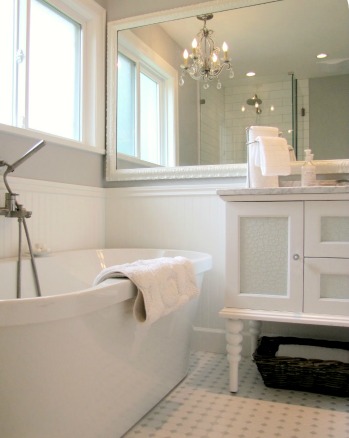 The mirror in this bathroom gives the feeling of another room. Hang a mirror where it will reflect a light fixture or the outdoors.
When designing a spa-like bathroom, it's important to select colors that are restful. Note that color will also be present in artwork, plants, accessories and bathroom fixtures.
Select a semi-gloss paint in a pale neutral color like; white, tan, gray, aqua, turquoise, sage, or cream. 
Another option is to paint walls in a dark brown or gray and offset with white trim and accessories. This is a glamorous look and can make one feel pampered.
Paint trim work and doors white to freshen the space and give it a clean, contemporary look.
For a small bathroom, swath the entire room in white; the walls, trim work, ceiling and door, tub, shower and toilet. Avoiding color breaks can fool the eye into thinking a tiny space looks and feels larger.
Be sure that light and electrical outlet switch plates closely match the light wall, as well.
Decorate the bathroom with fresh white towels and a white or neutral colored fabric shower curtain. 
Bring some some nature into the bathroom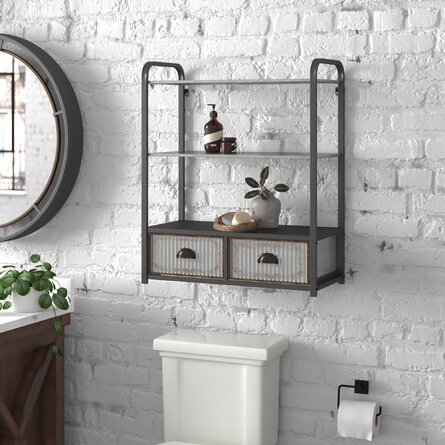 Display a potted plant on a shelf. Shelving unit by Wayfair.com.
Bringing some greenery into your bathroom will add greatly to that tranquil feeling you are aiming for.
Potted plants can be displayed in a windowsill, on a countertop, shelf, floor, or hanging from the ceiling.
Here are a few plants that do well in a bathroom:
Orchid - The elegant orchid always adds a touch of sophistication; 
Boston Fern

- A lush boston fern

 will bring a freshness to the space; 
Bamboo - will add a nice vertical element;
Aloe Vera

- they

just look really cool;
Begonia

- This versatile plant will add texture and color.
Seashells and other objects from the sea can also be quite restful and decorative, reminding one of a fun trip to the seashore.
Stage the bathroom with artwork and mirrors
Avoid cluttering the bathroom with too many pieces of small art.
Ok, maybe it's not a good idea to have a picture on the bathroom counter. But I like the black and white theme going on in the picture to the right.
Unify art pieces by using like colors.
Hang a single large piece of art above the toilet or hang one of those hotel towel bars.
An extra mirror will add depth to a room by seemingly extending the room through the glass.
The best place to hang a mirror is where it will reflect light; opposite a window or a sparkling light fixture.
Be careful of what a mirror reflects; you don't want to hang it where it reflects the toilet.
How to hang towels for home staging
Find this rack at smallbathstorage.winerackKirklands
Roll your towels for an elegant look.
Display rolled fluffy white towels on a bamboo mat, a basket or a wall-mounted towel rack. 
Hang a matching, or color coordinated hand towel over the bath towel in a layer, also folded in thirds. 
Change your bathroom towel colors according to the seasons.
Watch the video below by curbNotes for lovely and unique towel folding and hanging ideas for staging the bathroom.
Ideas for staging the bathroom
When staging the bathroom, you want everything to look fresh and new. Be sure that the inside of cupboards and drawers are tidy, as well. Buyers do love to look inside!
Hang a new cloth shower curtain in white or another neutral color, or select one with a neutral geometric pattern to add a contemporary flair to the space.
When buyers are on the way over, be sure to leave the shower curtain 2/3 open to reveal the interior of the shower or bath. This will give the bathroom more visual depth, making the room feel larger. Also, hide wet towels and melting bars of soap!
Visually increase the size of your bathroom by replacing a shower curtain with a clear glass door. A frameless glass shower door will make the bathroom look even bigger. 
For winter viewings, stage the bathroom with towels in rich, dark colors. In the spring and summer, lighten up the bath with fresh light colors. When in doubt, fluffy white towels are always a winner.
For a quick renovation, swap out dated bathroom fixtures for new ones that are sleek and modern. If you don't, buyers will only be thinking about how much it's going to cost to replace them and may negotiate the price of your house down. 
To be safe, stick with a satin nickel, bronze, or chrome finish, as they appeal to most people. 
Bathroom vignette in a basket.
Create a pretty vignette with objects from nature like sea shells, star fish and sea sponges.
Fill a glass container with Q-tips, cotton balls, beach glass, bath salts or tiny molded soaps.
Create a vignette on a base, like a flat wicker basket, silver tray or pretty antique dish.
Be sure to use odd numbered groupings when arranging your bathroom vignettes, and vary the heights of objects when creating arrangements.

Place a luxurious new rug next to the shower or bathtub. Or drape the rug over the edge of the bathtub.
What Not to do in the bathroom
Don't use fake flowers or plants.
Avoid decorating in a themed decor, like tropical or beachy. A few decorative accents are all you need to create the impression of a theme without going overboard. Buyers don't want to think about having to remove your tropical wallpaper or repainting an overly bright orange wall mural. 
Avoid hanging a plastic shower curtain for staging--they just look cheap. Instead, use a neutral-colored and/or textured cloth shower curtain.
Remove pink ruffles, knick knacks and cutesy items, like crocheted toilet paper holders and towels edged with tatting. Keep things gender-neutral.
Never leave the toilet seat up...EVER!
Don't leave a soggy bar of soap by the sink or in the shower.
Remove any damp

towels and use

d bathrobes from the back of the door.

A recent real estate survey revealed that a melting bar of soap, damp towels, hair in the shower drain and a toilet seat left up were the biggest turnoffs for most home buyers.
Return from staging the bathroom to home page
Updated 08-08-2023