Window Treatments




DIY Home Staging Tips




for a faster, more profitable home sale
Window treatments are used in interior home design to control light, create privacy, frame a view, add accent color and texture, and make a living space warm and inviting.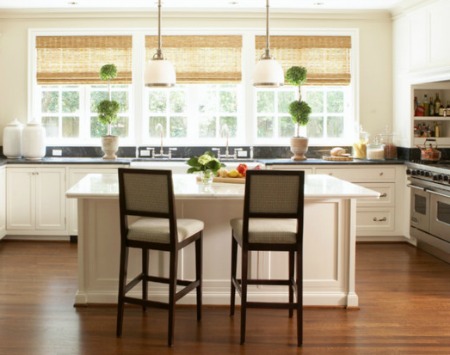 Neutral-colored window blinds filter light and accent the windows in this kitchen
Window coverings are used to emphasize architectural details or soften hard edges, as in a kitchen, bathroom, or laundry room. Adding window coverings can instantly change the look and feel of a room— sort of like adding accessories to your favorite outfit. 

Home buyers today are looking for homes with plenty of natural light in every room. Window treatments for home staging should be basic in design-- not too fussy. You want buyers to focus on your fantastic view or back yard, not the window blinds.
Types of window treatments
Window coverings can be divided into two groups; soft and hard. Soft window treatments are made from fabrics and hard window coverings include blinds, shutters, screens, and specialty glass like frosted or stained glass. Hard and soft window treatments can be used alone or together.
Outdated window treatments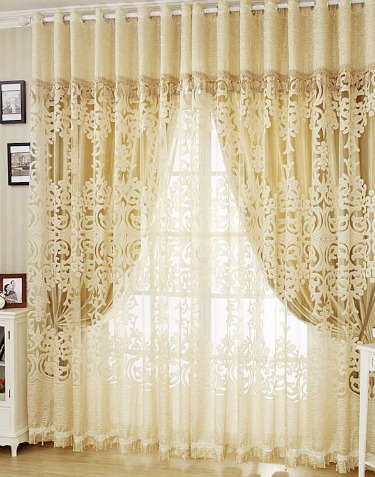 Too fussy and "taste specific"
When you're trying to sell your house fast and for more money, it's a good idea to remove outdated built-in valances and cornices, as they can look heavy and overbearing, in addition to blocking natural light.
Remove heavy window treatments, like draperies made from velvet or brocade fabrics. Heavy drapes can make a room look dark, stuffy and too formal. Take down worn or outdated window blinds.

Also remove window coverings in outdated colors and styles, fussy ruffled or shirred curtains, ornate laces, bishop sleeves, swags and tassels…all these styles will become an unwelcome focal point and may cause home buyers to think the entire house is outdated, as well!
Theme-based window treatments, like "My Little Ponies" or "Disney" characters are too taste specific, and won't appeal to a lot of people over the age of 10. Wild patterns and animal prints are often a buyer turnoff too.
Remove window coverings that don't compliment your interior home design or room function.
If you have customized window treatments that still complement your home, consider leaving them for the new owners. It's a great selling feature, plus it's one less thing you'll have to pack up for your move. Chances are, they won't go with your new home anyway.
Interior window shutters - Traditional-style shutters are louvered, which means they're angled to let in light. Most people love the look of them, especially the wood-slatted ones. They can block light, so you need to determine whether they are actually enhancing a space or detracting from a room's assets.
Window covering colors, patterns, and textures
Wildly patterned or garish-colored window coverings should be avoided when selling your home. You should add a bit of color to your home staging, but keep patterns neutral. Geometric and striped patterns are usually stylish without being too taste specific.
Window coverings should complement the color palette and style of each room. If a fabric in the room has a distinctive color or pattern (neutral!) consider using the same material for the windows. A general rule is to repeat a fabric from at least one other thing in the room; a love seat, a chair or pillows.
Texture can greatly influence the mood in a room. In general, the smoother the texture, (like silk) the more formal a room will seem. Smooth textures can also make fabric appear lighter.
The reverse occurs with coarsely textured fabrics. Coarser textures absorb more light and colors will appear darker. Heavily brocaded draperies will look far heavier than silk drapes. 
In the same manner as textures, heavily patterned fabrics will look weightier than solid colors. See space planning to learn about "visual weight."
It's okay to combine different textures, but be sure that the contrast isn't too great. For small room window treatments, see small bedroom decorating ideas.
Window treatments for home staging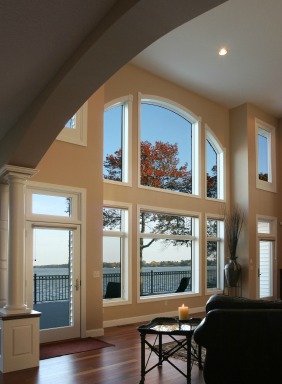 Let beautiful windows speak for themselves!
It's okay to simply leave windows bare— it's better than having the wrong window treatments in place. Some windows are so beautiful that they don't require any embellishment. If you aren't worried about privacy, this is a great option.
A plain roller blind is an affordable and good choice for kitchens and bathrooms.
Blackout roller blinds work well in children's bedrooms, especially when you soften the edges with some coordinating curtains.
Stick with neutral colors— avoid falling into the "pink" or "blue" stereotype.
A living room will look more warm and comfortable by adding soft window treatments, like light drapes and curtains. Try to coordinate with or select from a fabric already in the room, like an upholstered chair, throw pillows or sofa.
Window curtains for home staging
This kitchen window valance made from burlap adds a rustic informal look to this home decor
Tab-top curtains - these are a good choice for an informal, casual look. The curtain rods are threaded through the tabs and look best mounted outside the window frame.
Tie-top curtains - Tabs are tied directly to the curtain rod, giving them an informal look.
Tie-back curtains - These are simply curtains held back with fabric or cord ties.
Grommet-top curtains - Curtain rods are threaded through grommets at the top of the curtains, resulting in a clean, contemporary look.
Rod curtains - Curtain rods are shoved through a pocket sewn in the top of the curtain. This creates a straight, crisp look. Rod curtains can be mounted inside or outside window frames.
Valances - Window valances are horizontal decorative features that hang at the top of a window. They're often used to hide curtain rods. Valances can make a window seem taller when mounted on the wall ABOVE the window rather than on the window frame. Hanging a valance is a good way to add color or pattern to an otherwise bland room.
Window blinds and shades for home staging
Kitchen with pull-up blinds
If you're staging your home for sale, avoid shades with overwhelming volumes of pleated or billowing fabrics, like balloon and Austrian shades. Instead try;
Pull-up blinds - Pull-up blinds create flat pleats as they're raised and typically look formal. Pull-up blinds can be mounted inside or outside of window casings. They can be pricey if your windows aren't a standard size and you have to custom order.
Venetian blinds - When layered with other forms of window treatments, venetian blinds can appear softer. These come in handy when you want to block an ugly view or simply need privacy. Wood blinds look good in traditional rooms, whereas metal blinds look more contemporary. Always leave partly open when showing your house to allow filtered light in.
Roll-up window blinds - Rollup blinds are rolled up from the bottom by hand. They look best in a casual, contemporary space. Great for kid's rooms, kitchens and bathrooms.
Roller window shades - Roller shades lift up and down smoothly with a spring-roller mechanism— they can be conveniently adjusted to any position. Very affordable, they're available in a wide variety of materials and typically covered with a plastic coating or fabric. Roller shades look best when combined with other forms of window treatments.
Sources for affordable window curtains, blinds and shades
Look for cheap window coverings and hardware are at Bed, Bath and Beyond, Target, Fred Meyer, Walmart, jcpenny.com, Sears, budgetblinds.com , countrycurtains.com, IKEA, Pier 1, and overstock.com, to name a few.
How to hang curtain panels and drapes
The width of each panel should be 1 1/2 to 2 1/2 times the width of the window.
Treatments can be hung in two ways:
To the windowsill
To the floor
Curtains and drapes shouldn't hang partway between the window sill and the floor. If you have a radiator or air conditioner in the way under a window, hang curtains at the windowsill. A full length curtain touching a base board heater won't hang right and may be a fire hazard.
Floor length curtains should break at the floor about an inch or two to create an elegant drape.
If floor length curtains will be opened and closed daily, a 1/4 to 1/2 inch clearance at the floor will allow them to operate smoothly.
If you want to go for the elegant puddled look, (where extra curtain fabric is gracefully arranged on the floor) the allowances are 6 to 9 inches.
Short curtains that fit inside the window sill should sit at the windowsill. Curtains that fall outside the window sill should fall at the window sill. Shorter curtains shouldn't hang partway between the sill and the floor.
Selecting window hardware
Curtain rods are made from a variety of products; metal, wood and plastic. I've seen rods made from tree branches, an oar, a hockey stick, an antler and a piece of bamboo! Keep it simple for home staging though— don't be too taste specific. 
After taking down old window coverings, you'll be left with ugly holes in the walls from the hardware. Fill the holes with spackling paste or another product called "erase-a-hole." 
Stay away from outdated thick clunky rods with large finials and fat rings. Select an updated, version that is thinner, but substantial enough to match the window's importance. 
If hanging a metal curtain rod, try to coordinate it with metals already in your room.
For really wide windows, you'll need at least one center support bracket, maybe two depending upon how wide the window is and how much weight the rod will have to bear.
Please don't put holes in beautiful window molding, especially if the house is historic. It's often best (and easiest!) to leave the windows bare to show off the trim work. If you must have window coverings for privacy, mount the hardware outside the window frame.
Choose the appropriate wall anchors for hanging rod brackets. Don't use the screws and wall anchors that come in the little packages with the curtain rods when you buy them. They're usually cheap, break easily, and the screw heads strip out. Ask a hardware store worker to help you pick out good quality wall anchors and screws.
Home design ideas for window treatments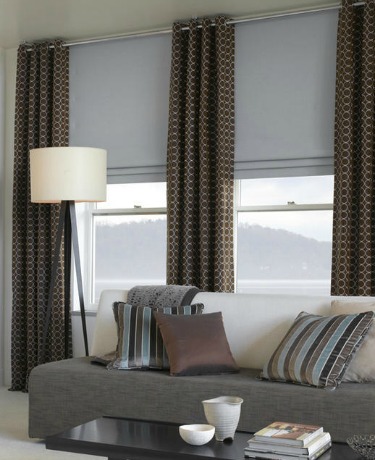 Ceiling to floor draperies make a low ceiling feel higher
To make low ceilings appear higher, hang curtain rods close to the ceiling instead of just above the window frame. Use full length curtains that hang to the floor. This will add a longer vertical element to the room, making ceilings seem higher.
To widen a narrow window and allow more light in, use a rod that extends beyond the frame. With curtains pulled back, more of the window will show, making the window seem wider. Be sure edges of the window frame don't show, or the illusion won't work.
To make a window appear taller, install the rod a few inches higher than the frame. Add a valance to cover the gap between the rod and frame.
Ceilings and windows appear taller when hanging window coverings with vertical stripes or patterns.
To make a window appear shorter, install a valance on the frame instead of the wall. The valance will cover part of the window, making it seem shorter.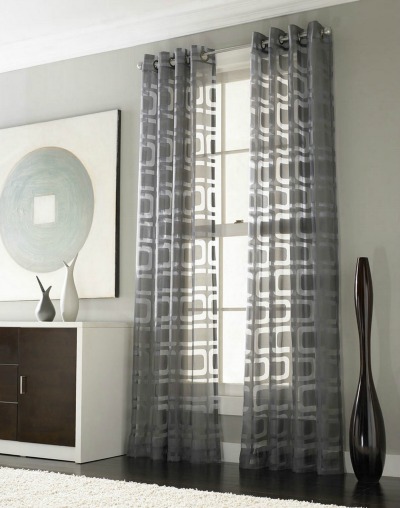 Grommet curtains and geometric patterns look well in a contemporary interior
If a window is off-center with little or no wall space on one side, hang a rod and curtain across the entire window and swag the curtain toward the side with more wall space. This will draw the eye away from the off-centered side.

For windows situated in the wrong place, use a window treatment that's the same color as the walls. It'll be less noticeable that way.

Hang sheers to block out an ugly view. They'll soften the view, yet filter light in.

Apply frosted window film to tiny windows. This technique lets light in, is easy to apply, and is removable!

To find, go to gilafilms.com, 

windowfilmandmore.com

, or artscape-inc.com. Also available at Amazon, Lowes, and most home supply centers.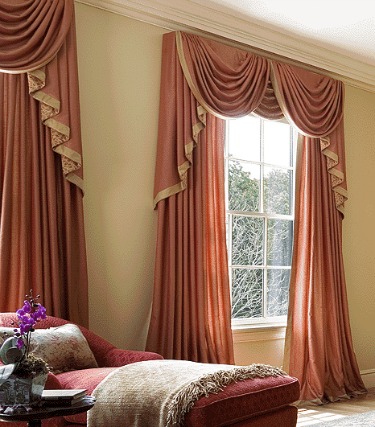 Avoid overly elaborate and formal window coverings like these!
If you want to direct a buyer's attention to a great view outside, hang curtains that're the same color as the wall. This will give the illusion of more space in a room as well.
Consider the mood you want to create in each room. For instance, if you're going for an elegant feel in the master bedroom, go ahead and stage it with window coverings made from luxurious and smooth fabrics.

In tiny rooms, don't overwhelm the space with oppressive window treatments.

If the scale of a room is large overall, use window coverings that complement that grander feel. 
Return from window treatments to home page