Staging the Living Room
For a faster, more profitable home sale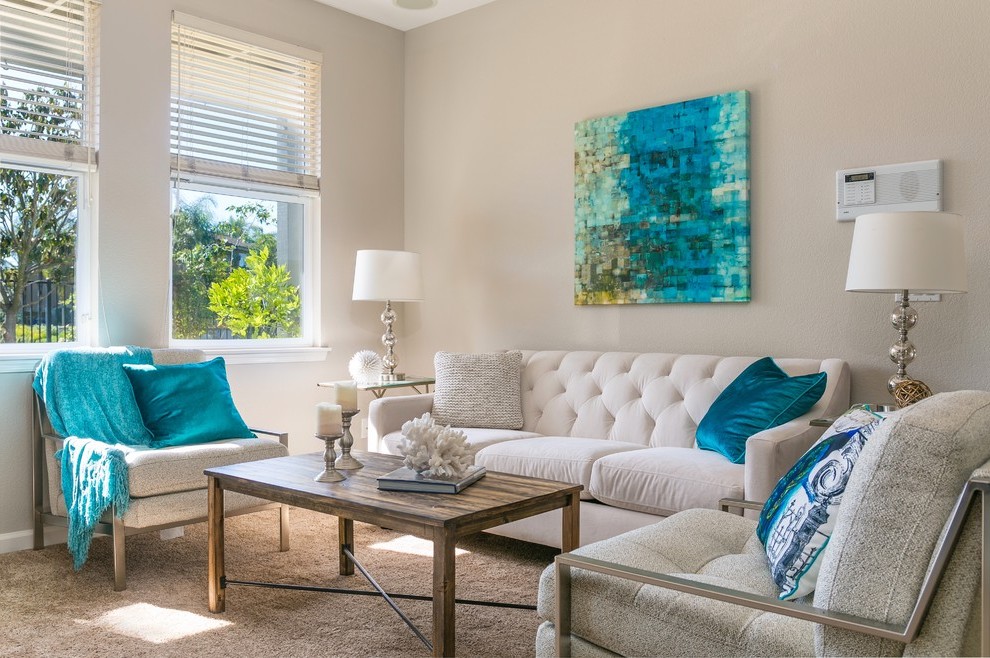 Blue accent colors and textural elements add excitement to this neutral colored living room. Photo by homescapes-sd.com
Staging the living room before you place your house on the real estate market will help sell it faster and for more money.

For many, the living room is the most important room in the house; a place where family and friends spend time relaxing, visiting and entertaining. Your home staging should reflect those kind of activities.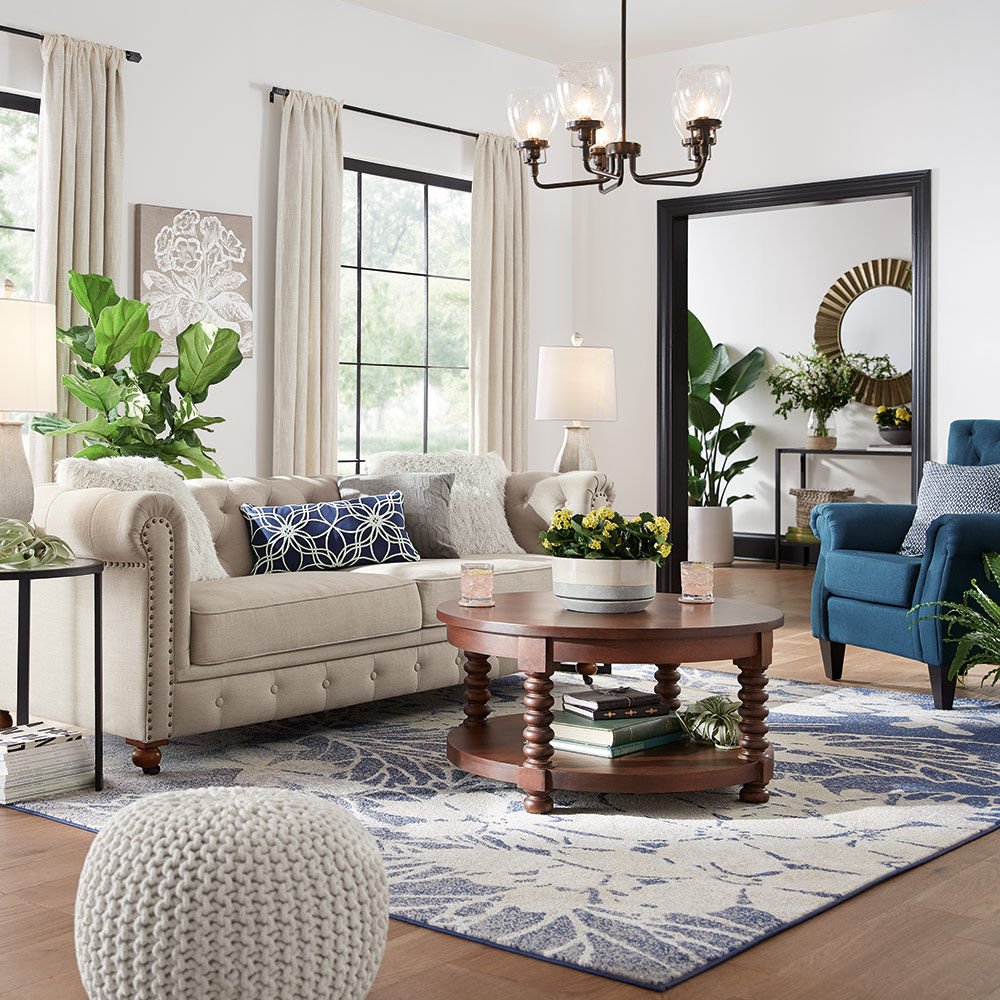 Note the elegance of the matching wall color and draperies. What a beautiful backdrop for the blue accents. Photo by Home Depot.
When I was a Realtor, I saw many buyers think twice about buying a home after being presented with dirty walls and carpets, outdated light fixtures and unmatched kitchen appliances.
In most cases, house hunters would simply turn around and walk back to their cars. The fact is, most people just want a move-in-ready home.
Despite what you see on TV, very few buyers are looking for a fixer-upper.
If the home you are selling isn't in top condition, buyers WILL keep a to-do list and use it to negotiate the price of your home down.
Staging the living room with neutral colors, sensible furniture arrangements and colorful accessories will add value to your home.

Before you begin your home staging, be sure that you have properly prepared your home by decluttering and making any necessary repairs. 

Note the shape and architecture of your living room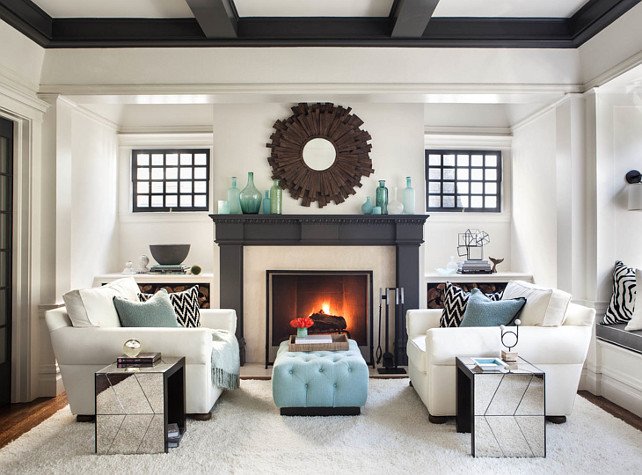 An example of a perfectly symmetrical living room; matching architecture on each side of the fireplace takes the guesswork out of furniture placement. Photo by Studio Munroe
Before you begin the task of moving heavy furniture around, take a moment to reflect on the shape and architecture of the room.
The shape and architecture of a room is often a guide on how to successfully place your furniture. 
Is your living room a perfect square or a long rectangle? Do you have an L-shaped living room? Are there awkward corners or angles? Can you find a focal point(s)?
Where are the traffic patterns? With proper space planning, there should be enough room for people to travel comfortably in and around the furniture and through the room. 
What is a Traffic Pattern?
A traffic pattern is the natural flow of people traveling through a space, the paths in and out of a room and the areas where you walk the most. In carpeted rooms, you will often see a lot of wear in the carpet where traffic patterns occur.
It's important to establish traffic patterns before you begin staging any room. Watch out for door swings and windows, as you'll need room to open and close them.
You'll also need a comfortable 24" of space in which to maneuver in and around furniture.

Identify the focal points in your living room
The forest view seen through these enormous windows makes a spectacular focal point in this living room! Photo by homesmoving.org
A focal point is a feature that immediately captures your attention as you walk into a room.
It can be a stunning view, a lovely fireplace, even a striking painting.
A focal point can also be bad, as in a crumbling brick fireplace or view of an overgrown jungle in the backyard.
Your goal is to enhance and draw attention to these special features so that buyers will be enchanted with your home. A spectacular focal point may also outweigh another negative feature in the living room.

Furniture and accessories should be arranged to draw attention to focal points. Emphasize striking or lovely features to distract home buyers from focusing on the flaws in your home.
What about multiple focal points?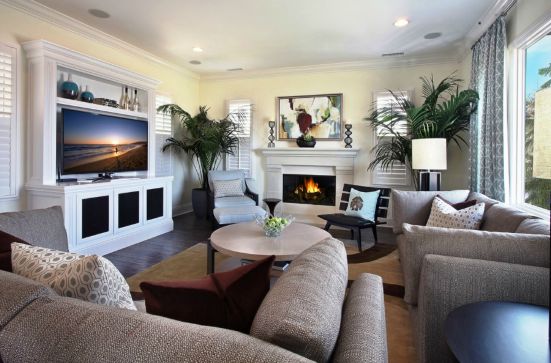 How many focal points can you spot here? There are three; fireplace, TV, and a window view. Furniture is arranged to take advantage of all three.
Quite often a room will have multiple focal points. How do you know which one to highlight? Where does your eye go first when you enter a room?
Look for the predominant focal point-- it may be the largest and most dramatic element in a room. If your living room is large enough, you can arrange the furniture around several focal points.
Common living room focal points
Fireplace

French doors

A feature wall of rustic brick or reclaimed lumber
Beautiful windows, like a bay or arched window
A stunning view
TV entertainment center
Built-in bookcases
A large painting or picture collage
A musical instrument, like a grand piano
When staging the living room, it's important to draw attention to the best feature. If it's a gorgeous fireplace, you're in luck, because this is a highly coveted feature.
Hang or lean a large mirror or painting above a fireplace to highlight it and create a pretty vignette on the fireplace mantle.
Beautiful windows or French doors usually speak for themselves. No need to hide them under window treatments that can detract from a gorgeous view or an outdoor entertaining area.
How to create your own focal points
Sometimes a room just doesn't have a focal point, so you'll need to create one. This can be done with color, accessories, artwork and furniture placement.
One large, bold piece of furniture, like an armoire or a sofa, can function as a focal point.
Hang a large, sculptural piece of art, like a clock above the sofa. 
A console table placed against a wall can also serve as a focal point. Add height by creating a vignette on top using artwork, a mirror, tall plants, a basket or a lamp.
Create an accent wall by painting it in a darker, yet neutral tone of the living room wall color. 
Use a TV as a focal point
I'm not a big fan of a big screen TV as a focal point in living room design, but since most buyers want them, the big screen TV is here to stay.
These days, interior decorators and home stagers are placing flat screen TVs above a fireplace or a console table as a design element.
Or, hide a TV inside an armoire, entertainment unit, or in a room specifically designated for television viewing. 
I once showed a house to a prospective buyer who kept casting his eyes all around the living room.
I knew exactly what he was looking for! A spot for his big screen TV. There wasn't room, so the house didn't get sold that day.
Best paint colors for staging a living room
When staging the living room, select warm, neutral paint colors. Neutral colors work best because both men and women like them.
Classic home interior design begins with one main color and one or two accent colors. Find one main color you like; the draw color cues from a favorite fabric, area rug or a painting.
Neutral colors are the easiest to decorate with because they work successfully in all room designs. 
Neutral wall colors also provide an excellent backdrop for any color and pattern you place against it, whether its a piece of furniture, draperies, or artwork. Any added color will "pop" against a neutral canvas.
Gray is a sophisticated color and still popular at this time. Gray complements all other colors and serves as an excellent backdrop for almost anything you place in your room.
Light neutrals and earth tones have the widest appeal among home buyers and will complement most people's furniture.
Here are a few neutral paint colors that most people love; beige, taupe, ivory, coffee tones, honey, butter, golden, wheat, blue-green, mossy green, brown, blue-gray and gray.
Green is also highly desired in 2022 and certainly on into 2023. Look for popular living room colors here. 
To make a small living room appear larger, or to tie an open floor plan together, paint walls the same color as the adjacent room. This will create a seamless transition from room to room. 
Living room lighting tips
Natural light
Natural light is the preferred form of lighting in home interior design. Natural light makes everyone feel good by infusing a room with sunny warmth and a feeling of spaciousness.
When staging the living room, focus special attention on the window treatments. Are your beautiful windows shrouded by dark heavy draperies?
Dark colors and heavy fabrics can oppress and close in a room. Complicated drapes and curtains with tassels, swags and ruffles are also outdated and fussy.
Are you covering a beautiful view that buyers might miss?
Your goal is to let in as much natural light as possible. Pull back window treatments all the way, or simply remove if you have great windows.
For small living rooms, hang window treatments that are the same color as the walls. This will create the illusion of a larger room.

If you have a spectacular window with a great view, simply leave the windows bare.
Bare windows will let in maximum natural light, making a space seem more open by extending the room into the outdoors.
Artificial lighting
A living room requires enough overall ambient lighting to make it comfortable on the eyes.
Typically, the living room is a multi-task area that requires task lighting for activities like reading or sewing. A good rule of thumb is to have 100 watts per 50 square feet.
If you need more light, remember that floor and table lamps are functional accessories. You may need to have at least two in the living room to balance light.
Select contemporary lamp styles with white or beige shades for optimum light.             

Trying to sell your home with dated light fixtures is a huge mistake.
Buyers are very sophisticated in their taste these days and having to update old light fixtures may seem like too much work for them.
Installing modern and stylish light fixtures is one of the most cost effective and quick facelifts you can give your home.
Buyers respond positively to a well-lit house, and beautiful interior lighting will add value to your home, meaning more money in your pocket. 
Stage the living room with an area rug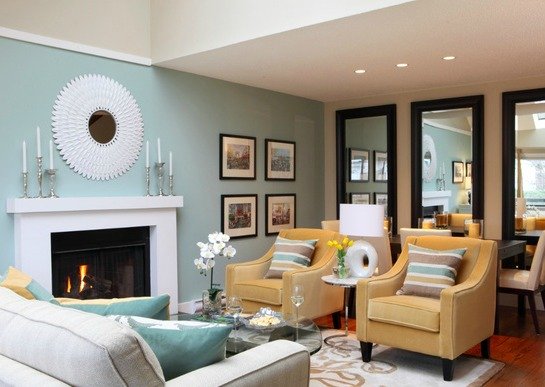 The area rug anchors the furniture into a cohesive space. Large mirrors create the illusion of more space.
An area rug will add color, pattern, texture and warmth to your living room design. A large area rug can unify furniture and define separate spaces.
Center an area rug under a conversational grouping of furniture, or use two area rugs to define two separate spaces in one room. Good rug sizes for groupings: 6' by 9' rugs or 5' by 8' rugs.
Be sure that the rug is large enough to fit the front legs of your sofa and chairs on, as pictured above. A rug running under furniture just makes a room feel larger.
If you place an area rug over wall-to-wall carpeting, don't be surprised when buyers want to look underneath. They'll think you're trying to hide a stain!
Leave at least 1 - 2 feet of floor showing between the wall and rug.
If an area rug goes all the way to the wall, it'll create the illusion of "shrinking" the space. 
Staging the living room furniture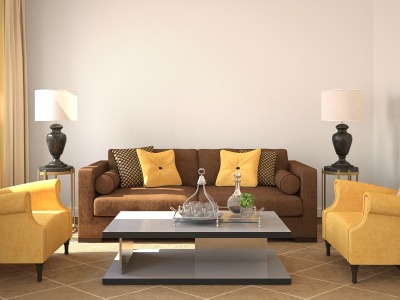 A well-balanced and symmetrical grouping of furniture, although it cries out for some colorful artwork above the sofa!
Float furniture away from the walls. Despite what our instincts tell us, moving furniture away from the walls will actually make a room feel larger!
Furniture should be arranged into conversational groupings. You can place a sofa across from another sofa, or two chairs of equal visual weight, facing or perpendicular to the sofa.
If you have a fireplace, center the furniture grouping toward it. When you enter the living room, the fireplace should be the first thing people notice.
If your focal point is a lovely window, face furniture toward the window where the view can be appreciated while sitting.
What about a large, oblong living room?
A large oblong-shaped room can be staged into two different spaces. Using a separate area rug in each space will define them as separate "rooms."
You might stage one end as a conversational grouping and the other for media viewing or gaming. Or you could just stage them into two separate conversational areas.
If your living room has more than one focal point, arrange your furniture accordingly.
Each separate area can be assembled and directed toward its own focal point. An L-shaped sofa works really well in this situation, as you can place it to face in two directions at once. 
Staging your living room with accessories
Now for the fun part...adding the accessories! The accessories you use in your staging should help tie the room together and enliven the space.
Typically, when you accessorize your home, you decorate according to your personal style and taste. The opposite is true when staging your home for sale.
Neutralizing your home of your personal taste will allow home buyers to better imagine themselves living there. Be sure to maintain proper balance, scale and proportion when staging the living room.
Bookshelves, media centers, or a large display piece, like an armoire, should be decluttered and staged with 

spaces between objects

 to create an open and airy effect.
Don't just place objects in a straight line on a shelf. Overlap objects to create depth in your arrangements. Group objects in threes and fives, placing the tallest objects at the back, smallest in the front. Aim for a triangular shape.
Plan on using medium to large-sized accessories when staging the living room. Larger accessories will have more impact as you enter a room. 
Follow the advice of HGTV's Sabrina Soto when selecting accessories; Don't use anything smaller than the size of a cantaloupe.
Balance color throughout a room. Scatter accent colors in at least three places around the room to create visual movement; in draperies, pillows, throw, or an upholstered accent chair.
Return from staging the living room to home page
Updated 10-12-2022