Staging the Home Office
DIY Home Staging Tips

for a faster, more profitable home sale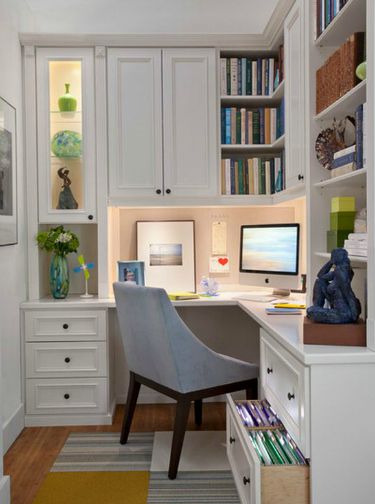 White cabinets brighten up this small office
Staging the home office will create that functional and organized space home buyers are looking for at this time.
With so many people working from home these days, an office space is a "must have" when looking for a new home.
Many home owners don't have the luxury of having a specific room dedicated as a home office. Most likely, your home office consists of a desk and computer sharing a space in a guest room with a bed, exercise equipment, and an ironing board.
If you are preparing to put your home for the real estate market, why not stage a multi-functional room like this into a home office instead?
Showing home buyers that your house has room for an office, even if it's a shared space in your kitchen or living room, will add value to your home in their eyes.
Staging the home office
Once you've decluttered, depersonalized and cleaned your office space, you can begin the fun part of staging the home office. Your goal is to make your home appeal to the widest range of home buyers possible, and adding a home office may just seal the deal!
Home office interior design colors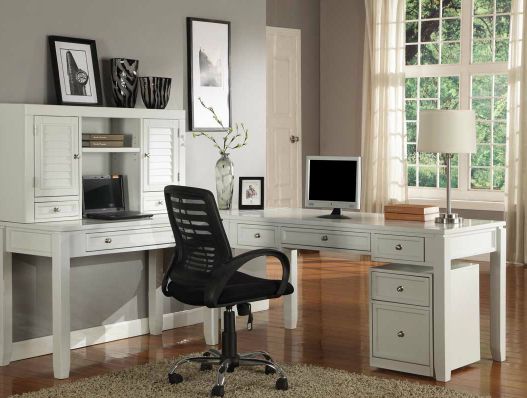 Neutral colors create a relaxing work environment
Normally, energetic colors that stimulate the mind, like red, would be great for an office space. But bold bright colors are just too overpowering and personal for home staging. 
Flooring should be a neutral color, whether it's carpeting, laminate, or wood. If you're planning to install a new wall-to-wall carpet, select a tan, beige or taupe. These neutral colors work well in any home design.
Home office lighting
Ambient light is a general, evenly distributed source of light that brightens up an entire room. Natural lighting is the preferred form of ambient lighting for any room in the house, so open the drapes or blinds, or remove window treatments entirely.
If natural light is lacking, a ceiling fixture or floor lamps will brighten as well. You may need two floor lamps to balance the light. See lighting.
Task lighting is a must in every home office. A lamp for the desk should be bright enough to illuminate your work space, but not blinding.
Placing the home office furniture
Find this cute and affordable "Dorel" office furniture at Kmart.com or Amazon.com
A few pieces of furniture are all you need to indicate the purpose of a room. When staging the home office, a desk and chair, along with a few accessories will do.
Ideally, if you are expecting regular visitors, the desk and chair should be facing the doorway to the room when you are seated at the desk. A visitor's chair can be placed perpendicular to the desk.
If you have the space, create a little reading "nook" in a corner with a comfy chair, small table and a floor lamp.
For those who prefer looking outside while they work, place the desk and chair facing the outdoor view. 

Placing the desk at an angle in a corner is another option for a small or difficult space.
The office desk and chair do not have to be the old traditional boring standbys. My personal favorite choice for a work desk is an small old farm table painted in white.
Any comfortable chair can serve as an office chair, as long as it's the right working height for the table.
Use office organizers to contain the mess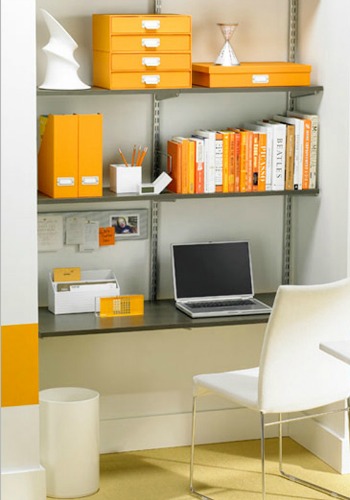 Hide supplies inside attractive office organizers
Stage your home office by storing supplies out of sight. Hide office supplies inside desk drawers or stash them inside a storage cabinet.
Label each storage box so that you can immediately find what you need. You can find label makers at any office supply store.
Separate office supplies into categories by placing "like" items together. For instance, keep all writing utensils in one place, like your desk. Store all paper in another place, mail supplies in one drawer, and so on. This way you won't be rummaging through every drawer looking for one thing.
For limited storage space, take advantage of vertical space by installing shelves on the wall. This will give you extra storage without sacrificing floor space.
Shelving gives you a place to put your favorite books or work manuals, hanging filing systems, and more. Stage shelves with pretty office organizers like hanging wire baskets, bins, drawers or boxes.
Don't cram home office shelves completely full; leave spaces between items to create a more open office design. This is also a good interior decorator tip for small spaces.
A tall armoire in your office will provide a ton of additional storage opportunities-- if you have a wireless printer, you can stash that in there as well.

Accessorizing the home office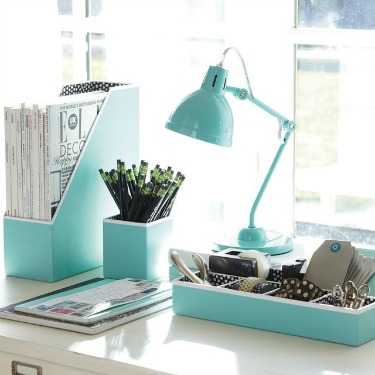 Keep artwork and colors gender neutral in your home office design; an old map, attractive books, a globe, objects from nature, a landscape painting, a large wall clock...
Home office design ideas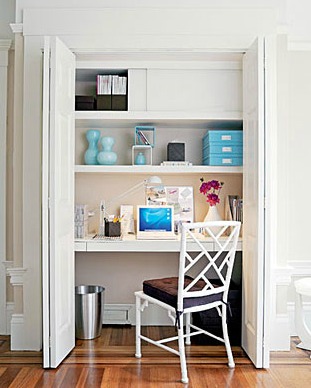 Turn a spare closet into an attractive home office
No spare room for an office space? Try one of these office design ideas: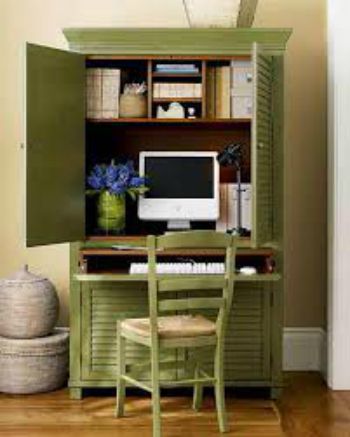 Armoire office space


Open the closet doors to display the office space during home viewings.




Add a pretty accent chair that complements your home decor, as pictured.



Why not use a piece of large furniture for your home office?

Turn an attractive armoire into a small office space. When you're not working, simply close the doors.
Look for office organizers at;
Staging the home office to home page