Staging the Bedroom


DIY Home Staging Tips


for a faster, more profitable home sale
What buyer could resist this luxurious bedroom?
Staging the bedroom before placing your house on the real estate market will help your home stand out above the other competition out there. This is especially important with a master bedroom.

It helps to be aware of current buyer trends when staging all the rooms in your home.
At this time, home buyers are looking for a master bedroom that offers a relaxing get-away from the cares of the world.
Soft neutral colors and luxurious fabrics appeal to both sexes. Colors that work well in bedrooms are cool blues, green, grey, varying shades of white. Create a master retreat that will entice buyers to make a quick offer on your home. 
Remove worn carpets, as most buyers will negotiate the price of a house down for new carpets. Plus, a home with a brand new carpet just shows better
If buyers don't like the wall colors, they will think about all the work of painting they will have to do! In their minds, worn out furniture and bedding are a reflection of the condition of your house too.

With proper furniture layouts, neutral paint colors, plush bed linens and accessories, you will  create that look that home buyers want. 

Follow the bedroom decorating ideas below to sell your home faster and for more money!
Staging the bed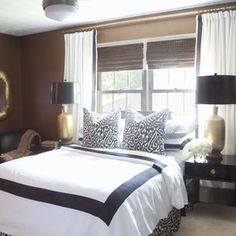 Placing the bed in front of a window is often the only choice.
In the master bedroom, it's all about the bed! Consider the bed as a centerpiece.
If a bedroom has a great focal point, like French doors or a beautiful window, your bed placement should acknowledge it. Place the bed opposite the focal point, if possible.
The foot of the bed should be the first thing you see as you walk into a bedroom and placed furthest from the door. This isn't always possible due to architectural details like windows, doors and closets, or simply the size of a bedroom. See small bedroom decorating ideas.

When staging the bedroom, your goal is to present home buyers with a beautifully dressed bed as they enter the room. Avoid having the bed crossing the doorway as you enter, as this can make a bedroom look smaller.
Small bedrooms often have no special features. In that case, the bed becomes the focal point merely because of its size. Positioning the bed in a small bedroom often presents a challenge. Placing the bed sideways against the wall is one option.
The best spot to place the bed is against the longest wall. If you're lucky, the longest wall will be directly opposite the door, making the ideal setup for traffic flow around the bed.
If you don't have a wall without windows and doors, try placing the bed in front of a large window, as pictured. A bed in front of a window should have a headboard.
Feng shui tips for bed placement
According to feng shui principles, a bed lined up with the doorway is called the "coffin position." Yikes!! For more on this ominous subject, see feng shui home staging.

If you want to apply feng shui to your staged bedroom, place the bed in the "command" position. This is where you can see the door while lying in bed, but aren't in direct line with the doorway.
Interior decorating ideas for headboards
Headboards are a great way to accent a bed when staging the bedroom. A headboard can turn your bed into a stunning focal point. A gorgeous headboard can create drama in a featureless bedroom by turning bland into beautiful.
Most of us simply can't run out and buy a new bed or have a custom-made headboard created for us. Following are a few affordable ways to create a headboard:
Quick and Inexpensive Headboard Ideas for Staging the Bedroom
a folding room divider screen placed at the head of the bed;
louvered closet doors painted in a pretty color;
attach old window shutters to the wall-- sand off some of the paint for a weathered rustic look;
attach an antique wood table top to the wall at the head of the bed;
hang a triptych (a picture presented in 3 parts) on the wall, or a large wide painting at the head of the bed;
attach an old rustic door horizontally to the wall or arrange reclaimed lumber across the wall;
hang a tapestry or quilt on the wall;
paint a large square in an accent color on the wall at the head of the bed 
For more headboard ideas, go to: https://www.diynetwork.com/how-to/topics/headboards
Learn how to make your own upholstered headboard by watching the video below by Sailrite.

Traffic Flow in the Bedroom
What is traffic flow?
Traffic flow, or pattern, is the natural flow of people traveling through a room, the paths in and out, and through a room. You often see worn paths in carpet where people walk the most. It's important to establish your traffic pattern before placing your furniture. Watch out for door swings and windows. 
Leave 1 1/2 to 2 1/2 feet of space around a bed.
The space between twin beds should measure between 1 1/2 to 2 1/2 feet.
To make small bedrooms appear more spacious, swap out a big bed for a smaller one.
Leave at least 3 feet of walking space in front of a dresser for opening and closing drawers.
How to make a bed for home staging
When staging the bedroom, your goal is to make home buyers want to sleep in that room. If bed linens are stained and tired looking, overly bright or heavily patterned, replace them with soft neutral colors. Aim for that high-end, layered hotel look that so many people desire. 
Inexpensive "bed in a bag" linens can be purchased for staging the bedroom. Bedding sets are typically coordinating linens that come with most of the essentials.  A "bed in a bag" will usually include a comforter, bed skirt, pillow shams, and often, decorative pillows. You can find sets like these at; kinglinen.com, samsclub.com, echo bedding, amazon, Macys, or JC Penny.
When staging the bedroom, stick to neutral solid colors, or linens in a soft, neutral pattern. Solid colors create that high-end look that so many home buyers want these days. See interior colors for home staging.
To make a luxurious bed you will need: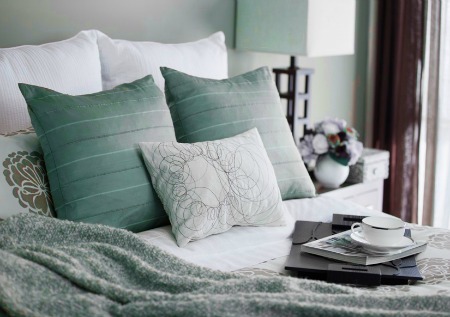 Two standard-size pillows, (king-size for a king-size bed, one pillow for twin-size)
Two standard-size, or Euro-style square pillows with shams (three for a king-size bed, one for a twin)
Blanket or bedspread (Optional)
A duvet cover for the comforter (white, ivory, grey, green, blue, or any soft neutral color)
Assorted decorative pillows in a variety of shapes and sizes, preferably in odd numbers 
A coverlet, shawl or throw for the end of the bed
In your normal fashion, make the bed with the bed skirt and sheets, leaving the top sheet untucked 1-2 feet at the top. Iron the bed skirt before putting on the bed. Remember to place the top sheet face down, because you will be folding it back to expose the right side. Folding back reveals your pretty linens and makes the bed look inviting.
For pro and elegant bed making ideas for staging, go to:  The Spruce
If you love duvet covers but struggle getting them over a quilt, take a look at the video below.
Watch the following video by Woman's Day Magazine on How to quickly put on a duvet cover.
What about small bedrooms?
Don't despair! There are plenty of decorating tips and tricks that help small spaces feel more spacious and attractive. Go to small bedroom decorating ideas to learn more. 
Staging the rest of the bedroom furniture
Hanging pendant lights are a good solution if you don't have room for bedside tables.
Dresser: If you have the space, place a long dresser, preferably with a mirror above it and a tall chest of drawers in the bedroom. Be sure not to place all furniture on one side of the room, as this will ruin the balance in the room. If you have a bedroom "suite" with multiple matching pieces, remove most of them. This will make your bedroom look bigger.
Bedside Tables: When staging the bedroom, place bedside tables on each side of the bed if possible. They don't have to match, but should be similar in scale, color or material. Tables on each side will give the bed more presence. 
Place matching lamps on each table. If you don't have a matching pair, try to keep them similar in scale and weight. Matching lampshades can be purchased to give dissimilar lamp bases something in common.
Create a bedside vignette. Place a clock, a couple of hardcover books stacked up, or a vase of flowers, etc., on bedside tables or a dresser. Remember to arrange in odd numbers. Don't over accessorize; you don't want it to look contrived.
When staging the bedroom, keep wall art to a minimum-- you don't need art on every wall. Avoid hanging pictures on walls with windows. All you really need is something over the bed to accentuate it as a focal point. Too many pieces of art and accessories will take away from the serene environment you want.
Create vignettes when staging the bedroom
For children's bedrooms, leave out a few cute stuffed animals and toys for displaying on shelves. Make it playful. Stage the room with a cute rocking horse or child-size table with chairs. Set up a board game or doll tea party on the table to suggest fun activities.
When painting a child's bedroom, use gender-neutral paint colors. When I was a real estate agent showing buyers around, I heard more complaints about pink walls than any other color!
Window treatments should diffuse light and give the room a feeling of privacy. Sheers across the window with drapes hanging on the sides will lend a feeling of elegance. See window treatments for home staging.
Don't block a lovely view with heavy window treatments. If privacy is not an issue, simply leave them bare.
A window with a view of a brick wall, etc., should be creatively treated to filter the eyesore. Mini blinds or sheers will allow light to filter in while hiding an ugly view.
Many people use a portion of their master bedroom as an office space. Try to avoid this, as home buyers will see that there's no room for an office in your house. If you must keep a work space in your bedroom while your home is on the market, try to hide it inside an armoire or cabinet, or separate the two areas with a room divider screen. Keep the computer, messy paperwork, and especially, ugly wires hidden from view.
Master bedroom home staging ideas
Stage the bedroom with a cozy sitting area
If you have room, set up a comfy chair and floor lamp to suggest a cozy reading area.
Master bedrooms should appeal to both sexes. Don't go too feminine or masculine with your colors and accessories. Stay away from ruffles and lace, or sports memorabilia motifs and moose heads. Paint walls in a neutral cool soothing grey, pale blue or green.
Paint the master bath the same color as the bedroom, or in a slightly darker or lighter tone of the same color to create good flow between the two rooms. 
Neutral paint colors and luxurious fabrics make this monochromatic bedroom appealing.
Keep 

window treatments

 simple and neutral in color in the master bedroom. Ceiling to floor window drapes will make ceilings appear taller and impart a feeling of luxury to the space. If you have an ugly view or need privacy, hang sheers to filter the view.
Your goal is to maximize the natural light coming into the bedroom. The best option is to keep draperies open for viewings or simply remove them.
To make low ceilings appear higher, hang curtain rods close to the ceiling instead of just above the window. Use full length curtains that hang to the floor. This will add a longer vertical element to the room, making the ceilings seem higher.
To widen a narrow window and allow more light in, buy a rod that extends beyond the frame. When you pull the curtains back, more of the window will show. Your goal is to have curtain panels hanging alongside rather than covering a portion of the window. Make sure the edges of the window frame don't show though, or the illusion will not work.
To make a window appear taller, install the rod closer to the ceiling. Add a valance to cover the gap between the rod and frame and the window will look taller.
How to cheaply stage a spare room as a bedroom
If you want to stage a spare room as a bedroom but can't afford a new mattress, try using inexpensive inflatable mattresses. Stack them up and place on top of a platform, or use bed risers to lift the mattresses off the floor. Affordable bed risers can be found at any big box store and most home improvement centers.
Don't place mattresses on the floor when staging the bedroom. This creates that down-trodden college dorm look that is a real turn off to home buyers.
Cover the inflatable mattresses with lush-looking bedding, and as long as home buyers don't sit down, no one will never know it's an imposter!
Which way should pillowcases go?
I've always wondered about this myself! For an interesting, (and informative) article regarding which way to turn pillowcases on a bed, read the following column by Dear Abby published in 2009.
Return from staging the bedroom to home page
Small bedroom decorating ideas