12 Great Small Bathroom Design Ideas
that will Sell Your Home

For a faster, more profitable home sale
Applying some small bathroom design ideas and clever home staging to your tiny bathroom can make it appear bigger and more appealing to home buyers!
Just because your bathroom is small doesn't mean you have to sacrifice on storage and style.
A fully functioning bathroom is essential when you have a house for sale. Even one small powder room with a malfunctioning toilet can turn home buyers away.
Bathroom renovations are second to kitchen remodels as the most expensive room to renovate. Most buyers would rather buy a move-in ready home rather than one that needs some work.
A small bathroom can feel cramped, cluttered and dysfunctional, which may cause buyers to walk away no matter how great the rest of the house may be.
Interior designers say that the eye travels more quickly through a small space. Eliminating objects that stop the flow of the eye; clutter, sharp contrasts in color, dark window treatments or bulky furniture, can seem to visually expand the size of a small room. 
1. Use visibly expanding colors in a small bathroom
Color is one of the keys to successful decorating— it helps to visually raise and lower ceilings, stretch or shrink space, and can even make unsightly objects, like a jutting radiator look less visible.
Color also has the ability to effect our moods, which is something to consider when you have a house for sale.
The great thing about making color changes is that paint is so affordable!-- a few cans of the perfect paint color can quickly and drastically improve your home decor.
To create the illusion of more space, use light neutral or pastel hues as the main palette of your small bathroom. 
Pale colors reflect and multiply light, and when combined with natural light flowing in, can visually expand a small bathroom.
A soft cool color, like aqua blue, is a great choice for expanding space and making a tiny bath feel calm and "spa-like". Cool whites, creams, soft grays, greens and blues, pale colors in general, are receding colors that reflect light, creating a feeling of spaciousness. 
White, a glass shower door and unenclosed vanity seem to create more space.
Accent with shades of white or soft cream to unify the space.
A monochromatic, or low-contrast color scheme is the most successful color palette for any small room, because it visually expands the size of any room. This is the one of the best small bathroom design ideas that you can apply!

Another good idea is to swath the entire room in white, from ceiling to floor. This creates an uninterrupted space without breaks of color contrast to prevent the eye from moving on. 
Use a white paint color with warm undertones to keep the space from feeling cold.
To create a feeling of maximum space, use the same light color palette on walls, floors, cabinets, window treatments and trim work. Employ a light hand with pops of color.
A few basic color rules:
Dark colors absorb and deflect light and can make a small space feel closed in.
Cool colors appear to retreat, while warm colors seem to advance.
Too many different colors can "shrink" a small room.
2. Use pattern and texture in a small bathroom
In the absence of wild patterns and bright paint colors, bringing in a little texture and pattern will add some excitement, even in a small bathroom.
Add just a bit of pattern and texture in just a few items in your small bathroom; window treatments, accessories, flooring, area rugs or fixtures. But not all at the same time!
Avoid large or busy patterns that can diminish the scale of a small space. 
Vary the textures of things you can touch (tactile) and things you look at (visual).
Use fabrics with texture rather than pattern so as not to overwhelm a small space. Texture adds interest when light hits the uneven surfaces, creating varying degrees of lights and darks of the same color.



Shiny, satiny fabrics on a shower curtain or window treatments will illuminate the space.
Avoid heavy brocaded fabrics, laces, ruffles in small room design.
Horizontal stripes on the walls, floors or bathroom tile can elongate and bring movement to a small room.
Vertical stripes on the walls or tile can visually raise a low ceiling. Use wide stripes, as thin ones can make a room feel smaller.
4. Improve awkward spaces
If walls are broken up with doorways, poorly placed windows, nooks or a slanted ceiling, make them less conspicuous by painting them the same color as the walls.

Electrical outlets and switch plates are also a distraction to the eye if they contrast too much with the wall color.
Make an ugly radiator blend into the background by painting it the same color as the walls. This will allow them to blend in by not interrupting the flow of the eye.
5. Small bathroom design ideas for ceilings and floors
How to "Raise" the ceiling in a small bathroom
A wide vertical pattern or stripes on a wall can visually "raise" a low ceiling. Don't do on every wall, though, as the combined effect can "shrink" the room. 
When walls and ceilings are the same light color, it's harder for your eye to tell where they meet, so the room feels larger.
Continue light tones onto the floor as well for a more expansive feel. 
Low ceilings feel higher when painted a cool light color, like white or a pale blue. 
A high ceiling can be visually lowered by painting it darker than the walls.
For low ceilings, hang window curtains higher than the top of the window. This creates a strong vertical line, giving the illusion of a higher ceiling.
Flooring tips for a small bathroom
The more flooring you can see, the bigger a space will seem, as sight lines are extended. For home viewings, remove the garbage can, laundry hamper and anything else taking up precious floor space. 
6. Light up the bathroom!
Natural light gives a feeling of spaciousness.
In a very petite bathroom, a single overhead light fixture may be all the lighting that is needed. But if that one light is glaring overhead, it can dominate the room by drawing the eye to that one spot.
Add another light source to keep the eye from fixating on one glaring bulb.
Maximize the natural light you have by keeping window treatments minimal or simply go without.
For small bathrooms lacking any natural light, consider installing a larger window, skylight, solar or sola tube. A solar tube will brighten the room without sacrificing wall space.
They are quite affordable, ranging from $140 to $300. Solar tubes can be found at Lowes, Home Depot or www.solatube.com.
Recessed lighting is another option for small bathrooms with low ceilings. They are also handy to light up dark corners.
A small chandelier can be quite charming in a bathroom and will refract light around the room. 
Install clear light fixtures instead of opaque ones to create longer sight lines. 

7. Use open-leg cabinetry or pedestal sink in a small bathroom
Although solid bathroom cabinets provide more storage, they take up space visually.
A pedestal sink will expose more flooring, making a small bath look larger.
Revealing more floor space can make a small space appear larger by extending sight lines all the way to the wall.

Swap out traditional bathroom cabinets with a console, or open-leg furniture-style. They still offer storage, yet allow you to see deeper into the room.
Use pretty baskets to store towels, cosmetics and toiletries. (Note: changing out solid bathroom cabinets for an open style may require some flooring work.)
Use fewer pieces of furniture instead of a lot of small pieces that crowd the room. 

Replace cabinet door fronts with CLEAR glass. Your eye will be pulled into the cabinets to the back, making the room feel deeper.
This staging trick only works if you keep the inside tidy.

If storage isn't an issue, swap out bathroom cabinets with a pedestal or wall mounted sink.
This wall hung sink takes up very little room and NO floorspace!
Both styles can be squeezed into a smaller space, like a corner, freeing up more floor space.

For an extremely small bathroom, a wall-hung vanity and toilet will take up very little room. 

Another option is an open-leg style sink with built-in towel bars, using no precious wall space.
Under mount sink basins take up less space on a countertop then top-mounted bowl style basins.
Oval-shaped basins take up less room than square ones. If you install a bowl style basin, opt for a see-through version.
A corner sink, with or without a vanity will make the most of limited space.
8. Decorate with mirrors and reflective surfaces
Mirrors are one of a home stager's favorite interior decorating objects because they can visually enlarge a room by adding depth and light.
Mirrors give the impression of extending space by duplicating it. 
Hang a mirror opposite a window or light fixture to scatter light around the room.
Or, position two mirrors opposite each other— it will seem like another room exists in a small space.
A mirror collage with more than four pieces can look cluttered.
Don't glue a huge floor to ceiling mirror on the wall! While this is an effective way to make a room look larger, most buyers don't like them and will only be thinking of all the work it will take to remove it.
Use clear canisters in a small space.
Use reflective surfaces; like glass tile, sleek cabinets, surfaces that will illuminate your bathroom by amplifying natural and artificial light.
Select shiny bathroom fixtures for their reflective qualities. Make sure they all match—stick to one type of metal finish in a small bathroom.
Fixtures should be kept simple and compact in a tiny bathroom. 
Store necessities in glass or reflective containers—they will look light and airy. 
9. Dump the shower curtain for a glass tub enclosure
This is probably one of the best small bathroom design ideas you can do! Replace a shower curtain or frosted-glass shower doors with clear glass and frameless shower door. 
Frameless shower doors will create the illusion of more space by extending the eye to the far wall.
If a glass shower door is not an option for you, stage the shower/bath with a white or pale colored shower curtain. Don't hang one of those cheap clear plastic shower curtains. They just look tacky.
For home viewings, keep the shower curtain 2/3 open. Keeping it closed cuts off that extra space, making your bathroom seem a lot smaller.
10. Small bathroom design ideas for window treatments
No matter their size or style, a window will always enlarge the feel of a room if natural light is flowing in. If privacy is not an issue, simply leave windows bare. 
Use window treatments the same color as the walls to avoid contrast in the space.
Avoid complicated, fussy details such as ruffles, laces, swags and bows. Stay away from multi-colored curtains, as well.
Hang a valance, window blinds or shades—aim for a clean, contemporary look.
One of the best small bathroom design ideas for low ceilings is to install curtain rods higher than the window frame, even up to the ceiling. This creates a strong vertical line.
Create the illusion of wider windows by extending the curtain rods well beyond the width of the window, wide enough so that curtain panels don't block any light when fully open. 
11. Eliminate clutter before staging your small bathroom
If you don't do anything else, do this!
A clean, tidy bathroom always looks larger and more spacious than a cluttered, dirty one.
Home buyers don't want to see other people's personal things; drippy wet towels, soggy soap, toothbrushes, and so on.
Real Estate surveys have shown that personal items are one of the biggest buyer turnoffs. Plus, it makes it hard for them to visualize themselves in your home. 

Hide all daily essentials by stashing them inside a linen closet, bathroom cabinets, inside pretty boxes and baskets displayed on open shelving, or my favorite trick, plastic boxes that slide under a bed.
12. Stage your small bathroom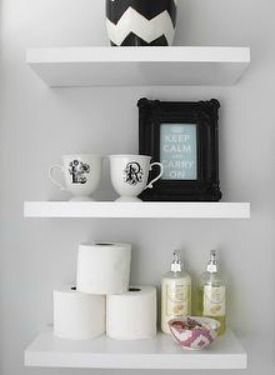 Hang open shelving instead of closed cabinetry for extra storage. Open shelving reduces visual weight and adds depth by allowing your eye to travel all the way to the wall.
Glass shelving can increase a room's sense of space because they appear invisible.
Use just a few standout accessories rather than a collection of small objects, which can look cluttered.
Accessorize shelves sparingly. Allow breathing space between objects to give your small bathroom an open look. 
A great home staging trick to keep the eye moving is to decorate shelves with objects the same color as the wall behind them.
Create more height by accessorizing shelves with tall objects.
Small bathroom design ideas that really work-- hang framed pictures of landscapes, or artwork that feels like you're looking through a window. Any kind of art that has visual perspective will seemingly add depth to the room.
Avoid large artwork with heavy ornamental frames, as they can overpower a small room.
It's okay to have at least one element that is somewhat bold in a small space. It could be a picture, mirror, maybe a stunning light fixture.
Accessorize shelves sparingly. Allow breathing space between objects to give your small bathroom an open look. 
Limit collectibles to one or two favorite pieces, or allow one outstanding accessory to become a focal point.
Instead of an arrangement of flowers, display a single elegant bloom, like an orchid.
Use accessories with reflective or see-through qualities that will blend into the background, like glass jars and canisters.
Avoid artwork with heavy ornamental frames, as they can overpower a small room.
Accessorize shelves sparingly. Allow breathing space between objects to give your small bathroom an open look. 
Return from small bathroom design ideas to home page