7 Beautiful Ideas for
Painting Interior Brick Fireplaces

For a faster, more profitable home sale
Painting interior brick has been a popular home decor trend for years and continues to be into 2022.
Painting your brick fireplace is a quick way to give your home a fresh, updated look.
If you have a house for sale, but don't have the means to replace an outdated fireplace, painting the brick may be a great solution for you.
There are two schools of thought when it comes to painting interior brick:
First, there are the brick "purists" who believe you should maintain the integrity of brick by leaving it alone no matter what!
Than there are those who believe that the red brick look is outdated and should be painted or covered with sheetrock or tile. 
Keep reading for tips and ideas that will update and make your fireplace more exciting.
1. Camouflage an unsightly brick fireplace with paint color
Painting interior brick is a great way to lighten a bright red brick wall or camouflage a hideous fireplace, like the one featured in the picture above.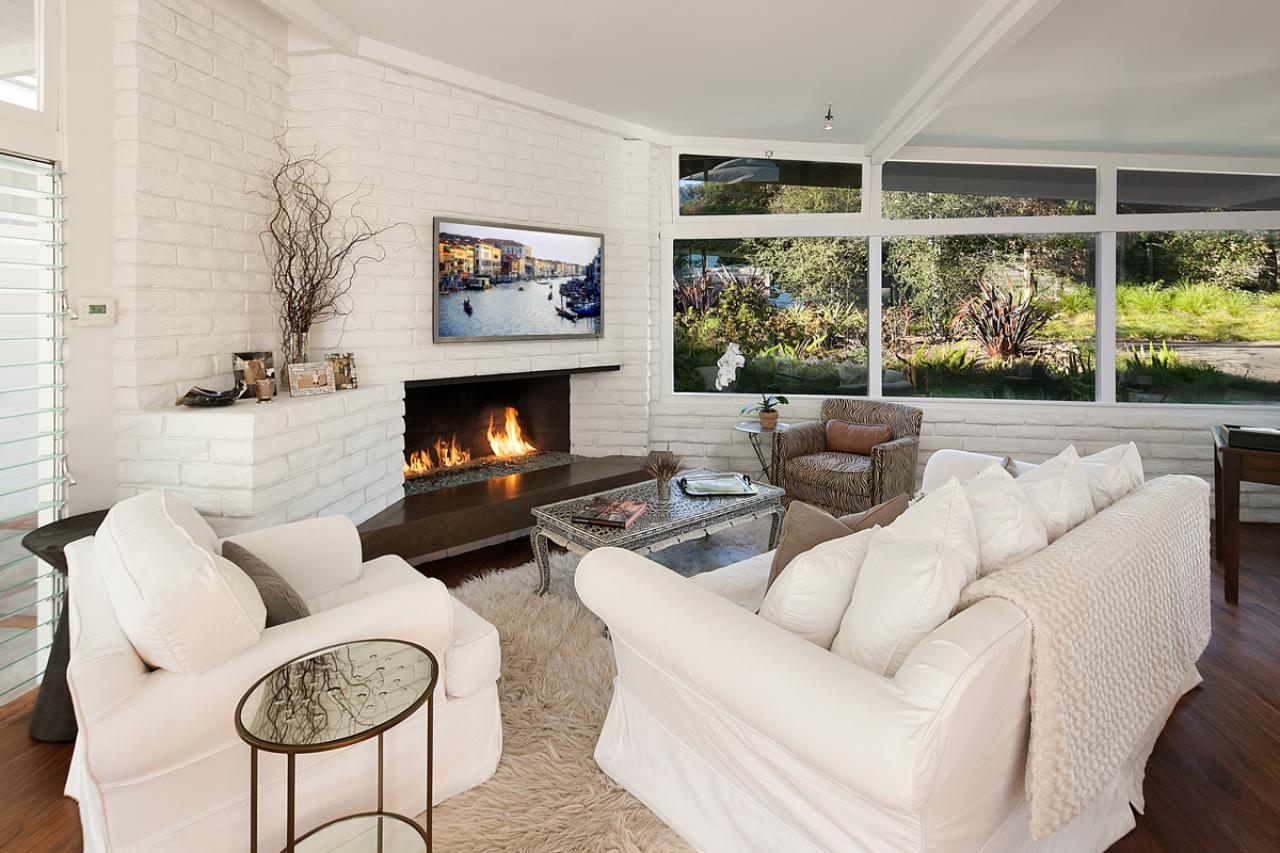 Imagine this room if the brick was still red! A light neutral color on the brick, surrounding wall and ceiling neutralizes the massive fireplace. Pinterest.
Try this inexpensive do-it-yourself solution below:
Paint the entire brick fireplace the same color as the walls next to it. Doing so will cause the fireplace to appear to recede, or blend into the walls. 
Or, you could just paint the brick portion that fans down the wall on each side of the fireplace the same color as the wall. Either method will greatly reduce the size and unattractiveness of this fireplace.
This is a home staging trick that fools the eye into thinking the brick fireplace has diminished in size and importance, sort of a camouflage effect.
2. Paint your fireplace a dark color for a contemporary look
If you aren't trying to sell your home, feel free to break away from the home staging rule of using light, neutral colors.
If you're not concerned about your room looking too dark or small, in other words, if your living room is large and windows bringing in plenty of light, go ahead and paint your fireplace black or navy for a fun, contemporary look.
3. Select a stunning color to showcase your fireplace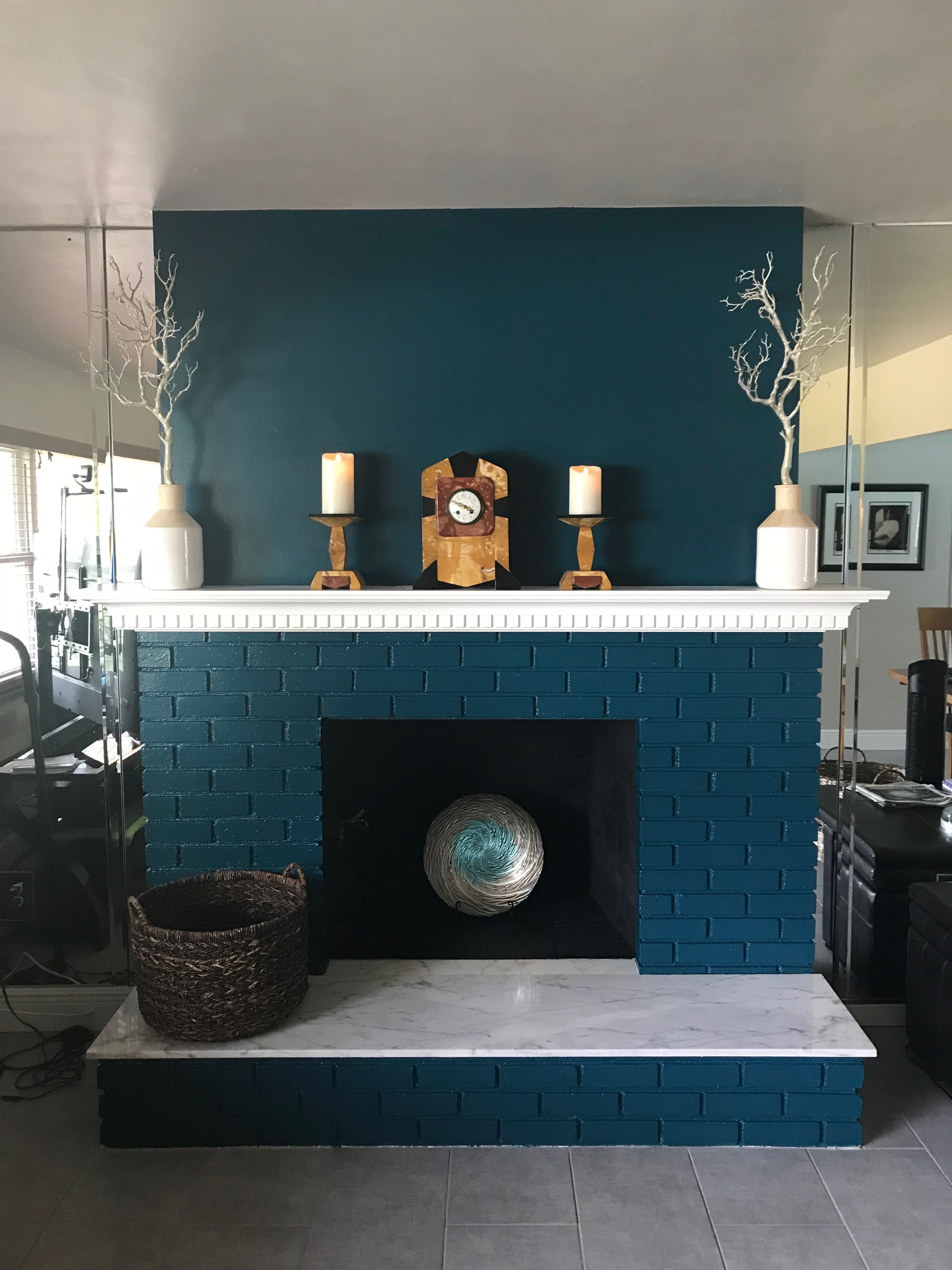 Behr Paint color, Ocean Abyss MQ6-1. Photo by Behr Paints.
This gorgeous color transforms an average looking brick fireplace into a real head turner! Use an eye-catching color like this to turn a drab fireplace into a stunning focal point.
If you are brave enough to go with a dramatic fireplace color like this, be sure that you truly LOVE it before you begin wielding your paint brush.
Paint a swatch of your chosen color on a large piece of drywall or plywood first. Place it on your fireplace mantle or hearth.
Live with the color for a week or so and view it at different times of the day. 
Colors can change dramatically under natural and artificial lighting conditions. Paint color undertones can be tricky and you may not like what you see under incandescent lighting.
This color is called Ocean Abyss MQ6-1. Look for this, and many other beautiful paint colors in Behr's 2022 Color Trends palette.
Note how the crisp white mantle adds a contemporary flair and lightens the look.
4. Paint your fireplace in a light, neutral color tone
This monochromatic room style is the best color scheme for small rooms and home staging.

This red brick fireplace has been toned down by white washing in a creamy, neutral color that blends in well with the walls and shelving on each side. 
White washing the brick (instead of going opaque) allows the beautiful rustic texture of the brick to show through.
The gorgeous wood slab mantle is the perfect partner for the brick and enhances the rustic look. 
Note how the neutral-colored wall color is carried up onto the ceiling, heightening and enlarging the feeling of space.
All the shelf accessories are in neutral, earthy tones and sparsely arranged, which adds to an open, airy feeling. 
5. Paint your brick fireplace a neutral, gray color
Photo by Remodaholic.
Gray remains a popular color into 2022. It's such an easy neutral color to design your home decor around--every color simply looks great next to it.
See how the designer of this room used photographs to enhance the symmetry of the fireplace and provide relief from the dark color.
The light walls and upholstered sofa prevent the room from feeling too dark, and the bright colored chair and pillows brighten the space.
Designer Tip:
If you have a super long room and wish to shorten it, painting the end walls in a warmer, darker color than the adjacent walls will appear to shorten the room.
6. Use color contrast to emphasize architectural details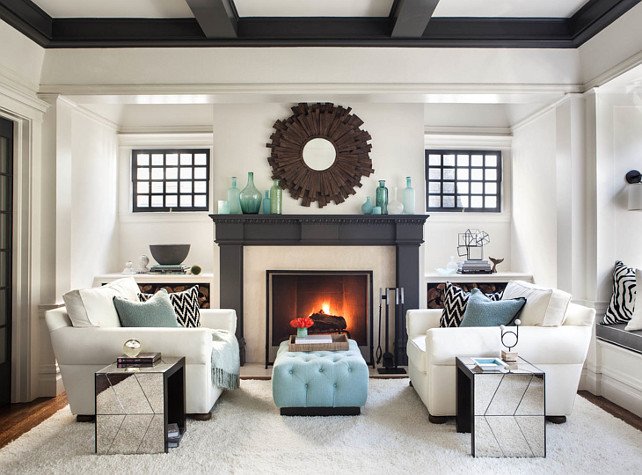 Photo by Studio Monroe.
This is the most symmetrical room I have ever seen! It's perfectly balanced by the architectural features and furniture.
The black painted fireplace mantle and surround emphasizes the fireplace as the central focal point. Repeating the dark color on the ceiling and windows ties this room into a perfect little bundle. I love this room.
7. Turn a floor to ceiling brick fireplace into an accent wall
Note how this white fireplace wall dominates this room. The eye just naturally goes to this focal wall. I bet this room was dark and gloomy before the brick was painted white. 
Imagine the decorating opportunities that could take place on this feature wall!
Painting interior brick instructions--let's get started!
Clean the brick before washing it
Brick fireplace cleaning supplies: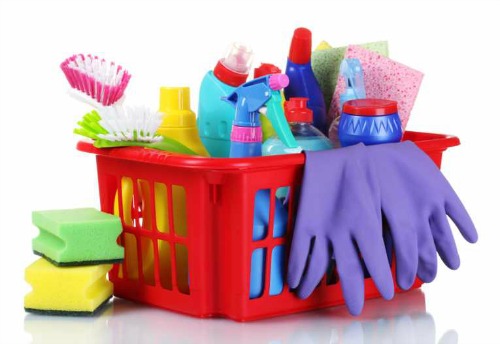 wire brush 

nylon bristle scrub brush

Soap or TSP (trisodium phosphate)

drop cloth

heavy plastic 

painters tape

vacuum with a hose attachment

Sponges

face mask

goggles

rubber gloves
Step 1:  Protect the fireplace surround with a drop cloth or piece of heavy plastic. Tape off any areas with plastic you don't want painted, like fireplace inserts and walls.

Step 2:  You must start with a clean surface, so begin by brushing your fireplace with a wire brush, scraping away any loose mortar and efflorescence. Efflorescence is that white stuff that leaches out of brick— deposits of salt buildup. Once you're done, clean the dust from the fireplace surface and floor using a vacuum with a brush attachment.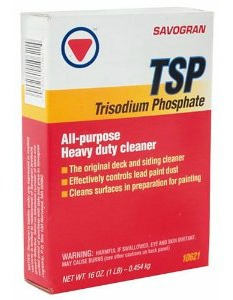 Wash the brick before painting
Always spot test first on an inconspicuous part of the fireplace.
Step 3:  Using a nylon bristled scrub brush or sponge, clean the surface free of soot and dirt with mild soap and warm water, and wipe clean with fresh water and a clean sponge.
Another cleaning option is INSL-X All Purpose Citrus Cleaner. This is a biodegradable, phosphate-free concentrate that you need to dilute with water.
If soot persists, or you need to remove cigarette smoke residue, use TSP, (trisodium phosphate). Mix 1/2 of TSP to 2 gallons of water. Be sure to wear goggles and gloves for protection when working with TSP.
For super stubborn soot, spray with "Johnson Scrubbing Bubbles Bathroom Cleaner" and leave on for about 5 minutes. Scrub off with a nylon bristled scrub brush. This product works really well on soot! Repeat, if necessary.
If you plan to paint the inside of the fireplace, be sure to clean it, as well. You will need a special heat-resistant paint for the firebox.

After cleaning, let the brick and mortar dry completely for up to 24 hours. The brick may feel dry on the surface but could still be damp inside, so give it plenty of time just to be safe. 
How to paint a brick fireplace or wall
NOTE: Wait at least one year before painting brand new brick to give it time to dry completely.
Supplies you will need to paint brick:
Drop cloth Stain-blocking, oil-based or acrylic primer for masonry, like Fresh Start High-hiding All Purpose Primer (046)
Latex paint, in a semi-gloss finish, like Regal, Advance, or Aura paint

A heat resistant paint for the firebox 

2 Paint rollers covers with long naps, 1/2" to 3/8" naps

2 small paintbrushes

Paint roller tray with extra inserts

Painter's tape

A roller extension pole to reach the higher areas of a floor-to-ceiling fireplace (optional)

Selecting a high-quality paint is crucial to achieving a superior finish on your brick fireplace. 

Choose masonry paint products specifically made for brick, from primer to finish coat. Masonry paint allows the brick to "breath."
For the final coat, select a 100 percent acrylic paint with a semi-gloss finish if you want to highlight the brick texture. Be aware that a glossy paint will highlight any imperfections in the brick.
A flat paint will have a matte finish and is the better choice for hiding flaws.
Sherwin-Williams makes a great breathable latex paint, called SuperPaint Acrylic Latex.
Or, if you want to try a white-washed look, Home Depot has the white-wash paint you need to create this rustic farmhouse look.

Once you've taped off all the edges of the fireplace and trim, you are ready to prime!
Step 1:  Using the small brush, work the paint into the mortar between the bricks. Once that's done, grab the paint roller and start painting the face of the brick at the top of the fireplace or wall and work your way down.
Bricks are very absorbent, so you may need another coat, especially if you are painting in a light color. Let the paint dry completely between coats, overnight for best results.
Step 2:  Repeat the process with the latex paint. Be sure that the paint is rated to withstand temperatures up to 200 degrees F. Apply additional coats, as needed.
Don't use this paint on the interior of the fireplace. The firebox will require a special heat-resistant paint.
For a video demonstration on painting a brick fireplace, watch below. Thank you, Buildipedia for this instructive video!
Return from painting interior brick to depersonalizing your home
Go to home page