Staging the Dining Room




DIY Home Staging Tips




for a faster, more profitable home sale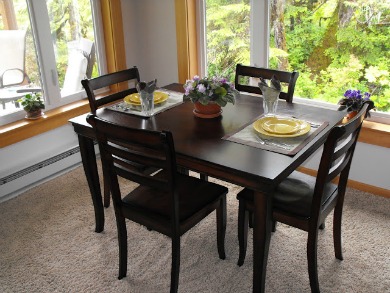 Staging the dining room before putting your home on the market will make it easier for home buyers to see themselves living and dining in your home.
Buyers will be looking for a dining room to accommodate their furniture, lifestyle and all the relatives for big family dinners.
Read the home staging tips below to learn how to make your dining room look more spacious, inviting, plus a comfortable place to linger after a meal.
Your goal is to make home buyers fall in love with your home, so that you can sell your house fast and for more money! 
Staging the dining room furniture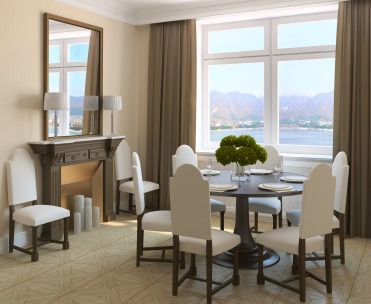 Editing out two more chairs from around this table will make the entire room feel more spacious
You'll be surprised at the number of people who judge a house by the style of the furnishings within-- they can't get past it. That's why proper home staging is so important.
If your dining room furniture is extremely beat up or too taste specific, (heavily ornate, overly modern, etc.) you might consider renting furniture while your home is on the real estate market.
Staging the dining room with neutral-colored furniture, draperies, area rugs, etc., will attact a larger audience of buyers, because neutral colors appeal to most people. See staging your furniture for more home design ideas.
Once you have decluttered, cleaned, and perhaps painted your dining room, you are ready to start moving your furniture in.
If you plan on using an area rug under your table, bring it in first and center it under the chandelier if you have one.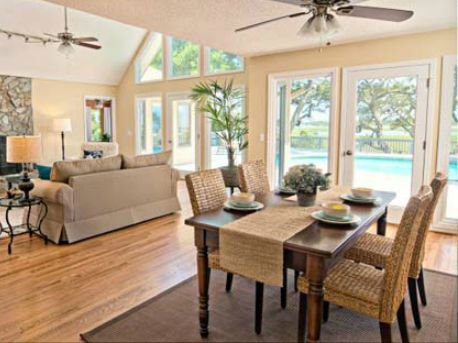 Center the dining table under the chandelier and on area rug
If the dining room is large and oblong, the table may need to go on one end of the room. Balance out the room by placing something of equal "weight" on the opposite side of the room. See space planning for more on visual weight.
For an open concept dining/living/kitchen home design, place the table under the chandelier. If the chandelier fixture is not in the right spot for the table, watch the video on declutter your dining room to learn how to swag your chandelier to the right spot. If the dining table is off center, the whole room will look askew.
When staging the dining room, edit out more than four dining chairs, unless your dining space is huge. Push the chairs in to create maximum traffic flow around the table. Too many dining chairs will make a room look over-crowded. See small kitchen decorating ideas for tips on making a small space look larger.
If your dining chairs have soiled or out-dated fabric cushions, replace them with neutral-colored covers that are solid, a soft geometric pattern or an elegant stripe. 
Watch the video below to see how easy it is to do it yourself! Video by Sailrite1. 
Move in a buffet table, china hutch, or other large piece of furniture, ONLY if you have the room. Too much furniture in a small dining room will diminish the space. Always remember that you are trying to make rooms look bigger!

Staging the dining room with accessories
When staging the dining room, set the table with your nice dinnerware, silverware, glassware and cloth napkins. Set it as you would for an elegant dinner, not a typical family meal. You need set only two to four places for staging.



If you are having an open house viewing, set the table according to the meal that would be served at that time of day. For instance, a luncheon setting would be more casual than an evening meal.
Watch this video by John Mangano from HomeStagingChannel for great tips on staging your dining room and setting a beautiful table.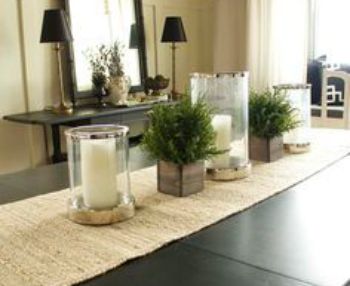 Lay out a table runner with candles and greenery
Instead of setting the table, use a table runner and add a centerpiece. Centerpieces can be flowers, a bowl of lemons, limes or oranges for a spot of color, or lay out a simple arrangement of candles down the middle of the table.
If you have room in the space for a sideboard or buffet table, hang a framed mirror above it to add visual space and reflect more light around the dining room. Be sure that the mirror is 2/3 to 3/4 the width of the table below and the space between about 10 to 12 inches. 

Watch the video below for ideas on making attractive arrangements for your dining room or outdoor dining area. Video by PotteryBarn.
Accessories in a china cabinet should match or have something else in common; use solid colors or neutral patterns for accessorizing. Use a contrasting color to the wall, for example, to liven the room up.



Group smaller pieces of artwork together, so they read as "one" piece, or a unit. Not too many pieces, though, as they will look like clutter.
For open shelving in a small dining room, match accessories to the color of the wall--they will seemingly blend in to the wall, creating the impression of spaciousness.
Make a wall grouping with a collection of beautiful plates. Form the grouping into a geometric shape, like a circle or square. See

hanging artwork and mirrors

for instructions on making wall arrangements.
Simple, yet elegant table setting
Keep accessories in scale with the room and in proportion with the furniture. Large room, large accessories. A single large accessory, like an oil painting, will create a striking focal point in a small dining room.
Follow the home staging advice of HGTV's, Sabrina Soto, who says, "I never like to use things smaller than a grapefruit."
When accessorizing open shelves, keep plenty of space around objects. This will create some breathing room, which translates to that open, airy feeling. Focus on using just a few standout accessories instead of a collection of small objects, which can look cluttered.
Create height by accessorizing shelves with tall objects.
If you have a china cabinet with glass doors, display your china or favorite collection inside. Don't overcrowd the cabinet with every bit of your collection. Instead, place a few of your best pieces, keeping taller objects, like plates, at the back and smaller items in the front. Group like objects together, don't separate them throughout the cabinet.
What NOT to do in the dining room
Don't stage your china cabinet with a 

miss-mash

 of unrelated accessories-- a matching set of dinnerware or pretty pottery will make the room feel more comfortable.
Don't display lots of tiny objects when home staging. Small accessories won't make a bold 

enough

 statement and will only look like clutter.
Return from staging the dining room to home page