Staging the Dining Room



For a faster, more profitable home sale
The dining table is centered under the light fixture and "floated" on a large area rug. The buffet is sparsely decorated, giving the room a clean, contemporary feel. Photo by elledecor.com
Staging the dining room before placing your home on the real estate market will make it easier for home buyers to see themselves entertaining and living in your home.
Buyers are looking for a dining area that will accommodate their furniture, lifestyle, and relatives for family dinners.

Read the home staging tips and tricks below to learn how to make your dining room look more spacious, inviting, and a comfortable place to linger after a meal.
Your goal is to make home buyers fall in love with your home, so that you can sell your house fast and for more money! 
Are dark wall colors okay in the dining room?
Dining rooms are one area where you can go darker or more bold with your wall paint colors. Powder rooms are another area, but that's a subject for another page.
Why are dark wall colors acceptable in a dining room? Because dark colors can create an intimate atmosphere--imagine dining by candlelight or with the lights dimmed low. Dark wall colors in a dining room just feels cozy.
I recommend not going with the "bold" color idea if you have a house for sale. Instead, select a darker neutral color that coordinates with the wall colors of the room next to it.
Beware the color red! This trend was popular for years--seemed like everyone had red dining room walls for awhile. Many buyers absolutely hate it and will only be thinking of all the the repainting they'll have to do.
Create a focal point in the dining room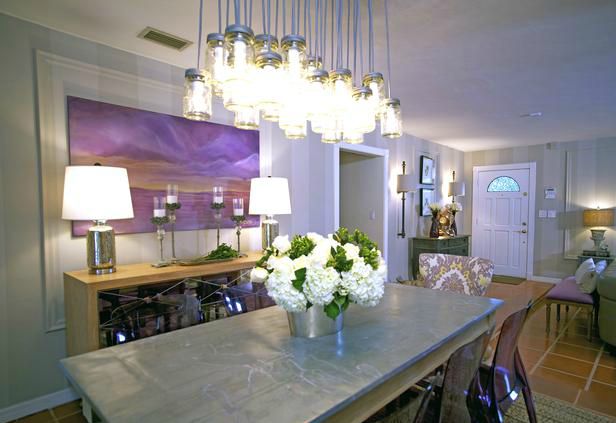 This dining area has multiple focal points-- the table, the lavendar painting, and the brightly lit jar chandelier. Photo source unknown. Is it yours?
Do you really need a focal point in the dining room? After all, the dining table, by virtue of its size, is a focal point in itself.
If you have a good-sized dining room, you can take advantage of wall space for hanging artwork and mirrors. A mirror placed where it reflects a chandelier will bounce light all over the room.
Or create a vignette atop a buffet and hang an oil painting or mirror above it.
Dining room furniture placement
You'd be surprised at the number of people who judge a house by the style of the furnishings inside-- many just can't get past it. That's why proper home staging is so important.
If your dining room furniture has seen better days or is too taste specific, (heavily ornate or starkly modern) you might consider renting furniture or borrowing from a friend while your home is on the real estate market.
Staging the dining room with neutral-colored furniture, draperies, area rugs, etc., will help your dining room appeal to a larger number of buyers, because neutral colors appeal to most people and both sexes.
Once you have decluttered, cleaned, and perhaps painted your dining room, you are ready to start staging the dining room furniture.
If you plan on using an area rug under your table, bring it in first and center it under the chandelier, if you have one.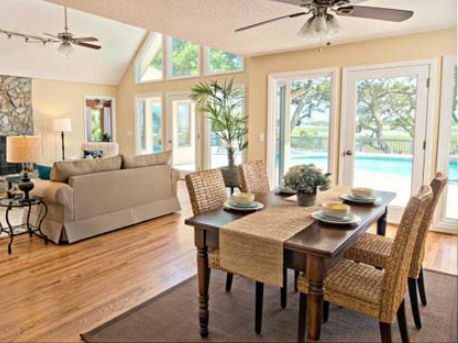 Center the dining table on a large area rug directly under the light fixture to define the dining room.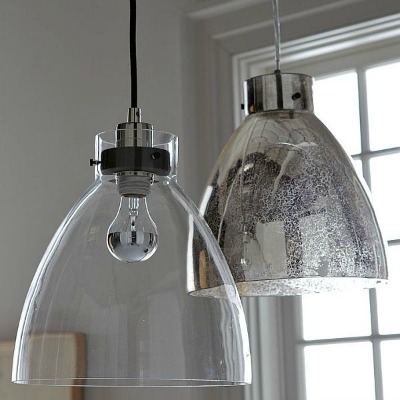 Hanging see-through light fixtures will extend sight lines in a small space.
If the dining room is large and oblong, the table may need to go closer to one end of the room. Balance out the room by placing something of equal "weight" on the opposite side of the room. See space planning for more on visual weight.
For open concept dining/living/kitchen designs, place the table under the chandelier.  If you don't have a chandelier, just place the table in the center of the room.
For a small dining space, consider installing transparent light fixtures to extend sight lines instead of opaque ones. 
If the chandelier fixture is not in the right spot for the table, you can swag it over to the perfect spot! Swagging a chandelier to the right spot will look better then placing the dining table off center, which can make a room look askew.
Watch the video below by Godking333 to learn how to swag your chandelier where you want it.



When staging the dining room, edit out more than four dining chairs, unless your dining space is huge. Push chairs in to create maximum traffic flow around the table. Too many dining chairs will make a room look smaller than it is.
If your dining chairs have soiled or outdated fabric cushions, try replacing them with neutral-colored fabrics in a solid, strip, or soft geometric pattern. 
Watch the video below to see how easy it is to do it yourself! Video by Sailrite1. 
Make sure that the traffic area around the table and chairs is wide enough for two people to walk through at the same time.
Move in a buffet, china hutch, or other large piece of furniture ONLY if you have the room. Bulky furniture in a small dining room will diminish the space, making it feel cramped.



Dining room table decor ideas
What is the decor style of your home? Is it formal or casual?
Take a cue from the architecture of your home and stage it in a fashion that reflects that style.
Always remember to keep it neutral with pops of color here and there when staging the dining room.
A neutral canvas provides the perfect backdrop for displaying artwork on walls or decorative objects on a dining room buffet or inside a china hutch.
Use a tablecloth in a solid neutral color to hide a less-than-perfect dining table. A tablecloth will immediately change the tone of a room, making it festive or formal, depending on the color or pattern you introduce. Vary table cloth colors according to the seasons and holidays. 

If you want a formal look, stage the dining room table with your best dinnerware, silverware, glassware and cloth napkins. Set it as you would for an elegant dinner, not a typical family meal. You need set only two to four places for staging.
If you want a casual, relaxing feel, keep tabletop accessories sparse; a few dining room table decor ideas are; a large potted plant with colorful blossoms; a linen table runner with a few well placed vases or jars; large candles placed in clear glass containers, etc.
Or create a lifestyle vignette with a bottle of wine and two pretty wine glasses, a loaf of crusty bread placed on an attractive breadboard, and a bowl with luscious grapes spilling over the edge.
Instead of setting the table, use a table runner and add a centerpiece. Centerpieces can be flowers, a bowl of lemons, limes or oranges for a spot of color, or lay out a simple arrangement of candles down the middle of the table.
If you are having an open house viewing, set the table according to the meal that would be served at that time of day. For instance, a luncheon setting would be more casual than an evening meal.
Watch this video by John Mangano from HomeStagingChannel for great tips on staging your dining room and setting a beautiful table.
If you have a wall facing a window, hang a mirror on that wall to reflect more natural light into the dining room.
Tall windows elegantly dressed with floor to ceiling drapes will instill a feeling of elegance and formality.

If you have room in the space for a sideboard or buffet table, hang a framed mirror above it to add visual space and reflect more light around the dining room. Be sure that the mirror is 2/3 to 3/4 the width of the table below and the space between about 10 to 12 inches. 

Watch the video below for ideas on making attractive arrangements for your dining room or outdoor dining area. Video by PotteryBarn.
Dining room decor ideas for staging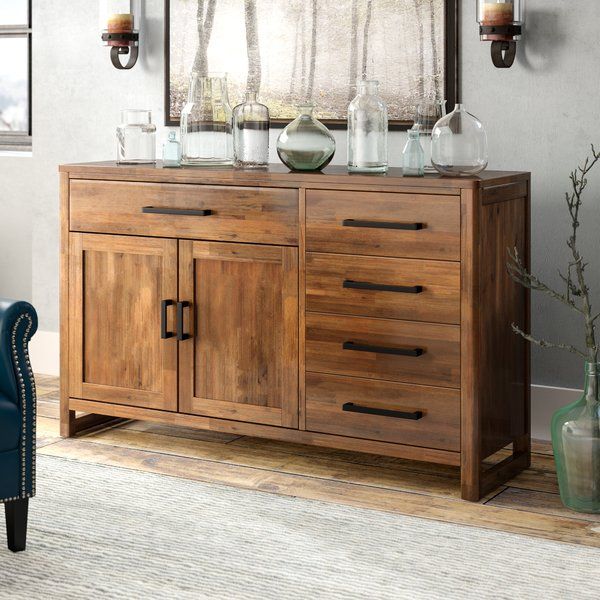 The use of transparent glass decorative objects creates a light, airy feeling of more space. Photo by decorpad.com.
Move in a buffet, china hutch, or other large piece of furniture ONLY if you have the room. Bulky furniture in a small dining room will diminish the space, making it feel cramped.
Always remember that you are trying to make a small room look bigger!
Accessories in a china cabinet should match or have something else in common; use solid colors or neutral patterns for accessorizing.

Group smaller pieces of artwork together, so they read as "one" piece, or one theme, as in a vignette. 
To decorate open shelves in a small dining room, use transparent accessories, or decorative objects the same color as the wall--they will seemingly blend in to the wall, creating an impression of spaciousness.
Create a wall grouping with a collection of beautiful plates. Form the grouping into a geometric shape, like a circle or square. See

hanging artwork and mirrors

for home staging tips on making wall arrangements.
Use accessories in scale with the room and in proportion with the furniture. A large dining room will call for large accessories. A single large accessory, like an oil painting, will create a striking focal point in a small dining room.
Follow the home staging advice of HGTV's, Sabrina Soto, who says, "I never like to use things smaller than a grapefruit."
When accessorizing open shelves, keep plenty of space around objects. This will create breathing room, which translates to that open, airy feeling. Focus on using just a few standout accessories instead of a collection of small objects, which can look cluttered.
Create height by accessorizing shelves with tall objects.
If you have a china cabinet with glass doors, display your china or favorite collection inside. Don't overcrowd the cabinet with every bit of your collection. Instead, place a few of your choice pieces, keeping taller objects, like plates, at the back and smaller items in the front. Group like objects together.
Return from staging the dining room to home page