Great Tips for Organizing a Successful Open House like a Pro



For a faster, more profitable home sale
Organizing a successful open house can bring a large number of potential buyers into your home at one showing. Getting them to show up will take plenty of preparation, though. 
Preparation begins with a serious real estate marketing plan— some home staging, advertising--online and off, creation of detailed flyers for visitors, gathering all your property details into a booklet, placing signs, and perhaps most important, finding the perfect person to host the event for you. 
Prepping your home for the occasion is one of the most important steps of organizing a successful open house. You're asking the public to look at your house, so it needs to shine!

Open house preparation begins with home staging
Organizing a successful open house will require some home staging to make it stand out among others in your area.
Home staging includes decluttering, depersonalizing, making necessary repairs, cleaning until your home sparkles, and lastly, arranging furniture and accessories to highlight the best features of your home.
Curb appeal is a huge part of home staging, perhaps the most important. The first impression that house hunters get of your home is a critical moment in the home selling business. This is the moment where buyers decide whether to go inside or drive on by!
The time and money that you spend staging your home now will yield you a higher return when when you're ready to sell.
Other than listing your home at a competitive price, the only tool within your control for making your home stand out from all the others is to show it in tip-top shape.
A beautifully staged home will get you higher offers. A cluttered, dirty or badly maintained home will get you lowball offers, if any at all. 
How do you price your own home?
Most homeowners trying to sell their own house will overprice it. Pricing your home too high can result in your house lingering on the real estate market for far too long. When that happens, it develops a stigma and buyers will begin to wonder what's wrong it. 
Marketing your home competitively will result in a faster sale. To be safe, ask a real estate agent to do a CMA (comparative market value) on your home.
This doesn't cost anything, (at least where I live) because the agent is hoping to get your business. And maybe you'll decide to list with a real estate agent in the end, because it's just easier.
Be sure that your home is in tip top shape before the realtor does a walk-through. The condition of your home will be reflected in the price.
Check out the competition!
Attend open houses in your neighborhood and nearby surrounding areas. Talk to the real estate agents to find out what buyers are looking for.
Note how the homes are staged. Organizing a successful open house requires a bit of research. If you see something you really like, see if you can duplicate it in your own home.
Organizing a successful open house
Prepare a detailed flyer
Interested buyers will want to know the details of your property. Hand out the flyers to everyone as they enter the home. 
Flyers should contain the following information:
Exterior photo
Property address
Asking price
Brief description of the property
Total square footage
Number of bedrooms
Number of bathrooms
HOA fees (if applicable)
Real estate taxes
Appliances, window treatments, or anything else that goes with the house
Special features (fireplace, outdoor living space, finished basement, etc.)
Recent upgrades that have been made
Neighborhood amenities (shopping, nearby parks, public transportation)
School information
Your contact info
For examples of real estate flyers, visit Trulia.com, Zillow.com, Realtor.com, or your local MLS (multiple listing service) to see how they format property details.
Use this FREE real estate flyer template for the flyer above. 

Or check out this other free open house flyer template from fitsmallbusiness.com
Prepare a property detail notebook for visitors
There's a lot more to organizing a successful open house then cleaning and staging. You should assemble a notebook with the important documents below, as interested buyers will want to see this information.
If you can't include all of them, that's okay— this is just a guideline. Insert the documents into plastic sleeves for a professional look.
See if your local lender will provide you with brochures showing current home loan situations. Having this information handy allows visitors to take something home with them along with the flyer.

Most of these documents can be found on your borough/county website. Look under "My Property," "Platting," etc. Blank forms for "property disclosure statements" can be found online.

You should include the following:
The property detail sheet you created.
A "Bill of sale".  A "Bill of Sale" describes all fixtures, but not limited to: plumbing, lighting, lighting, blinds and drapes, washer and dryer, etc., that will be included in the home sale.
An "As-Built Survey".  An "As-Built Survey" is a recording of existing conditions. This map shows the property setbacks, boundary lines, well and septic locations, covenants, etc.

Plat of the property. A Plat is a survey of your land that identifies boundaries, easements, flood zones, roadway, and access rights of way. It's the legal description of your property.
Property disclosure statement. A residential "Real Property Transfer Disclosure Statement" is a "faith based" document including the seller's information about the property; it describes property features, structural components, problems, improvements, maintenance, and so on.
CC&Rs, Covenants, Conditions, and Restrictions or Homeowner's Association documents (if applicable). Not every property will have one, but if you live in a subdivision or condo, you most likely will. CC&Rs are recorded in the county records in the county where the property is located;

Well documents & Water Quality Report (if applicable).
Selecting the open house date and time
Most open houses take place on Saturdays and Sundays, from 1:00 to 3:00 p.m. or from 2:00 to 4:00 p.m. You might get more traffic if you choose a time when people aren't busy touring other homes, like from 3:00 to 5:00 p.m.

Marketing strategies for your open house
A "For Sale by Owner" (FSBO) seller won't have all the networking advantages of a Realtor, but there are still many options available to you:
Signs! Signs are critical to organizing a successful open house. Be sure to have plenty of them. Place a professional "for sale" sign in your front yard.
Place signs at the closest busy streets or intersections and at every corner leading to your house. Open house signs with directional arrows are especially helper.
Tie balloons on your signs to get them noticed! Open house signs will also attract people who just happen to be driving by doing something else.
Spread the word. Tell all your friends, relatives, co-workers and neighbors. Use email, send out postcards, text or phone.
Use social networks, like Facebook, Twitter and Instagram.
Take advantage of community bulletin boards, your church, schools, community clubs, etc. Post some of your flyers on public bulletin boards at your workplace, grocery store and local mall.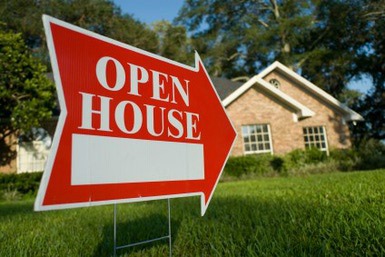 Take advantage of free online advertising sites, like craigslist.com. Or, advertise on the FSBO website in your area, nextdoor.com.

Send invitations through evite. Advertise in your local newspaper.
Place your home, with lots of pictures on your local MLS (Multiple Listing Service) online advertising service. You must include pictures or buyers won't bother looking.
lace flyers on your neighbor's doors and in surrounding neighborhoods a few days before the open house. They may know someone who is interested in moving to your area. 
Who should host your open house?
When Realtors do open houses, they don't want home owners to be present. Why? Because buyers can't express themselves freely as they tour a home and will feel uncomfortable making comments if the owners are there. 
Buyers need to be able to visualize themselves in your home, which isn't possible with you lurking in the background. Look for someone with an outgoing personality and professional demeanor to host your open house.
For safety-in-number reasons, you should have at least two people hosting your open house.
It's a good idea to have guided tours when strangers are in your home. One person can be the door greeter while the other guides people through the house.

Your open house host should know the particulars of your home and be able to answer questions.
If they can't answer a question, a good response is, "I don't know the answer, but I can find out and get back to you." This gives them the opportunity to take down a potential buyer's phone number or email address.
Decorate according to the season
The exterior is the first thing that buyers will see when they pull up to your home. Enhance your curb appeal by adding a few seasonal objects and colors to your front porch. If it's fall, set out some colorful gourds, a basket of pinecones or some colorful potted mums. 
A string of white lights in December will lend an elegant touch to your front entry, plus light the way to your door.
Accent your front door with a fragrant cedar wreath or flank the door with two small evergreen trees.
Bring your seasonal decorating indoors, as well. See Holiday Home Staging for home staging tips during Christmas.
Last minute preparations for an open house
If you have pets, find someone to watch them for the day. You don't want dogs barking and jumping up on the visitors or running out the door. Remove the litter box from sight. 

Hide valuables, medications, credit cards, cash, jewelry, mail, spare keys, etc.
Depersonalize by removing family photos, religious articles, offensive posters, the art gallery on the fridge, certificates and trophies.

Replace burned out lightbulbs with the highest wattage possible. A dark house is a gloomy house.
Prepare a sign-in sheet for guests to fill out their name, phone number and email address. Many people are uncomfortable giving their personal information and won't do it. Your goal is to get contact information so you can call or email interested buyers, perhaps making a home sale!
The day of the open house
At least two hours before the open house, set out your signs with directional arrows at the nearest busy street, intersections, and at each corner leading to your house.
Be sure to turn up the heat if the weather is cold. A warm house is a cozy house and will help visitors linger.
Natural light is the best light, so open all the window treatments, unless you have a hideous view. Turn on all the lights in every room to dispel any gloom.
Clear off kitchen and bathroom countertops. Stash bathroom and kitchen appliances out of sight. Polish stainless steel appliances.
Empty all the garbage cans. Hide the outside garbage if you can.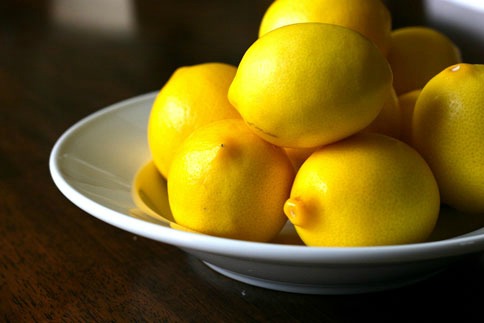 Stage kitchen countertops with brightly colored fruit
Close toilet seats in each bathroom. Freshen bathrooms with new towels, a basket of soaps, etc. Wash the mirrors and polish metal surfaces.
Hide all evidence of daily life; dingy bathrobes, wet towels, melting bars of soap, dirty laundry, bathroom toiletries, mail, shoes, jackets, toys, etc.
A fresh flower arrangement or live plants will add life to your home. Place flowers on the dining room table, kitchen countertop, living room side tables or in the master bedroom.
Make every bed in the house.

Place a bowl of colorful fruit on the kitchen countertop. Lemons, oranges and limes are always beautiful and very feng shui.
Sweep the front porch and make sure there is a clear path to the front door.
Set out refreshments, like cookies, a fruit or vegetable tray with dip, bottled water or coffee. If the weather is cold, hot apple cider is always welcome. Be sure to include napkins to discourage smudge prints all over the house.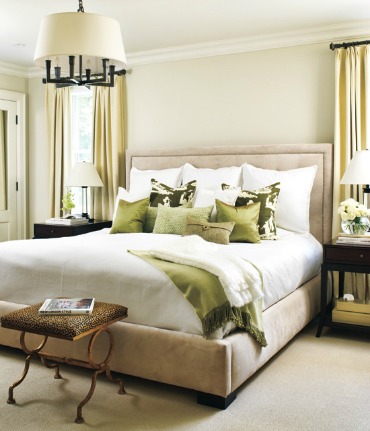 A beautifully staged bedroom in neutral colors
Your home should smell good, but avoid artificial odor treatments—most people hate them, and will wonder what you're trying to hide. Savvy buyers are also suspicious of freshly baked cookies or cinnamon simmering on the stove.  The best trick is to present a clean house. Crack a few windows for fresh air.
Set out your property detail notebook near the refreshments for viewers.
Remove cars from the driveway.
Hang your "Welcome, come on in" sign on the front door or near it.
Greet each guest with a smile and thank them for coming. Hand each one a property detail sheet, tell them the square footage of the home, the number of bedrooms and baths, about any improvements and point out the best features of the home.

Tell visitors to feel free to tour the home at their leisure and offer to answer any questions they may have.
As guests leave, ask them for feedback on the house, the positives and negatives, their level of interest in the home, and about other homes they've seen and how the home is priced compared to others they've seen on the market.
After the open house
The day after the open house, send a "Thank You" email to everyone who attended, with a link to your online ad.
Within the following week, call or email each person and ask if they have any questions about the house and if they are considering it. If not, thank them for attending.