Cleaning the Kitchen Sink



How to sell your home and make a faster, more profitable sale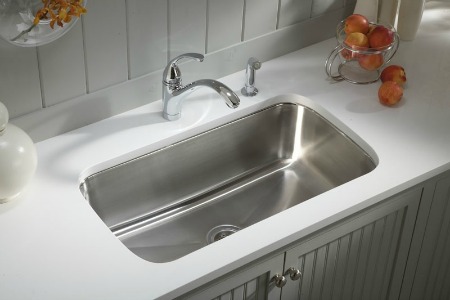 Cleaning the kitchen sink may not seem very important in the grand scheme of selling your house, but home buyers put great stock in a shiny and impeccably clean kitchen and the kitchen sink plays a role in that.
Buyers will get the impression that the sink is brand new or has been well cared for, which translates to an overall good impression of your home.
Let your kitchen sink be one less project on the fix-it list that home buyers will use to negotiate the price of your home down.
Read on for diy tips on how to clean your type of kitchen sink.
Cleaning the kitchen sink
How to clean stainless steel kitchen sinks
Cleaning stainless steel kitchen sinks requires a little elbow grease, but the end result is worth the effort. Stainless steel can take a lot of abrasive scrubbing, but try to scrub in the direction of the polish lines in the sink.
Comet, Bon-Ami, and Cameo Stainless Steel cleaners are just a few really good products for cleaning stainless steel kitchen sinks.

For a sparkling finish, try rubbing some dry flour into the stainless steel with a soft cloth. Rinse and dry with a cloth.
For a glossy shine, pour a few drops of baby oil into the sink and wipe all around the sink with paper towels. 
To remove rust stains with natural and cheap products, watch the instructional video below by essortment.
How to clean porcelain or an enameled cast iron kitchen sink
Of all the varieties of kitchen sinks, porcelain surfaces are the most difficult to keep clean. Enameled cast iron sinks scuff, stain and chip easily. If you are trying to sell your home, try to keep on top of the cleaning at least every other day. The longer you let the stains set, the more scrubbing you will have to do later.
You don't want prospective buyers to walk into your home and find you desperately scrubbing your sink! I had an old farmer's style enameled cast iron kitchen sink years ago-- what started out as a "love affair" quickly became too much work for me! I'm not sure I want to make that commitment again no matter how much it will enhance my kitchen decor. 

Use a non-abrasive cleanser, like Soft Scrub, 409, or a vinegar and water mixture. Wet down the sink with water first. Apply your cleanser according to the instructions on the label. Using a paper towel or soft sponge, scrub the sink. Rinse well.
For tea and coffee stains, wet down the sink and sprinkle about 3 tablespoons of baking soda inside. Scrub with a damp soft sponge. Repeat if necessary.
For stubborn stains, apply a paste of 1 part dishwashing liquid to 3 parts baking soda. Scrub, rinse, and dry.
How to clean solid surface (corian) sinks
Corian can take a lot of abrasive scrubbing, even sanding, and look almost like new.

Use an abrasive cleanser like Comet, Ajax, or Bon-Ami, and a scrubber sponge. Sprinkle sink with cleanser than scrub with a wet sponge. Rinse.
For scratches with stains in them, try sanding with 150 grit sandpaper. If that doesn't work, try a stronger grit, but no more than 400 grit. When finished sanding, buff the sink with the maroon-colored Scotchbrite pad and water. The cracks may still be there, but the dingy-looking stains should be gone.
How to clean a stone sink
Use a commercial product like Weiman granite cleaner and polish, Gel-Gloss, Mr. Clean Magic Eraser, or a mild solution of dish liquid and water. Granite can also be professionally buffed out to remove hardened stains. You will have to re-seal your sink after this procedure.

For a nice shine, try Orange Glo, Baby Oil, or mineral oil polishing with a soft cloth.
Repairing scratches and chips on porcelain and enameled sinks
Note: you WONT be able to use your sink for 3 days, so plan accordingly.

You will need: Cosmetic sponge/wedge
Porcelain paint (color to match your sink)
Clean off the surface of your sink with rubbing alcohol, or soap and water. Dry. Your sink must be perfectly clean.

Fill in scratches or chips with epoxy. Put epoxy on your cosmetic wedge and dab it into scratches and chips.

Smooth the surface leaving epoxy only in the damaged areas.

Let the epoxy set for 24 hours.

With the enamel paint and using the small paintbrush, paint over the epoxy. Let the sink dry for at least 2 days before using. Avoid scrubbing over the repaired areas for about 10 days.
Another method for repairing porcelain surfaces is featured below in the video by nnrepair.
The affordable repair kit and supplies can be purchased at nnrepair.com. This company also sells repair kits for a variety of kitchen sinks made of marble, granite and other natural stones, along with engineered surfaces like acrylic, ceramic and fiberglass. 

Return from cleaning your kitchen sink to declutter your kitchen
Go to home page
You may also like...