Declutter Your Living Room




DIY Home Staging Tips




for a faster, more profitable home sale
When you declutter your living room of excess furniture, it will instantly feel more spacious and the positive features of the room will be revealed.
The living room is a place where family and friends spend a great deal of time. It's a gathering place, a room for entertaining family and friends and a place to put your feet up at the end of a long day.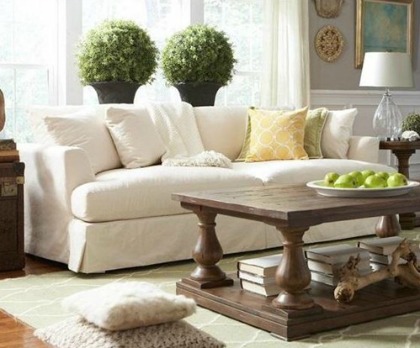 Livingroom with a neutral-color palette. Photo by Pottery Barn
Home buyers will be looking for a living room that is spacious enough for their entertainment needs, as well as a relaxing retreat for their personal use.

Of all the rooms in the house, the living room demands the most attention when it comes to arranging furniture. The living room is often the first room buyers see after coming through the door, so it's crucial that you impress them with your comfortable and practical furniture layout. For help making small living rooms look more spacious, see small living room ideas.
What's wrong in this room?
This living room is cluttered, some furniture pieces are too large and the focal point is muddled
In the picture above you see a television and table crammed into a corner, exposed wires, a cluster of unrelated items on the fireplace mantle, objects strewn across the coffee table and rumpled blankets and pillows left in a haphazard fashion.
The clock hanging over the fireplace is too high and could be larger. The coffee table is too high relative to the sofas and window blinds are blocking natural light.
What to change: The sofa covers should be replaced with neutral colored slipcovers. The TV stand in the corner should be removed; it makes the room look cramped. The clock above could be replaced with a large piece of colorful artwork or mirror. See art of accessorizing.
Fireplace mantle accessories should be simple and large enough to be noticed from across the room. Avoid grouping tiny accessories; they will look like clutter from a distance. See how to make a vignette for tips on creating successful arrangements. Pack away the patchwork quilt and replace it with a throw and colorful pillows as accessories.
Adding a coffee table closer to the height of the sofas will make a more comfortable furniture arrangement. Open the window blinds to let in maximum natural light.
Declutter your living room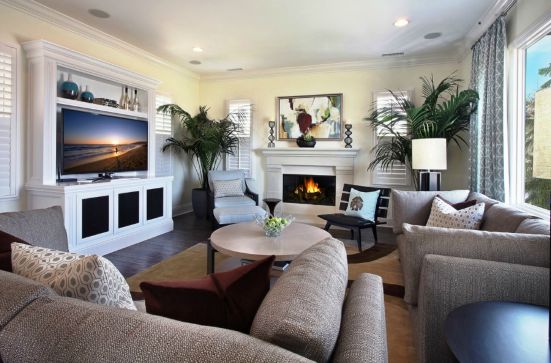 This interior designer has chosen to celebrate the TV in this living room, by turning it into a focal point. The fireplace is the second focal point.
These days, the struggle to find the ideal placement for the big screen TV has created an extra challenge for home stagers and interior designers. Cable wire connections are often situated in the wrong place and need to be moved. When decluttering your living room, be sure to situate all the TV wiring and attachments out of sight.
A bigscreen TV can also compete with a room's natural focal point, requiring extra thought and creativity when placing your furniture. Because the big screen TV is a good selling feature these days, you need to find the right place for it; whether as a focal point above a fireplace or console, or hidden out of sight in an armoire or entertainment unit.
Soft neutral colors appeal to most people, which is why they are used for home staging
Declutter your living room by emptying the space of most of the furniture, plants and accessories. This includes wall art, heavy drapes that block the light and area rugs. This is a good time to plan a yard sale! Save the pieces of furniture that you plan to use for staging later.
After you declutter your living room, take advantage of the opportunity to deep clean and look for any damage that needs to be repaired.
Start with the ceiling-- if it looks dingy, low or dark, repaint it white or a pale neutral paint color.
Check out the walls; look for cracks, stains and holes. See diy home improvement for tips on filling non-structural cracks and holes.
Refresh molding paint, especially base molding which often takes a beating. Painting all the doors, window trim and moldings a crisp white will give your room a fresh contemporary facelift. (For good flow throughout the house, paint all trim and molding in the same paint color.)
Wash windows inside and out until they sparkle.
Lots of natural light will brighten and make small spaces appear larger
Dust everywhere! Don't forget to dust ceiling fans and light fixtures, as well.

Clean all the floors. For carpets, hire a professional carpet cleaner. I have rented carpet cleaning equipment with so-so results; it never looks as good as a professional job. Dingy and stained carpets are real buyer turnoffs. If your carpet has outlived its usefulness, replace it with a neutral-colored carpet. For wood and tile floors, get down on your hands and knees and scrub every corner until the floor shines. I know...ouch, but until a better way is invented, it's the best way to clean a floor!
Wash, de-bug and polish all of your light fixtures, including ceiling, floor and table lamps. Throw glass light fixtures into the dishwasher.
Clean all the ashes out of wood-burning fireplaces. To remove soot stains from brick or rock fireplace exteriors, spray with Johnson's "Scrubbing Bubbles" bathroom cleaner. Let the product set for about five minutes, then scrub with a soft nylon bristle brush. You may have to repeat this procedure a few more times. Be sure to rinse off with clean water when done. 
All light switch plates and electrical outlet covers should match. Damaged switch plates are very affordable, so replace if necessary. Make sure they are free of fingerprints and grime. For stubborn grime, use "Mr. Clean Magic Eraser". It works great on the walls too.
With all the furniture out of your living room, this is a good time to read about space planning for your home staging plans.
What is space planning? It's part of the home interior design process; understanding balance, visual weight, traffic patterns, scale and axis before planning furniture layouts in your home.
Learning these home decor tips will help you arrange your furniture so that it highlights the room's best features, while achieving perfect balance throughout.
Return from declutter your living room to declutter your home
Go to home page