Declutter Your Home Office



For a faster, more profitable home sale
Declutter your home office and create that functional and organized space that so many home buyers are looking for today.
So many people are working from home now that a home office space has become an essential feature on most buyer's want lists.
Some of us don't have the luxury of a bonus room dedicated solely as a home office.
Most likely, your desk and computer are sharing a space in your guest room with a bed, exercise equipment and an ironing board.

If you are preparing to sell your home on the real estate market, why not turn this multi-functional room into a home office instead?
Declutter your home office of things that doesn't belong
Create a home office design that buyers want. Do away with exercise equipment and other things that don't belong in an office.
Show home buyers that your house has room for a home office, even if it's just a shared space in the kitchen or living room. This will add value to your home.

Home office organizing tips
Remove everything that doesn't belong in an office. This means the exercise ball, craft supplies, the sewing machine and futon must go!
Declutter your home office by using attractive office organizers to hold your mail as it comes in.
Depersonalize your home office by removing diplomas, awards, trophies, and family photos from the room. Why? Because removing personal items allows buyers to better see themselves in your home.

Clean your home office
Wash all light fixtures and replace bulbs with the highest wattage allowed.
Clean all windows until they gleam.
Shampoo carpets, and/or wash and polish hardwood floors.
Remove heavy drapes or dated window blinds; when home staging, try to let in as much light as possible, as natural light flowing in makes a room feel more spacious.
Paint the walls in a warm neutral color. If the walls aren't that bad, "Mr. Clean Magic Eraser" works great at cleaning off smudge marks.
Clean light switch plates and electrical outlets of grimy fingerprints. Sellers always forget this step. Try to match switch plate covers to the color of the wall, as this will be less of a distraction to the eye.
How to organize your paper work
Archive old files and pack them away for your new home. 

Declutter your home office by filing paperwork right away. It takes just a few minutes each day to sort through paperwork and make sure that office supplies and materials are tucked away.
Filing is such a tedious chore, so I like to use office organizers in different colors to inspire me. Color coding my filing system brightens my mood as I perform this boring task.
If you are faced with sorting through 30 years of old receipts and other paper miscellanea, follow the organizing guideline below that shows how long to keep records.
Tax records; 10 years
medical records; 5 years
Insurance records; 5 years
Pay stubs; 1 year
Utility bills; 1 year
Credit card bills; 6 months
Use pretty office organizers for clutter control
Get your home office ready for the real estate market by storing supplies out of sight. Hide office supplies inside desk drawers, pretty boxes, or stash them inside a storage cabinet.
If you have limited storage room in your home office, take advantage of vertical space by installing shelves on the wall. This will give you extra storage without sacrificing floor space. 
Shelving gives you a place to put your favorite books, work manuals, bins, boxes, and pretty accessories for home staging, like hanging wire baskets.
Floating, or open shelving works really well in small rooms, as they don't require ugly brackets or corbels to install them, so they take up less "visual space." Floating shelves give the illusion of "floating" in space.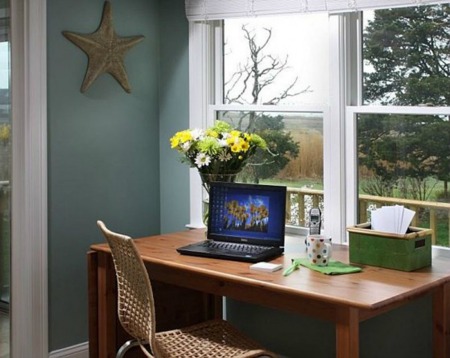 Keep your home office desk 60% clear of clutter when home staging.
No floor space? Go vertical with a tall piece of furniture, like an armoire.
An armoire will provide a lot of additional storage opportunities-- if you have a printer, you can stash that in there, as well.

Don't use your desk as a dumping ground. Your desktop should be 60% clear of clutter for home viewings.

Items on the desk should be limited; keep writing utensils in an attractive holder; place a lamp off to one side; hide work papers in an attractive box.
Return from declutter your home office to declutter your home

Go to home page