Declutter Your Home Office




How to Sell Your Home




for a faster, more profitable home sale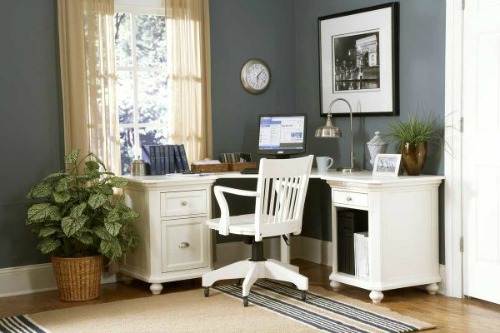 Who wouldn't enjoy working in this home office?
Declutter your home office to create that functional and organized space home buyers are looking for. Many people are working from home these days and are placing an office space on their "must have" list when looking for a new home.
Many home owners don't have the luxury of having an extra room dedicated as a home office. Most likely, your desk and computer are sharing a space in your guest room with a bed, exercise equipment and an ironing board.
If you are preparing to put your home on the real estate market, why not declutter this multi-functional room and stage it into a home office instead?
Declutter your home office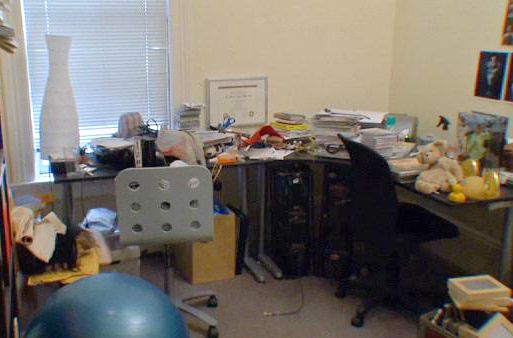 Create a home office design that buyers want. Do away with exercise equipment and other things that don't belong in an office.
Showing home buyers that your house has room for an office, even if it's a shared space in your kitchen or living room, will add value to your home in their eyes.

Remove everything that doesn't belong in an office. This means the exercise ball, craft supplies, and futon need to go!
Declutter your home office of unsightly computer wires, or invest in wireless devices. For helpful tools that will get your wires organized, go to 

wirecare.com

 or

thecontainerstore.com

.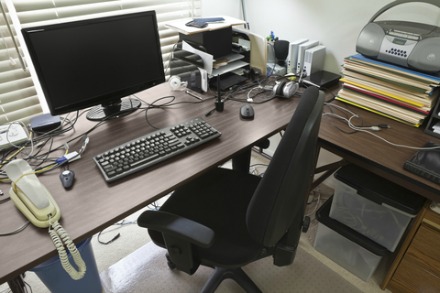 Declutter your home office of unsightly wires, bulky equipment and messy papers
Depersonalize your home office by removing diplomas, awards, trophies, and family photos from the room. See

depersonalizing your home

.



Cleaning the home office
If walls are tired and grimy, paint in a soft neutral color. See

interior colors for home staging

. If the walls aren't that bad, use "Mr. Clean Magic Eraser" to clean off smudge marks.
Organize the filing cabinet
Archive old files and pack them away for your new home. 

Declutter your home office by filing paperwork right away. It takes just a few minutes each day to sort through paperwork and make sure that office supplies and materials are tucked away.
Filing is such a tedious chore, so I like to use office organizers in different color combinations to inspire me. (Pretty colors just make me happy!) Color coding my filing system brightens my mood as I perform this boring task.
Use separate colors for personal, business, financial, medical, home, insurance, and so on. Once you learn your color system, it actually makes filing go faster. You can find colored tabs, file folders and other office organizers to match practically any home design.
A family member recently passed away and the children were faced with sorting through 30 years of old receipts and other paper miscellanea. It was a huge job that shouldn't have been necessary. Declutter your home office by taking care of paperwork as it comes in.
Below is a general time guideline for keeping documents on file:

Tax records; 10 years
medical records; 5 years
Insurance records; 5 years
Pay stubs; 1 year
Utility bills; 1 year
Credit card bills; 6 months
Use office organizers for clutter control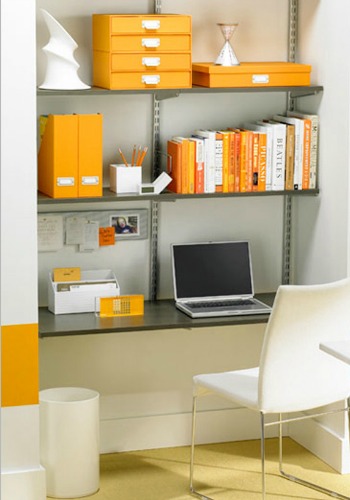 Eye-catching yellow office organizers really brighten up this small work space!
Separate office supplies into categories by placing "like" items together. For instance, keep all writing utensils in one place, like your desk. Store all paper in another place, mail supplies in one drawer, and so on. This way you won't be rummaging through every drawer looking for one thing.



If you have limited storage space in your home office, use vertical space by installing shelves on the wall. This will give you extra storage without sacrificing floor space. 
Shelving gives you a place to put your favorite books or work manuals, hanging filing systems, and more. 
Stage shelves with pretty office organizers like hanging wire baskets, bins, drawers or boxes. 
Floating shelves work really well in small rooms, as they don't require ugly brackets or corbels to install them. They give the illusion of "floating" in space.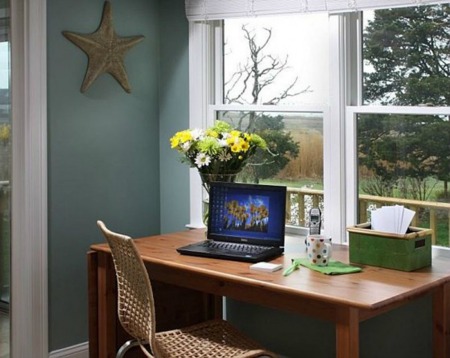 Keep your home office desk 60% clear of clutter
An tall armoire in your office will provide a ton of additional storage opportunities-- if you have a wireless printer, you could stash that in there as well.

Don't use your desk as a dumping ground. Your desktop should be 60% clear of clutter during home viewings.

Items on the desk should be limited; keep writing utensils in an attractive holder; place a lamp off to one side; hide work papers in an attractive box.
Go to staging the home office for home staging tips.
Return from declutter your home office to declutter your home

Go to home page