Declutter Your Dining Room



For a faster, more profitable home sale
Declutter your dining room before you put your house on the real estate market so that home buyers can see the true potential of your home.
A dining room is often a formal entertaining space that is ignored the greater part of the year.
On the other hand, a dining room can be a hive of activity; a station for paperwork, craft projects, homework, and in my case; a sewing machine or laptop.

Even if I had a separate home office, I would probably still park myself at the dining room table because it's located in the center of action. But, I am NOT staging my house for sale...
When you stage your dining room, you should strive to create an impression of spaciousness, no matter how small it is. 
There are a few home staging tips and tricks that can help make a small dining room appear larger than it really is. But, before you stage your home, you will need to declutter and depersonalize.
Get rid of excess furniture in the dining room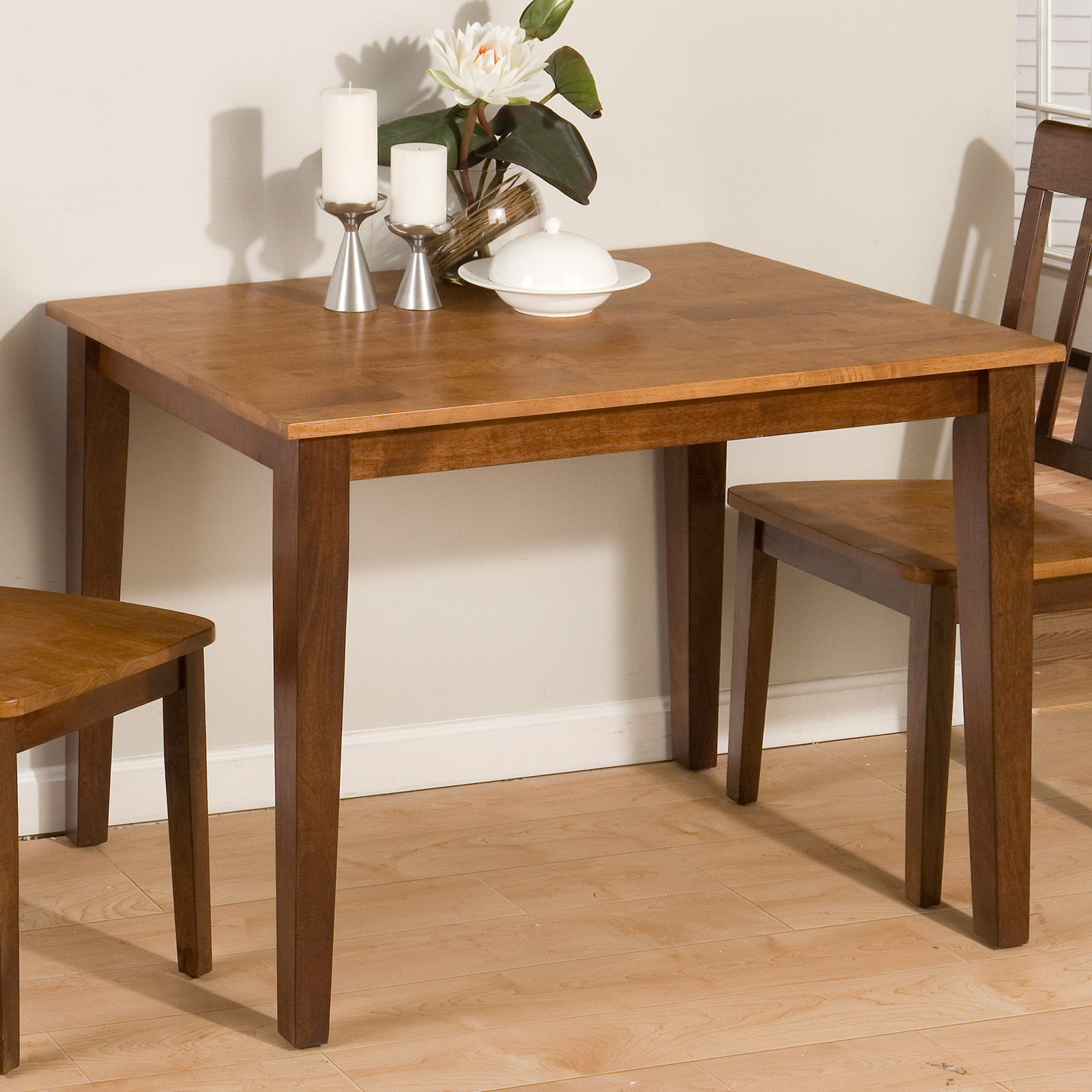 Sometimes, a better option for a tiny dining room or eat-in kitchen is a small table like this with just two chairs.
Aside from the table, most dining rooms don't accumulate a lot of clutter.
The biggest mistake that people seem to make in this room is cramming too much furniture in.
You often see too many pieces of matching furniture stuffed into a dining room; a table, sideboard, china cabinet, corner hutch and I've even seen bookcases taking up space in this room.
In addition, many people have far too many dining chairs, making it difficult for people to maneuver around the table.
Not only will buyers be frustrated trying to squeeze around the table, the excess furniture will make the room appear cramped and smaller than it really is.
A home sale is a good time to pack up any excess stuff for your new home and have a yard sale.
How to declutter your dining room
Gather up packing boxes, totes, garbage bags, tape and a permanent marker. You will also need bubble wrap for your breakables.
Start by unloading your china, glassware, silverware and linens from their storage areas and china cabinet. Carefully wrap everything you don't need for home staging, box it up and take it to your chosen storage area to await your move.
Be sure to save a few special pieces for staging your dining room later.
Declutter your dining room by removing ALL of the furniture and accessories. This includes artwork, draperies and rugs.
Clean, dust and paint the dining room
With everything out of the room, now is the time to examine the ceiling, walls, floor, windows, trim, and baseboards for any damage. Make any needed repairs. 
Start at the top by wiping down crown molding. Remove dust and cobwebs from the ceiling down to the floor.
Chances are you will need to freshen your walls and ceilings if you haven't painted for a few years. Grubby walls will make buyers think your home has been neglected.
Red was once a popular color in the dining room, but has recently fallen out of favor. In fact, in 2021, the colors red and yellow have the distinction of being the WORST COLORS you can paint a room while your house is on the market!
Instead, paint your dining room in a neutral color. Neutral colors appeal to more people than any other color group-- this is why home stagers use them.
Use a darker neutral paint color in the dining room to create an intimate atmosphere.
I like to use an eggshell paint finish for walls, because it has a slight sheen and is washable. Always paint the ceiling before you do the walls.
Showcase the beauty of crown molding, chair rails or interesting window finishes by painting them in a contrasting color to the walls. White is always acceptable and makes a beautiful, crisp contrast. Trim color should be consistent throughout the house, whether it's painted or stained.
Be sure to repair any damaged window casings, trim or baseboards before painting. Baseboards always take a beating. 
Don't forget about the light switch and outlet plates! These grime collectors are often forgotten in the cleaning process.
Debug, wash and polish any light fixtures.
If the light fixtures are outdated, consider investing in new contemporary lighting or a beautiful new chandelier to serve as a focal point. New light fixtures and repainting walls are two cost effective ways to quickly update your home.
How to Hang a Chandelier
A chandelier over a dining room table will define that space as the dining area and serve as a focal point in the room.
The distance between the chandelier and the tabletop should be about 30 to 35". Proportionally, the chandelier should be 1/3 the width of the table. The chandelier should match the architectural style of your house.
Center the table directly under the chandelier. If not centered, the entire room will look askew. If the light fixture is in the wrong place, insert a swag hook into the ceiling above the table and swag the chandelier over.
(See video below.)
Add a dimmer switch to your chandelier to tone down glare and lend ambience to your dining room.
How to install a swag hook into the ceiling. Video by godking333.

Clean any dining room windows inside and out until they sparkle. Use my favorite window cleaning product, E-Cloth. This system requires ONLY water, no chemicals will get sprayed in your eyes, I promise. E-Cloth works better than any other window cleaning product I have ever tried.
Update or remove stuffy, taste specific and outdated dining room window treatments. Old fashioned draperies with swags, ruffles or tassels can make buyers think your house needs some updating, as well.
If you have a great view, you may want to remove the window treatments to allow maximum natural light to flow in. 
If you are going for ambience, and the view is awful, select classy ceiling to floor draperies in neutral colors.
Dining room flooring
Shampoo carpets-- if badly worn or stained, replace them, otherwise buyers will negotiate new carpeting into the sales price. There's no disguising a worn out carpet. 
Hardwood floors should gleam;  give them a good cleaning and polish with Murphy Oil Soap-- it cleans well and gives wood floors a nice luster.
Plan on placing ONLY FOUR chairs back into the dining room, unless your dining room and table are large, maybe six chairs, plus a hutch or sideboard.
If your dining room is small, don't put more than 4 chairs around the table. Remove all of the table leaf segments as well. This will make your dining room look more spacious.
When staging a small room, all you really need are a few pieces to give the indication of the purpose of the room.
If your dining room is large, leave in a leaf and place up to six chairs and a hutch or sideboard in the room.
Return from declutter your dining room to declutter your home

Go to home page