Declutter Your Basement



For a faster, more profitable home sale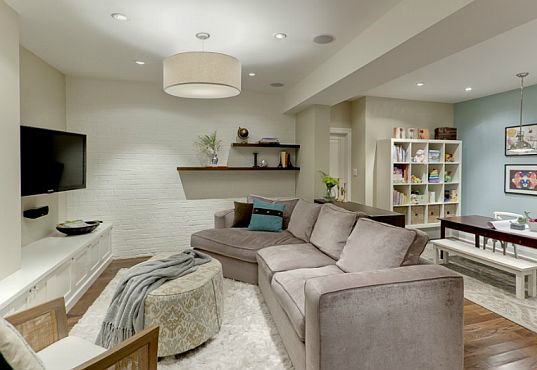 Light paint colors, neutral area rug and furniture, new flooring, contemporary lighting and storage make this a successful basement renovation.
If you declutter your basement and stage it, you will be adding value and extra buyer appeal to your home.
Okay, so your basement doesn't look like this? Don't worry, it doesn't need to look this good to sell your home.
A basement is a very adaptable space. It can be whatever you want it to be; a guest room with bathroom, a laundry area, an entertainment space or the ubiquitous man cave. Or just use it for storage.
Is your basement dark and dreary like the one pictured below and a repository for everything that doesn't fit in the rest of your home?
Do you dread having to do your laundry in the basement? Well, home buyers are going to feel the same way.

Not all home owners are fortunate enough to have a lovely finished basement. If your basement falls in the "creepy dungeon" category, don't despair!
You don't need to do a complete basement renovation to sell your home. You just need to make sure your basement is clean, spider webs swept away, and that there are no structural, electrical, or plumbing problems to scare buyers away.

According to Homeguide.com, the average cost to finish a basement is $32 to $47 per square foot or between $22,000 and $46,000. A 500 sq. ft. basement remodel costs $20,000, and a 1,000 sq. ft. basement renovation is $38,000 on average. Prices vary, of course, depending on what your design plans are.
Even a basement that's used only for storage will add value to your home, because who doesn't need more storage? 
There are a few interior home remedies you can do to lighten up this space and turn it into extra square footage without having to do a complete basement renovation.
Simply emptying and cleaning your basement will help home buyers to realize its potential. 

Declutter your basement so buyers can see the space
Decluttering your basement can seem like a daunting task, especially if you've been stockpiling stuff for years. But, the great thing about decluttering is that you get a head start on your packing.
You'll need to assemble boxes, totes, garbage bags, tape and a permanent marker.
Sort everything into groups:
Donate
Repair
Throwaway
Move those items you plan to keep to a temporary storage unit.
Declutter your basement by packing up everything else you plan to take your new home by moving it to a temporary storage unit.
Take your time; divide the task in short segments to make it more palatable, even if it's only 20 minutes a day.
Removing accumulated stuff and creating empty spaces will show buyers the true size and potential of your basement.

Bribe a friend to help. Your friend will talk you out of hanging onto things you haven't seen or used for years!

Clean your basement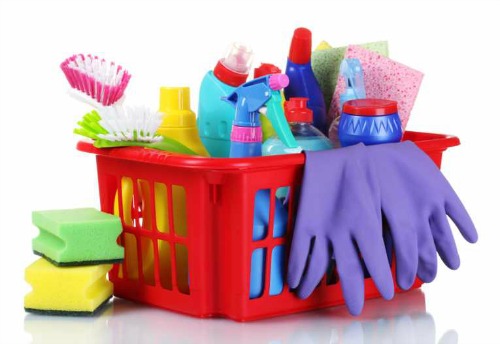 After decluttering, its time to clean. Get rid of mold and mildew and fix any structural, electrical or plumbing problems. This is also a good time to have your HVAC system tested. 
Wash windows inside and out until they sparkle. Use my favorite window washing kit, E-Cloth. No window cleaner needed, just water. It CLEANS BETTER than anything I have ever used! 
Remove grimy switch plate covers from the wall and wash with dish soap. If the grime won't come off, spray with Johnson Scrubbing Bubble Bathroom Cleaner. Let it set for five minutes, then wash clean. Replace broken outlet covers-- be sure they are all the same color.
If you have appliances in the basement, give them new life by wiping them down. This includes; washer and dryer, furnace, air conditioners, H-Vac and water heater. Dusty, dingy appliances will give buyers the impression that they are old and need to be replaced. They will take note and try to negotiate the price of your house down for this. 
If your basement is moldy or smells of mildew, see 

getting rid of mold

 for help on dealing with this problem. Mold is one of the biggest buyer deterrents. 
Light up the basement!
The darkest part of a house usually has the worst lighting. Often you will find a single bulb light fixture hanging in the middle of the ceiling, and that's it!
Natural light is always the preferred kind of lighting, but because basements in older houses were never meant to be lived in, builders were a bit of stingy with window sizes.
In addition, many basements are partially underground, or daylight basements, which means that part of the basement is underground, usually at the front of the house and above ground at the back.
So, unless you want to cut through thick masonry brick or concrete to enlarge windows, you will need to add lighten your dark basement by other methods.
Remove any window treatments covering the basement windows. Your goal is to let in as much natural light in as possible.
Take down the light fixtures and clean them, or update with an updated fixture with multiple bulbs. Insert the highest wattage bulbs allowed. 
Painting your basement ceiling, walls and floors
White paint really lights up this basement in spite of only having one measly window; every thing is painted white. Pinterest photo.
Painting a basement wall can be quite complicated if you're painting over brick, stone, or concrete. Before you run out and select your paint, you'll need to see if your walls are waterproof or all your painting will be in vain.
Follow this excellent step-by-step guide from Better Homes and Garden for repairing and repainting a basement masonry wall.
When your basement walls are ready to paint, be sure to select a light neutral color.
Light colors have the effect of "visually" expanding a small space. This is why home stagers always use light neutral colors in home decorating.
Be sure to paint the ceiling in a light color as well. A light color will visually "raise" a low ceiling.
A great way to improve the appearance of concrete basement floors is to paint them. See the instructive video below by ppgprofessional for directions on how to clean, prep and paint concrete floors.
Add shelving units and closets for storage in your basement
Buyers love storage! 
Show home buyers that there is room in YOUR basement for their stuff by installing shelving units or closets for storage.
Installing a unit like this will demonstrate how useful this space is; buyers often find an empty room confusing.
Improving a basement laundry area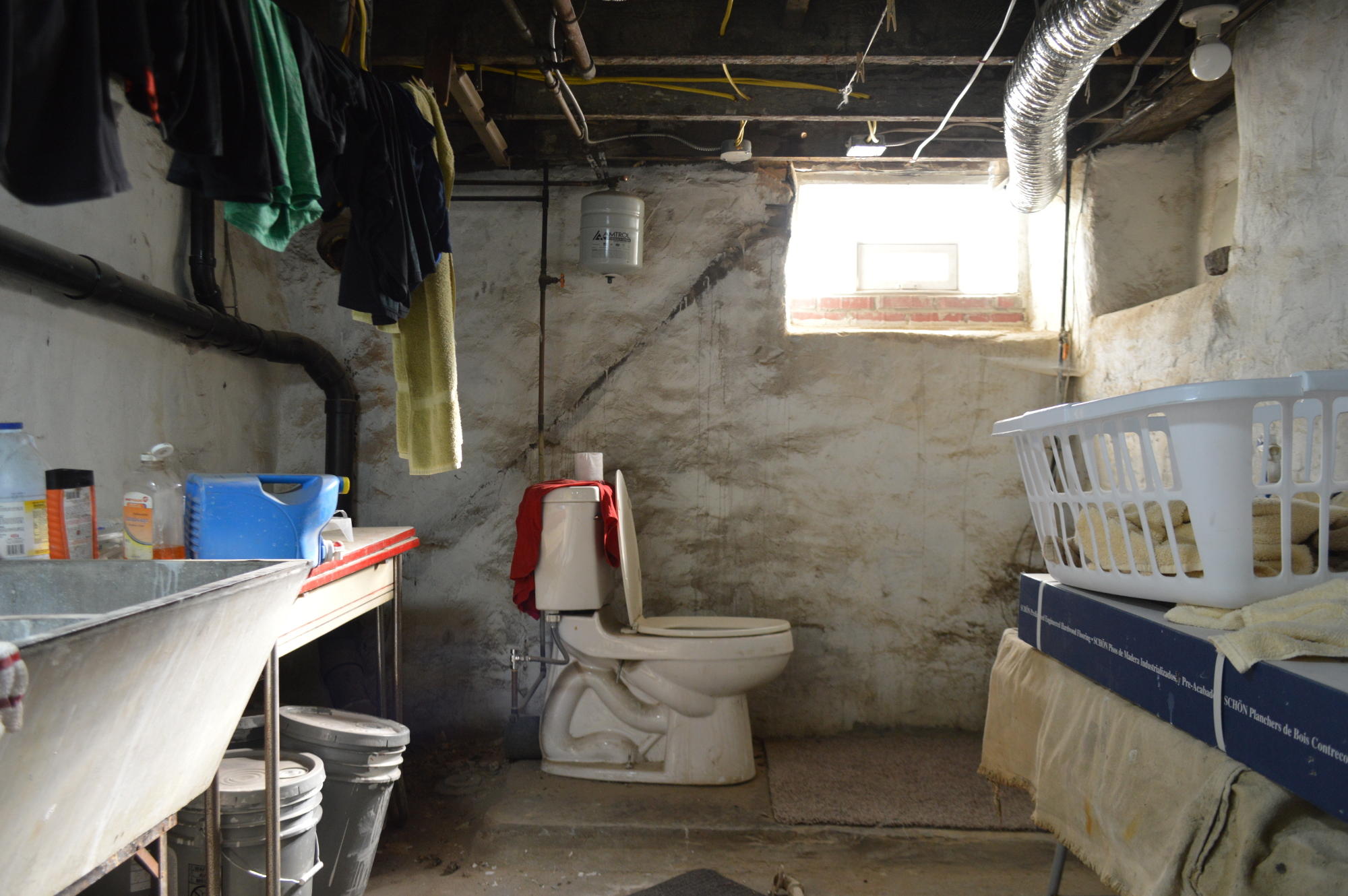 Imagine doing your laundry in a room like this! At least it's a short walk to the bathroom. Photo by zellers.lawrenceville.
Recall the scene in the movie, "Home Alone 1" where "Kevin" goes down to the basement to do laundry and meets up with the scary furnace! The above picture reminds me of that scene. 
Laundry cabinetry and organizing systems like this can be found at any home improvement center.
This is not fancy, it's simply a clean and organized area to do laundry without fear. Home buyers will love it!
See ideas for staging your basement here. 
Return from declutter your basement to declutter your home
Return to home page