Home Interior Color Trends for 2016



For a faster, more profitable home sale
The home interior color trends for 2016 have something to offer everyone!
Find the one color palette below that appeals most to you and plan your paint colors and home decor around it. Now you can choose from the most updated palette available for your house design color schemes.
What do color trends have to do with home staging? Well, imagine you're a home buyer and you walk into an older home with 1975 color schemes of avocado green, harvest gold and almond. I've been there and certainly don't want to go back.
If you're looking for an older house design with period decor... great! But if you're wanting a contemporary home with clean lines and modern colors, you may pass on this one, unless you like doing your own home renovation.
When you're staging your home for sale, it's important to keep up with interior design color trends and styles, because most home buyers are looking for an updated, fresh look. Now you can do that by choosing your new color palette from the home interior color trends for 2016 featured below.
When I was a real estate agent, I was surprised by the number of house hunters who passed on a home, simply because they considered re-painting walls too much work.
Who selects the colors each year?
The Pantone Color Institute is the final word in predicting and deciding color trends each year. Pantone is the color authority for the entire world, providing color standards for the design industries.
The Pantone Color Institute's color decisions influence house design color schemes, paint colors, clothing lines, jewelry, and the color of lipstick and eye shadow you'll be wearing in 2016. Pantone also considers how color impacts our emotions, thoughts, and physical reactions.
Who decides the color trends each year? Go to: 
Leatrice-Eiseman picks this year's color
The Pantone 2016 colors of the year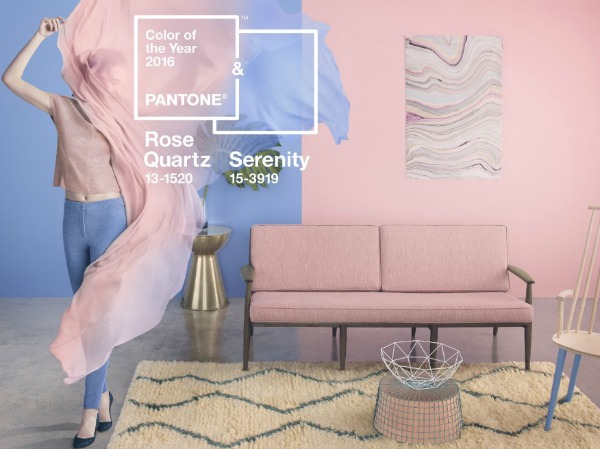 Colors of the year 2016. Photo by Pantone Color Institute
For the first time, the Pantone Color Institute has selected two colors to share the stage, Rose Quartz and Serenity. These ethereal, cotton candy colors are soothing and peaceful in nature.
Home interior color trends for 2016
Rose quartz is a soft pink, with a sense of quietude— sort of a toned down version of a "girl's room" pink.
Rose quartz is close to a "nude pink", giving it flexibility in interior design color schemes. This sweet, soothing tone also works well as a sofa or recliner in your guest room!

Serenity is a muted periwinkle-blue — a soft blue with a feeling of weightlessness, as in a clear blue sky. It lives up to its name as it imparts a soothing, serene aura.
Rose quartz and Serenity can be used in any room of a house, and work well alongside mid-tone colors like; rich browns, yellows, purple and greens.
"Joined together, Rose Quartz and Serenity demonstrate an inherent balance between a warmer embracing rose tone and the cooler tranquil blue, reflecting connection and wellness as well as a soothing sense of order and peace."
- Leatrice Eiseman, executive director of the Pantone Color Institute.
Pantone reveals home interior color trends for 2016
The Pantone Color Institute has revealed nine color palettes for 2016:
Natural Forms, Dichotomy, Ephemera, Lineage, Soft Focus, Bijoux, Merriment, Footloose and Mixed Bag.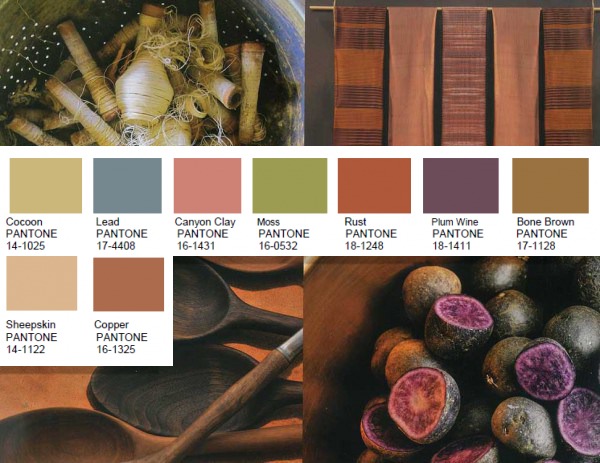 "Natural Forms" color palette for 2016. Photo by Pantone
Natural Forms - As the name suggests, the shades in this color palette are derived from natural sources; like a sheepskin beige, moss, lead, copper, bone and warm rosy clay.
Natural will always be the best source of inspiration in the realm of home decorating.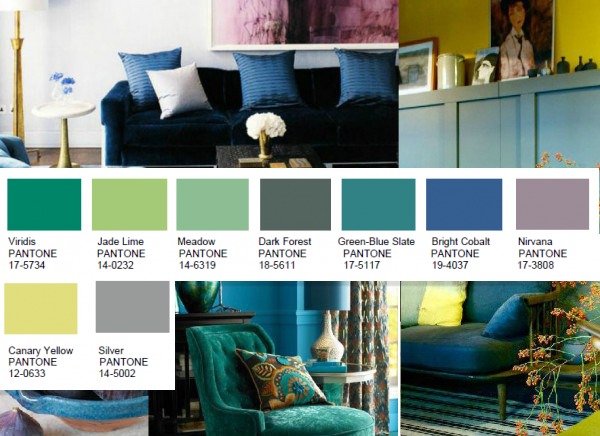 "Dichotomy" Pantone color palette for 2016. Photo by Pantone
Dichotomy - At last! My favorite "peacock" colors together in a fresh, new palette, with a lovely muted plum to serve as a deep accent.
I have always dreamed of owning a peacock colored upholstered sofa--what a statement piece that would be! 
This color palette can be moody or relaxing, depending on how you plan your color schemes.
Pair the canary yellow with bright cobalt blue for vivid contrast, or use softer versions of these hues for a gentler effect. Select viridis green, canary yellow, or nirvana plum as accent colors in contrast to the beautiful blue-green.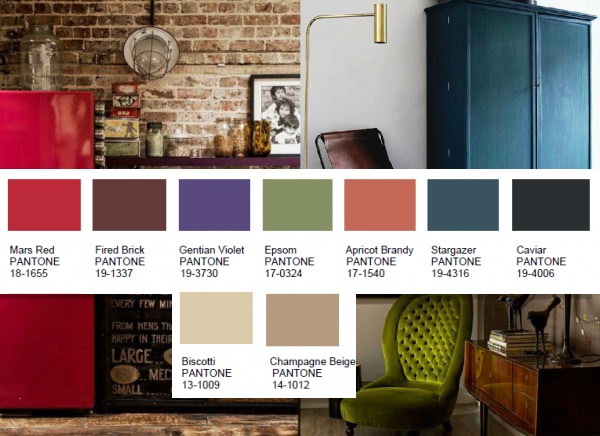 Lineage - The lineage color palette gives us an array of standard navy, tan, beige, green and black intermixed with brighter colors of rich red and violet.
Biscotti and champagne beige are perfect wall colors for home staging, and make a great backdrop for any of the bright colors in this palette.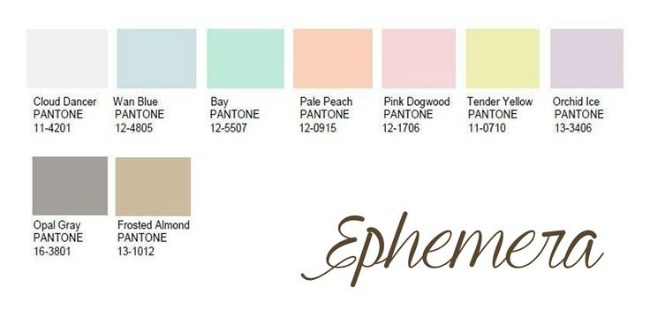 "Ephemera" Pantone color palette for 2016. Photo by Pantone
Ephemera - This palette of soft, pastel shades of delicate tone will integrate harmoniously into practically any home interior color schemes.
Wan blue, cloud dancer, orchid ice and opal gray will all work well as wall paint colors in any bedroom. Frosted almond would be a good choice for wall colors throughout the house, for home staging.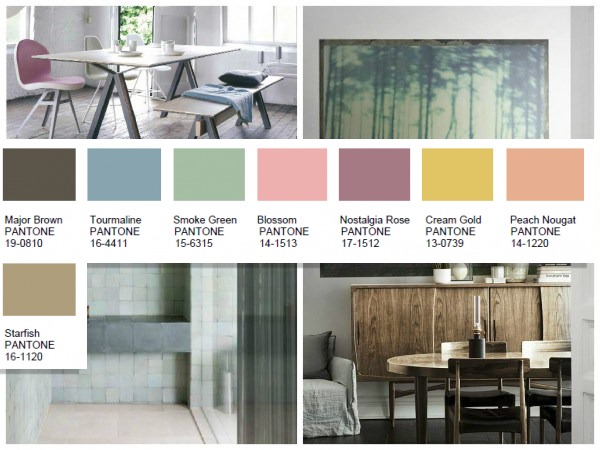 "Soft Focus" Pantone color palette for 2016. Photo by Pantone
Soft focus - Soft focus is the adult version of the typically, child-like pastel color palette.
Soft, smoky and muted colors are paired with a light and dark brown, making them functional color combinations for any room in your home.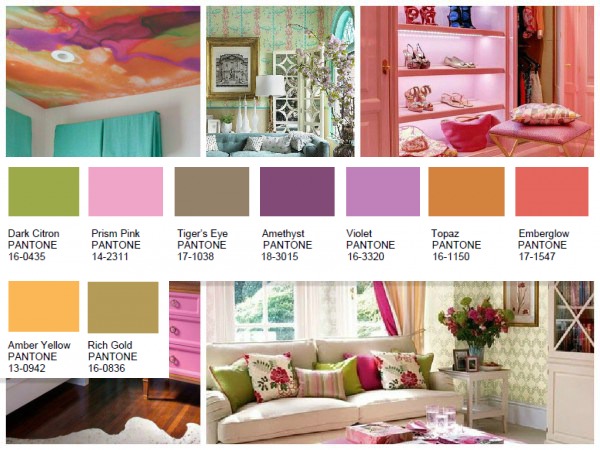 "Bijoux" Pantone color palette for 2016. Photo by Pantone
Bijoux - Bijoux is a shimmering collection of intense jewel tones and paler versions of jewel tones— bijoux means, "jewelry" in French.
Tiger's eye taupe and the lighter jewel tones will help balance the intensity of the brighter colors.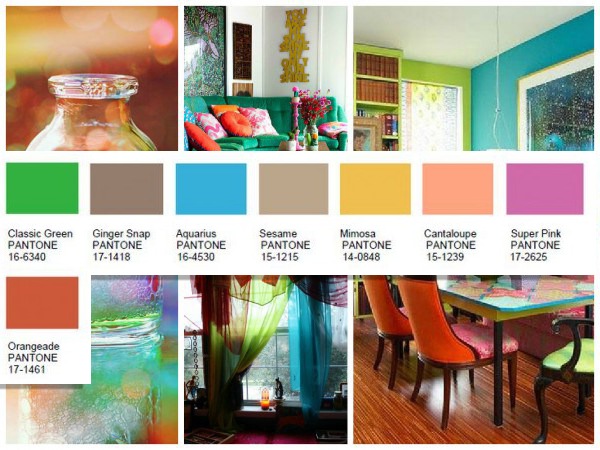 "Merriment" Pantone color palette for 2016. Photo by Pantone
Merriment - The merriment color palette lives up to it's name, consisting of happy, energetic shades of blue, yellow, and green, contrasted with oranges and pinks.
This color palette is for those who can't be happy in neutral color schemes. If you're staging your home for sale though, don't go crazy and paint all the walls aquarius and super pink!
Save that for your new home. Use these fun colors in the accessories instead, like pillows, curtains and linens, against a neutral backdrop of sesame.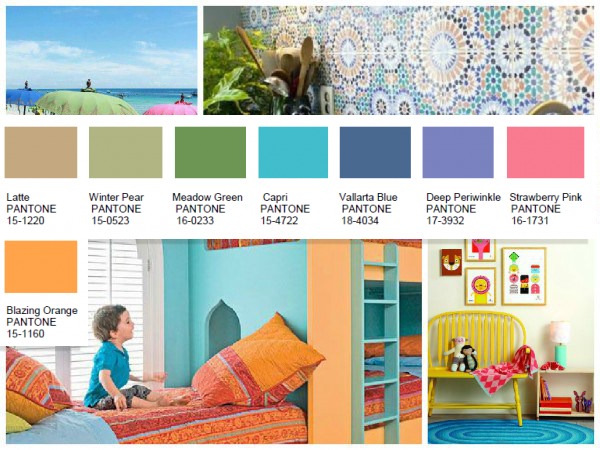 "Footloose" Pantone color palette for 2016. Photo by Pantone
Footloose - "Footloose and fancy-free!" Whimsical color combinations of outdoor hues that will take you to your favorite vacation spot by the ocean.
This color palette offers carefree shades that suggest fun, ease and relaxation.
"Mixed Bag" Pantone color palette for 2016. Photo by Pantone
Mixed Bag - Just as the name suggests, this color palette is a hodgepodge of diverse patterns and prints, with lively and unique colors like hot pink, mandarin red, pirate black and violet.
This unexpected color-palette will satisfy that "inner eclectic" child inside.
Go from home interior color trends for 2016 to home page