Declutter Your Foyer




DIY Home Staging Tips




for a faster, more profitable home sale
Declutter your foyer to create great first impressions on buyers as they enter your home. If potential buyers like what they see in the front entry, they will want to continue their journey into the rest of your home.
Even if your foyer is a small space, it still has an important assignment. If home buyers are tripping over a flotsam and jetsam of shoes in the front entry, they will assume that the rest of the house is just as disorganized and lacking in storage.
Your foyer doesn't have to be grand to impress buyers. A modest front entry can look just as welcoming if it is organized, warm and inviting.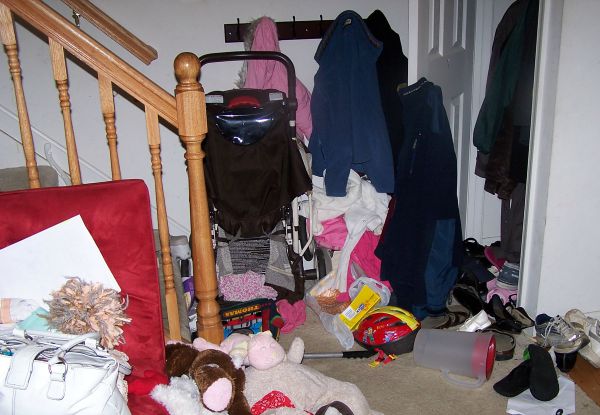 Nothing feng shui about this foyer!
According to the principles of feng shui home design, you must create a positive landing place for energy inside the main entry. This is one of the most important rooms in feng shui home design, because the main entry needs to welcome and direct the flow of energy into the house, rather than push it away or weaken it.

Declutter Your Foyer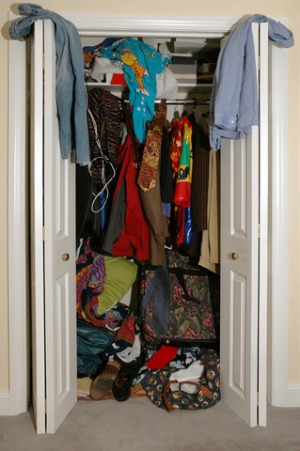 This closet sends a message to home buyers...no storage!
Declutter your foyer by removing every single item that doesn't belong there. If you have a front entry closet, see declutter your closet for home staging diy tips on how to make it look more spacious and organized. Pack up out-of-season clothing, boots, hats and gloves for your new home.
When everything is sorted and removed, take a good look at your entry. What is the condition of the walls and flooring? Is the foyer lighting fixture outdated, dusty, and full of dead bugs? Is the front entry brightly lit with natural lighting or an attractive lighting fixture? Does it feel welcoming?
Step back and try to look at your foyer with "buyer's eyes." Ask yourself what kind of feeling home buyers might get they enter your home.
Chances are that you already know what needs doing to make your front entry look better. Always remember that home buyers DO NOT want to have to fix or replace anything!
Foyer Flooring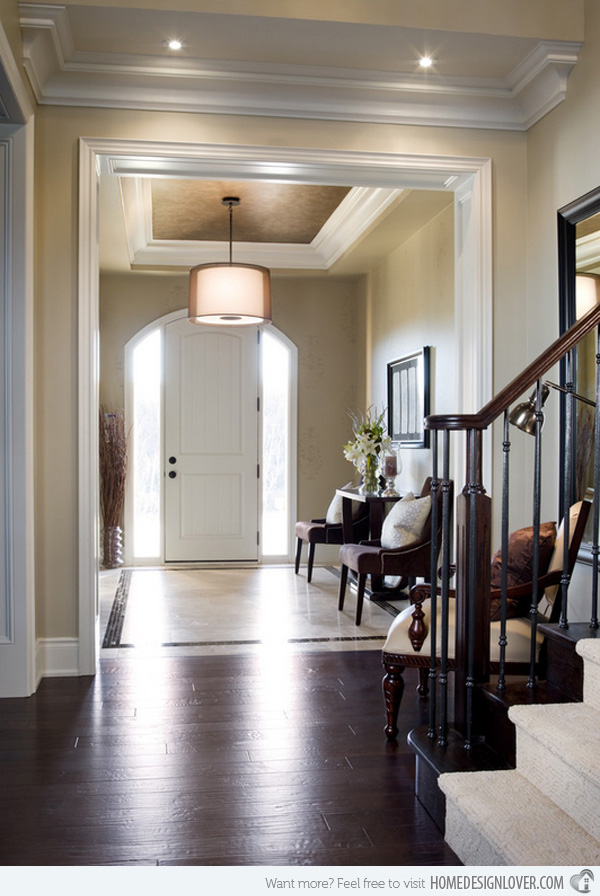 Create a welcoming sitting area for visitors in your foyer
Changing the flooring is one way to make your entry stand out and separate it from the rest of the house. Tile is the obvious choice because of its durability, wide range of choices, and beauty.
Slate tile works especially well in foyers because the color and texture of the natural stone is good at hiding dirt.
I have seen wood flooring in foyers as well, but it often looks scratched and worn because of the heavy traffic coming in and out of the house. I don't recommend it for this part of the house.
Cleaning Tips for the Foyer
Wash foyer windows until they sparkle!
Repair and repaint scuffed or scratched trim work and baseboards. Foyer baseboards often take a beating when people kick off their shoes and send them flying against the walls.
If foyer walls are dark, repaint in a light and warm neutral color. Don't let home buyers enter a dark gloomy foyer-- instant bad first impression!
Declutter your foyer by removing dated or busy wallpaper. Go to removing wallpaper for help with this task.
Polish all the doorknobs, door kickplates and lighting fixtures. 
Take down light fixture shades and run them through the dishwasher.
Replace dim lightbulbs with the highest wattage allowable.
Dust and remove cobwebs from the ceiling and walls.
Wash and replace broken or cracked outlet covers and switch plates. Make sure they all match.
Electrical outlets and switch plates are a distraction to the eye if they contrast with the wall color. If possible, match them closely to the paint color of the wall.
Condition, clean and polish hardwood floors with Murphy Oil Soap or Orange Glo. Both are available at any home supply center.
When you are done decluttering and cleaning your foyer, go to staging the foyer for storage ideas and interior decorator tips.
You may also like:
Return from declutter your foyer to declutter your home

Go to home page