Holiday Home Staging
DIY Home Staging Tips
for a faster, more profitable home sale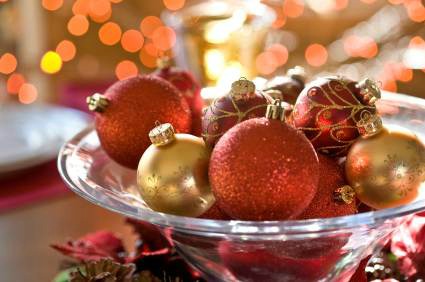 Holiday home staging is a balancing act for those who need to sell their home, yet want celebrate the holiday traditions in their usual fashion.
The holiday season isn't the best time to market a home, but for those without a choice, it's helpful to know that house hunters are serious about purchasing at this time of year.
The holiday season can be an emotional time for many people, and if you stage your home with warmth and tasteful holiday decorations, you can stir those feelings of seasonal spirit.
Before doing any holiday home staging, you should have decluttered, depersonalized, cleaned, and completed any unfinished projects around the house. Start with a clean slate before you add any holiday touches to your home decor.
Simplify holiday decorations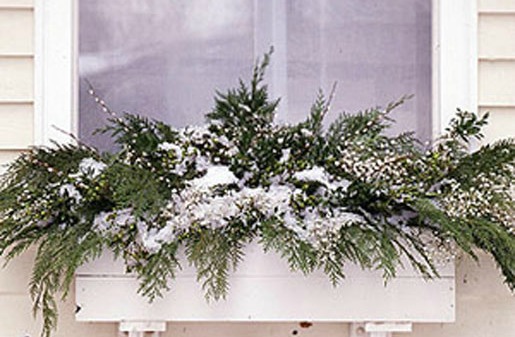 Window box greenery is simple, yet festive
Home staging is all about neutralizing and paring down, to make your home look larger and more appealing to as many people as possible. Holiday home staging should be about enhancing your home designs, not covering them up.
Filling every nook and cranny of your home with Christmas decorations will only make your house look smaller and cluttered.
Now isn't the time to bring out little Susie's paper mache manger scene from the second grade, or Johhny's army of cotton ball snowmen.
Now is a good time to pack up your treasured holiday ornaments, Christmas crafts, and whatever else you don't need, for your new home. 
Don't think that you must abandon all holiday decorating because your home is on the market. Simplify by limiting yourself to a few impersonal (and tasteful) holiday decorations.
Color schemes for holiday home staging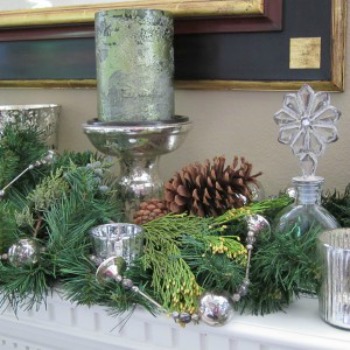 Decorate with objects from nature
It's great if holiday color schemes complement your home interior design, but most of us just don't have the decorating budget to make that happen!
Besides, when you're trying to make a home sale, you don't want to go "all out" on your holiday decor.
If you've already neutralized the color palette in your home in preparation to sell, you have created a good backdrop for your holiday decorations.

If you're really worried about clashing colors, stick to white, gold, or silver color schemes, which seem to go with any home decor.
Decorate with neutral-colored objects from nature like; pinecones, fir boughs, holly, cinnamon sticks, baskets, glass, driftwood, chestnuts, and seashells.
Find the focal points
Decorating any home interior should always begin with locating the focal point(s) of a room. This applies when holiday home staging, as well.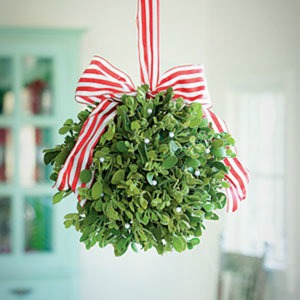 Hang mistletoe from a window or arched doorway. Photo by Southern Living
You can highlight these special features with holiday decorations, so that home buyers can't help but notice them! For more information, see focal points.
Some focal point holiday interior design ideas:
Place Christmas trees in the center of a beautiful bay window;
Accessorize fireplace mantles with white candles, a fir garland, lanterns, glass canisters filled with Christmas ornaments or objects from nature;
Hang mistletoe or a single beautiful ornament in an arched doorway;
A candelabra in a windowsill will draw attention to a lovely focal point window.
The Christmas tree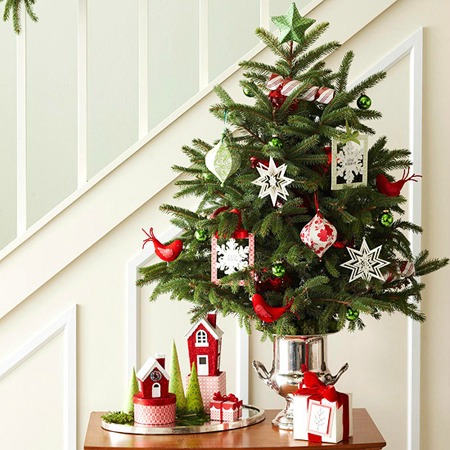 A tabletop Christmas tree will take up no floorspace, making your home appear more spacious
A large christmas tree will make a small room look even smaller! If you must have a tree, choose a small, skinny one, or a tabletop tree.
A tall tree will visually lower an already low ceiling.
If you have a two-story space for your Christmas tree, by all means, show off the height with a tall tree! Just be sure the base of tree isn't so huge that it interrupts traffic flow through the room.
Use neutral holiday decorations on your Christmas tree. Select impersonal Christmas ornaments; like glass balls, icicles, ribbon, birds, snowflakes, snowmen, and pinecones.
Place presents under the tree AFTER the open house. Presents are very personal, and visiting kids may be tempted by them.
Christmas lights
Avoid garish colors and tacky blinking Christmas lights when doing your holiday home staging. 
White lights are always elegant, and can be used to draw attention to special architectural features in your home. String white Christmas lights along arched windows or tray ceilings to emphasize their beauty. 
Create a holiday atmosphere
If you're planning an Open House, here are a few tips to help buyers remember your home: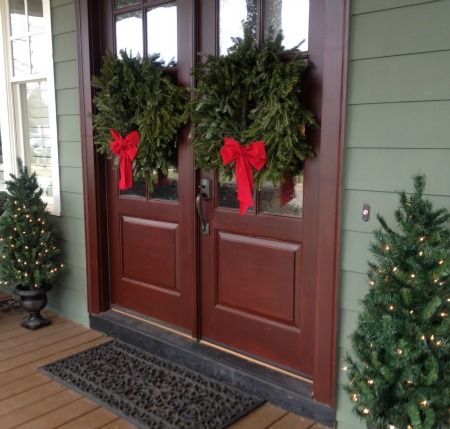 Start your holiday home staging at the front door!
A home that smells wonderful will leave a positive impression on house hunters. Leave a pot of apple cider with cinnamon sticks, or other Christmas cheer simmering gently on the stove.
Fill a decorative bowl with nutmeg-laden oranges and lemons. 

Cedar boughs are especially fragrant; fill baskets with cedar, or hang a cedar wreath on a wall or door.
Avoid artificial odor products…they smell fake, and the plug-in oil ones leave an awful viscous feeling in your mouth. Don't use fragrance to mask a bad smell—buyers can detect the bad odor lurking beneath! Instead, find the source of the odor and fix it. See removing bad odors.

House hunters will appreciate a plate of tasty cookies, hot chocolate, or apple cider. Arrange attractively on a tray with napkins.
Keep the temperature of your home warm to tempt buyers into staying longer. A crackling fire in the fireplace is always hard to resist. A home buyer who sits down is always a good sign!
Holiday staging for the home interior
A garland of winter greenery will draw attention to a fireplace. Photo by Stand Out Holiday Designs.
Don't hang up Christmas stockings until after an open house, or house hunters have all gone home. But, do show off your beautiful fireplace and mantle, so buyers can fully appreciate (and see!) it. 
Fresh flowers and fir boughs will freshen and enliven your home. Stage for your holiday home with large displays for more impact. Lots of small arrangements will just look like clutter.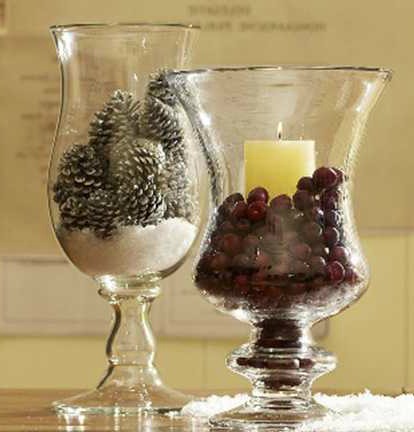 Fill glass canisters with holiday decorations
Cluster poinsettias in groups of three. Why three? Odd-numbered  arrangements are simply more pleasing, and appear less studied to the eye. See art of accessorizing for more information.
Sabrina Soto, interior designer from HGTV, advises us not to use any object "smaller than a grapefruit" when accessorizing. Small accessories tend to "disappear" in the overall landscape  of a room.
Fill baskets with glass ornaments or fir boughs, and place on a coffee table, or on the floor flanking a fireplace.

Fill large glass canisters with Christmas ornaments or objects from nature, like pinecones and cinnamon sticks; place one on each side of a fireplace mantle.
Hang an evergreen wreath over the fireplace mantle, or suspended from ribbon in a window(s).
Everything looks great on a tray! Arrange a tray with Christmas ornaments, greenery, candles, pinecones, cookies…
Accessorize kitchen countertops or dining table with a bowl of pomegranates or mandarin oranges. Keep most of the countertops clear to make your kitchen look spacious.
Make a simple holiday centerpiece for your dining table. For help in creating elegant vignettes for the holiday, see how to make a vignette.
Stage bathrooms by hanging towels in holiday colors.
Holiday Staging for the home exterior
First impressions are vital! This crucial moment in the house hunting search will determine whether buyers are willing to see the rest of the house, or drive on past. When planning your holiday home staging, you need to consider curb appeal first.
Now isn't the time to inflate your giant Frosty the Snowman, or scatter Santa and his reindeer across the yard.
It's best to depersonalize your Christmas decorations of religious articles when you're trying to make a home sale, as not everyone celebrates your particular religion. Remember, you're trying to appeal to the largest group of home buyers possible!
Since first impressions are typically of the front of the house, here are a few holiday home staging tips for decorating your home exterior:
Hang a tasteful holiday wreath on the front door. A fir wreath with a big bow is always tasteful.
Flank potted shrubs, (or small Christmas trees) on each side of the front door, and dress with elegant white lights.
Place a new door mat with a little holiday color at the front door. Avoid mats with questionable messages written on them.

Flank the front door with large urns, (or one off to one side) and fill with fir boughs or canes, something with height.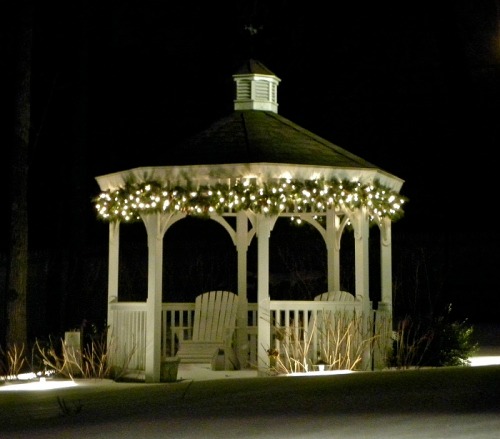 Highlight outdoor features with Christmas lights. Photo by Alamo City Lights.
Check that all of your outdoor lighting is in good working order. Flank a sidewalk with night ground lights to gently guide home buyers to your front door.
Use Christmas lights on your home exterior, as well. A simple strand of white lights around the eaves of the front porch or pillars will add a festive touch.
Use lights to highlight an outdoor living space, like a gazebo, some lovely trees in the front yard, or a patio. 
Fill window boxes with greenery and add touches of color with a bow, Christmas ornaments, or white lights.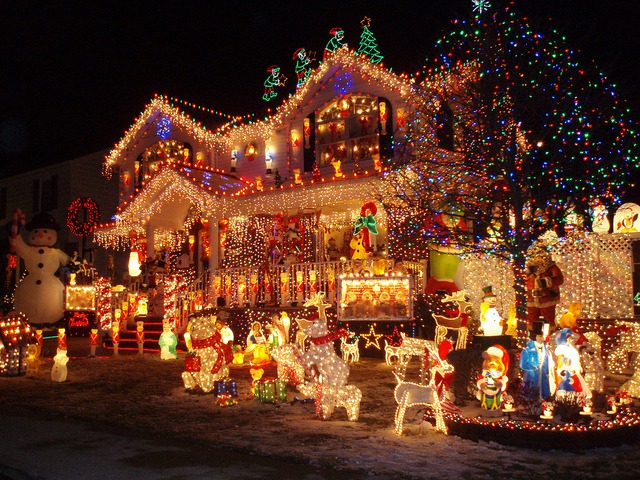 The "WHAT NOT TO DO" of home exterior Christmas lights when home staging for the holidays!