Arranging Furniture
DIY Home Staging Tips
for a faster, more profitable home sale
Arranging furniture properly can improve the overall look of your home design by enhancing focal points, architectural features, and creating better traffic flow in your home.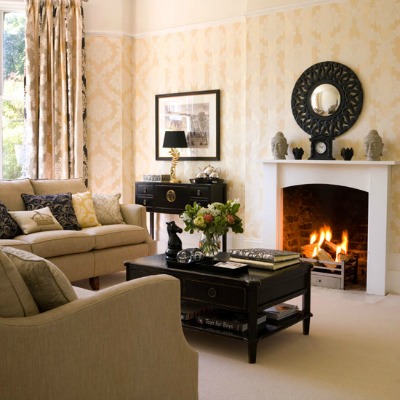 Arrange furniture to draw attention to focal points, like this inviting fireplace
Your ultimate home staging goal is to sell your home quickly and for more money!
By following the home staging diy tips on this site, you will learn how the proper placement of furniture will create better flow and the illusion of more space in your home.
Applying basic home interior design rules like; formal and informal balance, scale, proportion, line, rhythm, traffic flow, color and patterns, will help you to make better furniture arrangement choices.
The shape and architecture of your rooms can also guide you in successfully arranging furniture in your home.
See space planning for info on working with different room shapes.
Determine the function of a room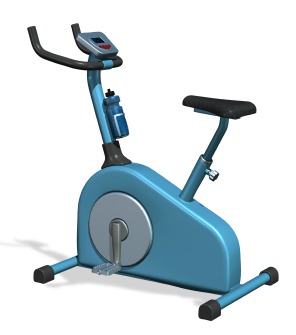 This exercise bike doesn't belong in a staged bedroom!
Before you begin the laborious job of moving furniture around, determine the function of each room.
Arranging furniture to suit the needs of each space will make your rooms more functional and guide you in the selection of furniture. Furniture not fitting the need should be left out. 
For instance, that exercise bike in your master bedroom...it doesn't exactly fit in with the "peaceful retreat" theme that you should be presenting to home buyers! 
Staging a multi-use room into a bedroom or home office can increase the value of your home! With so many people working from home these days, a home office has become a "must have" on many buyer's want lists.

So pack away the craft supplies, sewing machine, ironing board and futon in that spare room, and turn it into a beautiful guest bedroom or home office.
Rooms with two or more functions
If you have a large, oblong-shaped living room, you should probably stage it into two separate areas.
You may want to stage it as a multi-functional room, with a conversational area on one end, and media viewing on the opposite side. Or, you could arrange furniture to create two separate conversational areas.
Area rugs define separate spaces in open concept room designs
First, determine whether the room has one or more focal points. Some rooms won't have a focal point, so you may need to create one. See focal points to learn how.
Arranging furniture into separate cozy conversational areas will give the feeling of two rooms. Each separate area should be assembled and directed toward its own focal point. 
Placing a large area rug in each section will help define the separate spaces in a large room. Each rug will give the feeling of a different room. 
When using area rugs, be sure that they are large enough to fit all the furniture legs on, or at least, the front legs of a sofa, for example. See One Kings Lane for help on choosing the right size rug for your space. 
Open floor plan in home design
The open floor plan is a greatly desired feature in home design at this time. Prospective buyers are looking for that spacious feeling with good sight lines that an open floor plan offers.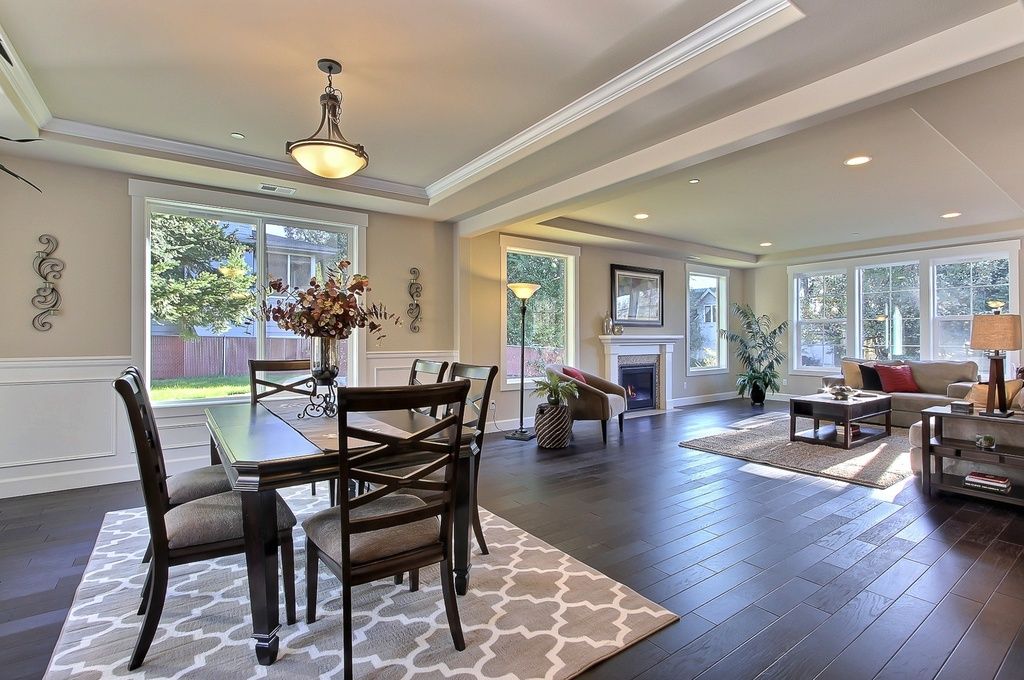 Flow is created between the 3 rooms with repetition of color in furniture and accessories. Sofa is situated for easy conversation between each area. The rug defines the living room as a separate zone.
The open floor plan releases the family chef from their kitchen isolation so that they can enjoy entertaining while they cook.
Also known as the "great room," the open floor plan typically encompasses a living room, dining area, and kitchen.
Spaces flowing into each other like this creates an interior decorating challenge when arranging furniture. Designating each space into separate zones will help define the spaces, yet there needs to be flow between the rooms.
Defining the zones

Area rugs can define a space and create the feeling of separate zones. Float furniture on top of an area rug in the living room and place another under a dining table. 
Flooring can separate zones as well; tile in the kitchen, wood in the dining area and maybe carpet in the living room. Note that separate styles of flooring can often make a great room appear smaller by breaking up the flow.
Harmony and flow between the rooms
Paint the walls of each room the same neutral color, or use paint colors from the same palette.
Keep colors similar and coordinate patterns from one room to the next. 
Use low-profile furniture to avoid obstructing the view between the spaces.
Be aware of traffic flow when arranging furniture; don't make it difficult to maneuver through a room or around furniture.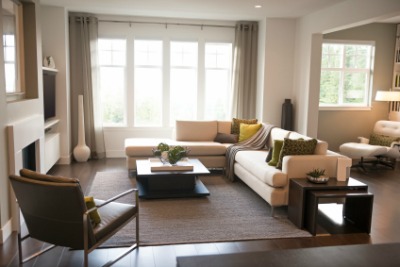 The back of the sofa acts like a divider between the two spaces
Use the back of the couch as a divider between rooms, as in the photo above. 
Folding screens, see-through shelving, half walls, or columns can be used to create separation.
Install a stunning light fixture over the dining table to highlight that area as the dining room.
A distinct focal point in each room that shows the function of that room will act as a natural room divider. A fireplace will define the living room, a chandelier will define a dining space, and so on.
Arranging furniture around obstacles
Every home has certain features that make arranging furniture a challenge.
In my last home, many of my home design plans were foiled by baseboard heaters and an ugly spiral staircase located in the center of the living room! The baseboard heaters didn't allow me to hang the coveted ceiling to floor drapes I desired, (because of the potential fire hazard) and the spiral staircase made arranging furniture a special challenge.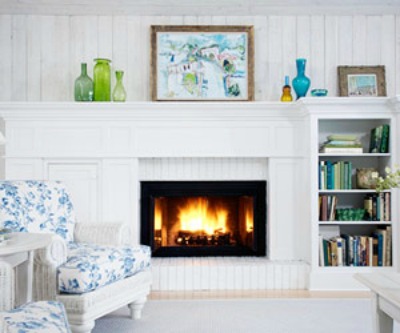 Keep furniture a good distance from a fireplace when arranging furniture
In your home it may be a fireplace, an angled wall, inconveniently located doorways or windows, built-in bookcases, an air conditioner, a bulky radiator, or floor vents. Before you begin arranging furniture, you need to pay attention to these details.
Fireplace - A fireplace is a desirable feature for most home buyers; they make wonderful focal points, and provide a warm, comfortable place for reading and visiting.

You need to take care when arranging furniture near a fireplace, because of possible sparks flying out.
Baseboard heaters, radiators and vents - All of these heat sources need at least 6 inches of space to operate effectively and safely. Be careful when arranging furniture around heat sources. Don't allow furniture or window treatments to touch radiators and baseboard heaters, and keep floor vents clear as well.
For inconveniently located floor vents, you can buy affordable vent deflectors that direct the air flow out and across the floor rather than up toward the ceiling. These can be found at any home improvement center, like Lowe's and Home Depot, or on Amazon.
Air conditioning wall units - The front-air blowing units need about 6-8 inches of space to operate efficiently. Again, don't shove your furniture right up against an air conditioner. 
Windows - Furniture should be a least a foot away for easy access to open and close.
Doorways - Make sure that you establish the "traffic patterns" of each room when arranging furniture. Avoid having to walk into or around furniture as you enter or exit a room. 
Traffic pattern in home design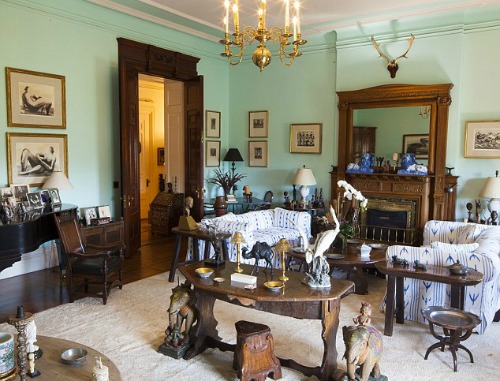 I dare you to get through this room without stubbing a toe!
A traffic pattern is the natural flow of people traveling through a space, the paths in and out of a room, and the areas where you walk the most. 
In carpeted rooms, you will often see a lot of wear in the carpet where the traffic patterns occur. With proper space planning, there should be enough room for people to travel comfortably in and around the furniture or through the room. 
It's important to establish your traffic pattern before you begin arranging furniture. Watch out for door swings and windows; you will need room for opening and closing them. You should have a comfortable 24" of space in which to maneuver in and around furniture.
Distance guide for arranging furniture
Create conversation areas by placing furniture no more than 8 feet apart. Any farther than that and people will have to exert themselves to be heard.
Establish a traffic pattern where people can move easily around a room. A comfortable distance is about 22 inches to 3 feet of maneuvering room. 
A comfortable distance for television viewing is 3 times the size of your screen. For example, if your television screen is 32 inches, your furniture should be a distance of 8 feet away from it.
In the dining room you should have about 2 to 3 feet between the walls and the chairs, so people can get in and out of their chairs comfortably. 
In bedrooms, you need enough space on each side of the bed. Ideally, you should have enough room for a bedside table and reading light on each side of the bed. Leave at least 3 feet of room between the foot of the bed and the wall when arranging furniture.
Return from arranging furniture to home page