Staging the Foyer




DIY Home staging Tips




for a faster, more profitable home sale
Staging the foyer before listing your home will help you create a better first impression to buyers as they enter your home. If potential buyers like what they see in the front entry, they will be excited to see the rest of your home.
Even if your foyer is a small space, it still has an important job to do!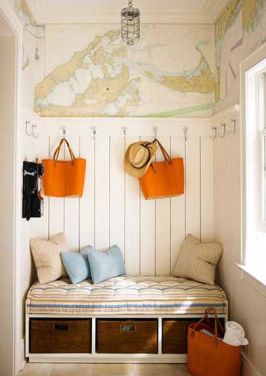 This charming foyer provides storage and a place to sit down
This is the first impressions room that will hopefully, lure buyers into the rest of your home.
If home buyers are tripping over a flotsam and jetsam of shoes in the front entry, they will assume that the rest of the house is just as disorganized and lacking in storage.

Your foyer doesn't have to be grand to impress buyers. A modest front entry can look just as welcoming if it is organized, warm, and inviting. 
If you ascribe to the feng shui home design, you know that the front entry is one of the most important rooms in home design. 
According to the principles of feng shui, you must create a positive landing place for energy inside the main entry. The main entry needs to welcome and direct the flow of energy into the house, rather than push it away or weaken it.
Paint colors in the foyer
Changing paint colors is one of the easiest (and cheapest!) ways to update your entire home. The trick is to select paint colors for your foyer that relate and flow from room to room.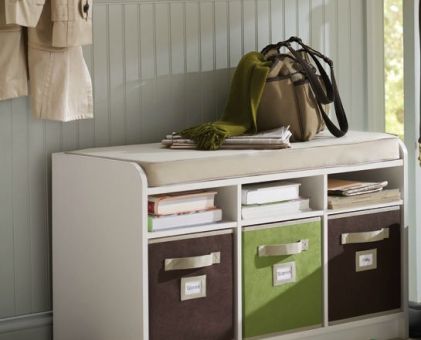 Earth and neutral tones create a relaxing front entry. Storage unit available at homedepot.com
Bold, bright or dark paint colors will likely turn many buyers away, because they will be thinking about all the repainting they will have to do. Most home buyers just want a "move-in-ready" home.

Limit your interior colors for home staging to earth tones and neutrals.
Neutral interior colors for home staging include black and white, all the grays in between, beige, taupe, and earth tones. 
Neutral colors are the easiest to decorate with because they blend well with most surroundings and work successfully in all 

room designs

. 
Light neutrals and earth tones have the widest appeal among home buyers and will complement most people's furniture.
Neutral wall tones create excellent backdrops for the color you are going to add later during the final staging, with artwork and accessories. Added color will simply "pop" against a neutral canvas.

See interior colors for home staging for more information.
Look for a focal point in the foyer
The staircase is the obvious focal point in this foyer
If you're lucky, your front entry will already have a focal point, like a stunning lighting fixture, or a grand staircase that will draw buyers in. If so, stage the foyer to highlight the focal point.
In the photo above, the staircase is instantly recognized as the focal point in this room. The foyer is a little stark, with the white walls and tile. The cold tile floor has been warmed up with an area rug, and the console table fills a empty space on the wall. A warm neutral wall color would feel less stark.
Fresh flowers liven up the space, though, but I would prefer to see a larger floral arrangement with more color! Perhaps a bit or orange to compliment the area rug border.
A mirror is a great focal point and visually expands space. The table provides storage and a surface for a lamp and vignette
Focal points you may find in a foyer:
Architectural elements like; a staircase, ceilings with tray or cove details, box beams, or a beautiful window.
You may have to create your own focal point in the foyer. 
Here's some examples of focal points you can create for your foyer:
replace outdated or boring lighting with a stunning new light fixture, like a pendent or chandelier;  
Hang a large colorful painting, fabric art, mirror, or clock;
Place a tall leafy floor plant in a corner;
A tile floor art inlay design;
Place a warm, beautiful antique or contemporary area rug in the entry;
A lovely piece of antique furniture will lend an ambiance of elegance, plus provide storage;
Smaller focal points can be made by creating a vignette on a console tabletop or shelf. 
See focal points for more home design ideas on how to make a focal point.
Staging the foyer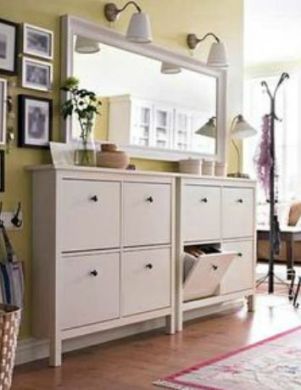 This attractive storage unit for narrow spaces can be found at Ikea.com
Use an unusual piece of furniture for a focal point, like an antique bedroom dresser, or console with drawers against a wall. Hang a large mirror or painting above it, and place a lamp on top.
For a small foyer, use a mirror(s) to visually expand the space and bounce light around.
If your foyer is a narrow passageway with absolutely no room for furniture, mount a shelf on the wall (not deeper than 5-6" so people don't bang their shoulders against it). Place a mirror above it to visually widen the passageway.
Keep accessories on foyer shelves very simple. 
For a large empty wall that is begging to be accessorized, hang a tapestry, mirror or large piece of art. 
Set an elegant arrangement of flowers on a table in the entry as a focal point.
Vignette in neutral colors
A large area rug or runner will add color, warmth and texture to your entry. A patterned rug will hide tracked-in dirt. Don't put down an assortment of small rugs-- this will look cluttered.
Group assorted potted plants that compliment each other on a table, (no more than 3) or a tall leafy plant on the floor. Make sure that people aren't brushing against leafy plants as they walk by.

Create a vignette (tablescape design) with baskets, (for keys or mail) flowers, collections, vases, etc. Use odd numbers and staggered heights when creating a vignette as in the photo on the right. See art of accessorizing for more interior design ideas.
If your foyer has a nearby powder room, be sure to keep the door closed during home viewings!
No foyer? How to create a divided space
If you don't have a foyer, that is, if you walk straight into a living room or kitchen, try to create some kind of divider that will give the impression of a foyer. 
Most people are uncomfortable walking directly into a room without an entry. There's always the question of where to put your shoes, and so on.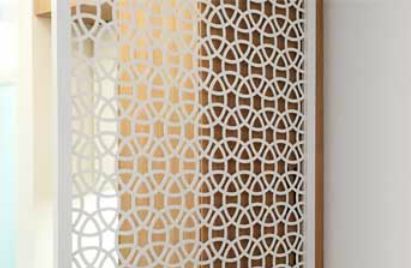 This lovely divider screen (and others) can be found at hcds.com.au
A divider, or screen doesn't necessarily have to block the room, just give the feeling of 2 separate spaces.
Here are a few home design ideas to try:

a folding screen

large shutters

2 potted tall leafy plants 

add a pony wall (half wall)

add a column

Fill a retangular planter with foam blocks and stick bamboo poles or tall grasses, like pampas grass into the foam. This will create a filtered screen.

build see-through shelving

a console table with 1 or 2 lamps

a padded bench with storage
Go from staging the foyer to home page