Declutter Your Kitchen


DIY Home Staging Tips




for a faster, more profitable home sale
Declutter your kitchen before placing your house on the real estate market to sell your home fast and for more money!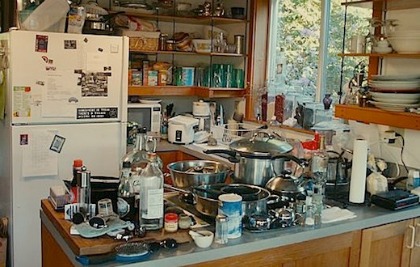 Would you buy this house after seeing this kitchen? Declutter your kitchen to improve your chance of a quicker sale.
The kitchen is the most important room in the house for most people. Buyers may rave about the rest of your house, but if the kitchen doesn't meet their expectations, they may walk away. Some Realtors say that you are selling your kitchen, not your home!
House hunters are looking for spacious countertops, a good work triangle, updated appliances and plenty of storage space.

Buyers are very savvy these days, knowing the costs of updating or remodeling a kitchen, and most will not want to take on this job when buying a new home. 
If your kitchen needs more than a little updating, a simple renovation could be the answer. Kitchens and bathrooms are two rooms where a renovation can give you a big return on your investment when selling your home.

If you're worried about a small kitchen and how it will present itself to buyers, see small kitchen decorating ideas for home staging tips on making tiny spaces appear more spacious.
This unfinished and cluttered kitchen is almost there! It simply needs matching appliances, window trim and new flooring. A classic subway tile backsplash would send this kitchen over the edge!
Unfinished projects, as featured in the photo above, are a real buyer turnoff. Most house hunters won't want to take on someone else's incomplete work.  
BEFORE YOU DECLUTTER YOUR KITCHEN:  Collect boxes, totes, garbage bags, bubble wrap, tape and permanent markers. Label your boxes and bags appropriately. (donation, move, throwaway, etc.) Organize a yard sale to make money on excess stuff.
To make the job more palatable, divide this chore into two days. Do the upper cabinets the first day, the lower cabinets the second.
For instructions on how to clean your style of cabinets, see cleaning your kitchen cabinets.
Declutter kitchen cabinets and drawers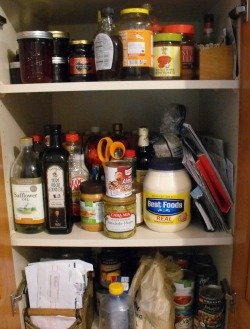 Clean clutter inside cabinets too!
Don't forget about the inside of your cupboards! Buyers will look inside to see if there's enough room for their things. They'll open the dishwasher, fridge, and drawers-- that's why it's essential to have everything sparkling clean and staged inside and out.
The best way to make home buyers think there isn't enough storage space for their things is to cram as much stuff as possible into the cupboards and drawers.

Illusion plays a key role in the art of home staging. Leaving space around items will give the impression that there's lots of storage room in your kitchen!
This is your chance to throw out, donate, recycle, or pack items for your new house. Donate appliances that you never use, throw out mismatched items, and pack up grandma's punch bowl and the turkey roaster that you use only once a year. 
For staging purposes, put only 1/3 to half of the items back into the cupboards. Leaving spaces between items to give the illusion that there's plenty of room inside the kitchen cabinets and drawers. See staging the kitchen.
Organize your cupboards by grouping similar things together; canned items, plastic food containers, pots and pans, and so on.
If you have an excessive amount of plates, glasses, mugs, etc., box most of them up. Be aware of your work triangle and store the appropriate items nearest to where you use them; pots and pans near the stove, for example.
As you declutter your kitchen, organize the cabinets with similar items, and 

be sure to "face" each item toward the front.

This is a grocery store trick to keep shelves looking neat and organized.
Declutter your kitchen with organizing systems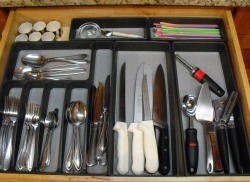 There's a great selection of kitchen organizers available for cabinets and drawers these days. 
For messy utensil or "junk" drawers, use inexpensive trays and boxes to keep things neat. Buyers are always impressed when they open a neatly organized drawer.
Declutter your kitchen with organizer shelving for stacking dishes and bowls.
I particularly like the drawer organizer in the picture on the right-- I use it in my own kitchen. It has rubber feet on the bottom that prevents annoying sliding when you open the drawer!
You can find this product, and others like it at www.madesamart.com.

Kitchen cabinet solutions
Refacing kitchen cabinets
Dingy kitchen cabinets could be spruced up with a good cleaning, a fresh coat of paint, or refaced. 

If your kitchen cabinet doors are in bad shape or outdated, consider replacing the door panels. It's easier and less expensive than replacing the entire cabinets.

With refacing, the boxes and frames of your existing cabinets are kept intact. You can buy doors already finished, or refinish your own. DON'T reface the cabinets if the frames are in bad shape, though.
There are a number of places that offer kitchen cabinet refacing. See ikea.com, or kitchenreface.com for more information. Other suppliers of kitchen cabinet doors are; searshomeimprovemets.com, homedepot.com and cabinetstogo.com
Painting kitchen cabinets
Painting kitchen cabinets and walls a lighter neutral color can create the illusion of more space in a small kitchen.
A fresh coat of paint is often the remedy to revive tired and dingy kitchen cabinets. This job is not for the faint of heart, though! You must remove all the cabinet doors and hardware, sand, prime, dust, paint, sand again, then paint your final coat.
If you choose this option, be sure to number each cabinet door with the corresponding cabinet frame so everything goes back together nicely.

Below is a great video showing you how to paint your kitchen cabinets the right way, with heart. Video by Jennifer Stagg.
Don't go hog wild and select "taste specific" color schemes like purple or neon lime green.
Avoid trendy styles and embellishments like stenciling and glazing as well. Browse through home decor magazines or go online to view kitchen cabinet colors for ideas. See home interior color trends for 2016.
Kitchen cabinet hardware
Adding new cabinet and drawer hardware is another affordable way to quickly update your kitchen.
If you're thinking about updating your cabinets with new hardware, you may need to fill the old hardware holes before you paint if they don't correspond with the new hardware holes. To avoid this problem, take the old hardware to the store with you and select new ones with matching holes.

When choosing knobs and pulls for your cabinets, stick with neutrals like polished nickel, satin and brushed finishes. Save the colorful rooster knobs for your new house!
Watch the video below by alchemyfineliving to learn how to fill hardware holes.
Kitchen countertops
Home buyers have become very demanding about their kitchen countertop preferences these days, preferring granite, marble or quartz over less expensive options.
If your kitchen countertops are in dire need of replacement, consider a precut slab of granite, Silestone or CaesarStone. These products are available at much lower cost at Home Depot, Lowe's, and other home improvement stores.
Most home improvement stores provide installation services, or instructions on how to do-it-yourself. For more information on affordable kitchen countertops, go to www.homedepot.com or www.lowes.com .
For a high-end look without the maintenance of marble, try engineered quartz countertops. They look beautiful and the surface is nonporous and durable.
Kitchen backsplash
A pretty backsplash is like the accessories on a women's outfit. This green tiled backsplash is the jewelry in this kitchen!
I always think a kitchen doesn't looks incomplete without a backsplash, in the same way that a woman's outfit needs accessories to finish it off.
A kitchen backsplash doesn't have to be fancy. An affordable subway tile is a classic way to complete your kitchen decor.
Adding a backsplash will add color and texture to a kitchen, and make clean up easier.
Kitchen appliances
Adding new and MATCHING kitchen appliances will bring a higher return for sellers, so get rid of old ones that make your kitchen look old and grimy.
The most important thing about kitchen appliances is that they should all match! They don't have to be expensive, just clean. Home buyers will appreciate that.

If you can't afford to replace outdated kitchen appliances, try re-facing the fronts with an affordable sheet of stainless-steel film. EZ Instant Makeover offers a high quality vinyl film that will stick to the surface of any smooth-faced appliance you wish to update. No need to apply an adhesive, simply peel and stick.
In addition to kitchen appliances, you can also use this stainless-steel film on any flat surface, like counter tops, backsplashes and shelves. This product is scratch and heat resistant and easy to clean.
Cleaning the kitchen sink
For instructions on cleaning stubborn stains and making your style of kitchen sink look great for house hunters, see cleaning your kitchen sink.
Cleaning and repairing kitchen tile grout
For dirty kitchen grout, see cleaning grout for cleaning tips to make them look new again! Refreshing the look of your kitchen tiles will help sell your house fast and keep home buyers from negotiating the price down.
If kitchen grout is in need of replacing, watch the instructive video below for help in removing and replacing grout. Video by essortment.
Clean and stage the refrigerator
Declutter your kitchen by cleaning out the fridge! People WILL look inside your fridge to check out the space, so it's vital that your refrigerator look spacious and so clean that it sparkles! See cleaning your refrigerator for home staging tips on cleaning and staging your fridge.
When you've finished decluttering and cleaning your kitchen, it's time to move on to the FUN part of the home staging process, where you get apply some creativity and home decorating ideas to the space. See staging the kitchen for home staging tips.
Return from declutter your kitchen to declutter your home 
Go to home page
Cleaning & staging the refrigerator