Declutter Your Bedroom




DIY Home Staging Tips




for a faster, more profitable home sale
Declutter your bedroom and stage it to make home buyers want to linger in that space. When walking into a bedroom, especially a master bedroom, home buyers should find a serene oasis, a sanctuary they'll want to return to at the end of a long day. Don't presume that buyers will be able to see all the wonderful qualities of your home under all the clutter!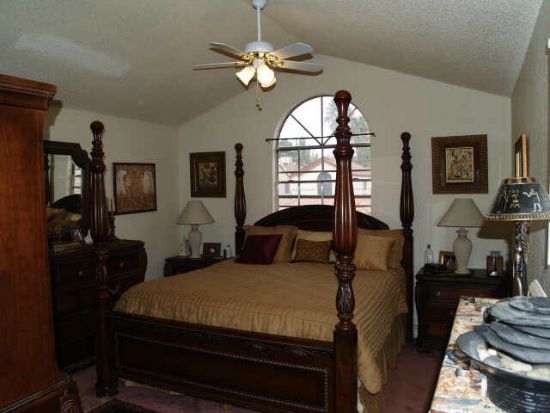 No where to walk in this overcrowded bedroom! Photo by uglyhousephotos.com
Most of us are guilty of cramming too much furniture into our bedrooms. We all have too much stuff, so we buy more furniture to hold it all. Master bedrooms are especially guilty of this home design crime, often glutted with matching suites of furniture.

Having too much furniture in any space will visually shrink a room. When you declutter your bedroom, the end result is a room that appears more spacious.
Read on for bedroom decluttering tips that will help you sell your home fast! 

Things that don't belong in a staged bedroom!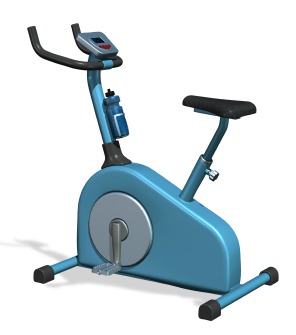 Exercise equipment
It seems like a good idea at first; get out of bed in the morning, exercise, then jump into the shower. But eventually, that rowing machine or bicycle becomes a relic of good intentions, functioning instead, as a clothes hanger, and taking up valuable floor space in your bedroom. Declutter your bedroom by putting exercise equipment in storage or have a yard sale.
Television
If possible, keep the television out of the bedroom when you stage your house for sale. You want home buyers to notice your beautifully dressed bed, not the "big black hole" across from it.
If you can't live without your tv, at least try to hide it in an attractive armoire or other piece of furniture.
Computer-- work area
Declutter your bedroom by removing any work-related items; the computer and all of the unattractive accessories that come with it; printer, keyboard, lots and lots of wires. You don't want to be reminded of work when you're lying in bed!
Unless you have a huge room with a designated office area at one end, refrain from keeping electronics in your bedroom, especially the master bedroom. These items will spoil the impression of your bedroom as a peaceful retreat.
If you must use a portion of the master bedroom as an office, try to screen off the area or hide the computer and paperwork in an armoire or cabinet.
For tiny bedrooms, see small bedroom decorating ideas for tips on making a small space appear larger.

Dirty clothes hamper
Dirty clothing strewn about a room is a real buyer turn-off! Keep the dirty clothes hamper out of sight too, by placing it in a closet or laundry room. 
When you're living in a staged home, it'll take some effort to keep personal items picked up and out of sight.
Personal daily use items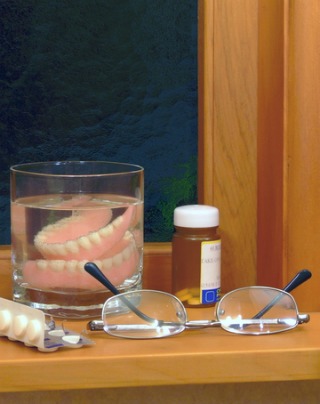 Don't leave these kinds of surprises for home buyers!
When buyers are looking at a home, they don't want to see evidence that people actually live there! This is probably the most challenging problem for home sellers-- keeping the signs of daily life out of sight.
Personal items include; Family photos, awards and trophies, toys strewn everywhere, posters, wet towels, bathrobes, makeup, shampoo, toothbrushes, bottles of medication and so forth. Go to depersonalize your home for more information on this subject.
I like to use long storage boxes with lids, that are low enough to slide nicely under the bed. This is a great way to quickly stash personal items when buyers are coming over to look at your home.
Multi-functional furniture is another great way to hide stuff-- a lift-top chest or ottoman at the end of the bed function as storage and seating. Bedside tables with drawers or cabinet will hide personal items, as well.
Declutter Your Bedroom

Remove overflowing items from dressers. Clear table tops and get a head start on your

move by packing up anything that you don't need while you are living in your staged home.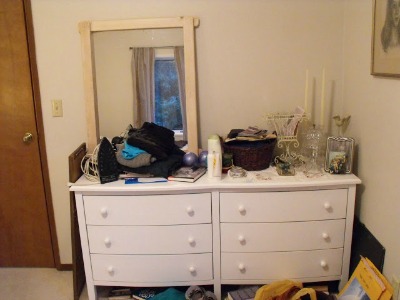 BEFORE - Cluttered bedroom dresser
Declutter your bedroom by removing excess furniture from the room. Store it offsite if you don't plan on using it for staging purposes in your home. All you need for staging a bedroom is a bed, two bedside tables with lamps, and maybe a dresser. Just enough furniture to indicate the function of the room.
Clear everything off the floor and remove items hiding under furniture. Anything interfering with 

traffic flow

 should go. Home buyers shouldn't have to maneuver around unnecessary road blocks. Revealing more floor space will actually make a small bedroom appear larger too.

Declutter your bedroom by packing up old blankets, ruffled pillows that have seen better days, and anything else that looks dated and worn.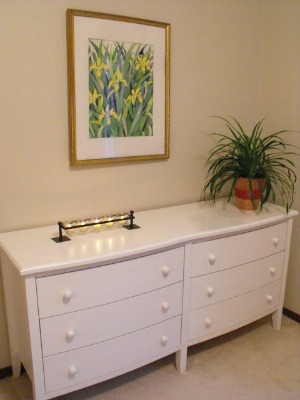 AFTER - Decluttered dresser
Cleaning the bedroom
Flooring - Carpets will most likely need to be cleaned. I recommend hiring professional carpet cleaners, as they are fast and have great products for getting out the toughest stains.
If you have wood floors, a good scrub with Murphy Oil Soap Wood Cleaner will bring out the beauty of the wood. This product will remove built-on wax too.
When selling your home, you will need to get down on hands and knees to clean every corner of your bedroom. We all know that this is the best way to get a floor clean! When I was a Realtor, I saw buyers looking behind doors for dust and grime!
Dusting - Dust everything! The ceiling, trim and molding, doors, lighting fixtures, every corner.
Polish your wood furniture until it gleams. Don't pile anything on furniture surfaces. You'll be adding home staging touches later. 
Electrical outlets and switch plates - These items are often overlooked during the cleaning process. Clean coverplates of fingerprints and grime-- if dirt is stubborn, a quick spray of "Johnson Scrubbing Bubbles Bathroom Cleaner" will make them look like new. 
Additionally, all coverplates should match in a staged home. Electrical outlets and switch plates are a distraction to the eye if they contrast too much with wall paint colors. This is a great bedroom design idea for small spaces.
Lighting - Your goal is to have as much natural light as possible in your bedroom. Open window treatments fully, or remove them if the windows are pretty. See window treatments for home staging.
Take down lighting fixtures, dump out the bugs and run through the dishwasher. Polish any metal surfaces of lighting fixtures.
Be sure to replace burned out light bulbs. As a former real estate agent, I was amazed by how many people didn't bother to change burned out lightbulbs. The result was a dark and gloomy house-- not a good impression for home buyers! Replace dim bulbs with the highest wattage allowable. 
Windows - Wash windows inside and out until they sparkle! Remove heavy draperies to allow in more natural light.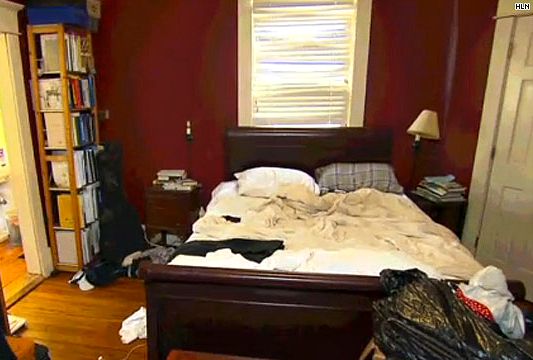 Where to start? Dark wall color and shabby window treatments make this a gloomy room. Clutter makes it a disaster.
Wall paint colors - Consider painting your bedroom walls if they are boring, too bright or dark, or just plain grimy. Nothing updates a room faster (and cheaper) than a fresh coat of paint.
Think neutral, tranquil and serene colors, especially for a master retreat. Bedrooms are one space where you can bypass boring beiges and whites. Instead, try blues, greens, or grays in restful tones. These colors also appeal to both men and women.
Go to color theory to view the color wheel and learn about color schemes and theory. For tips on choosing home staging colors, go to interior colors for home staging.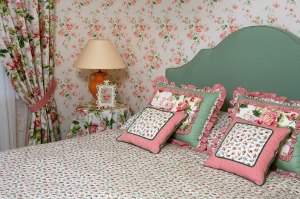 Taste specific bedroom
The style in this bedroom photo is simply too "taste-specific." It's very feminine. A master bedroom should appeal to both sexes.
Though a popular trend at one time, the style in this photo is now a tacky remnant of the past and will no longer appeal to very many buyers.
The furniture, drapes and accessories are an easy fix, but the dated wallpaper may deter buyers from making an offer. A house full of wallpaper has been know to scare buyers away.
Increase the number of offers on your house by getting rid of the wallpaper yourself. Go to removing wallpaper for information on this subject.

Return from declutter your bedroom to declutter your home
Return to home page