How to Make a Vignette




DIY Home Staging Tips




for a faster, more profitable home sale
Learn how to make a vignette look effortless, while showing off your favorite objects, and enhancing your room designs.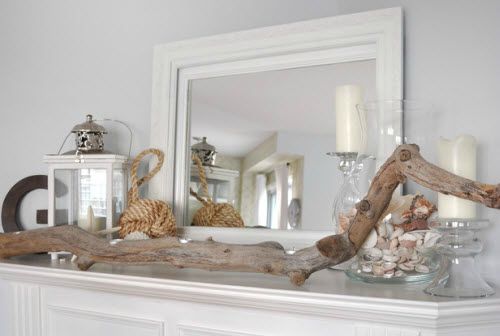 Beach-themed vignette on a fireplace mantle. Photo by blog.hgtv.com
You won't find "vignette" defined as "a pleasing tableau of objects" in the dictionary, but this is what it has come to be known as in the sphere of home interior design.
A vignette, or "tablescape", can be described as; an artful arrangement of objects grouped together to create a scene; tell a story; act as a focal point; or simply to make a decorative statement in your home. A vignette can be a grouping of accessories chosen to compliment a room's function or decorative details.

Vignettes can be truly personal, informing the world of your tastes and interests. These home interior design arrangements are typically composed of objects that may have at least one or more things in common, or nothing at all. 
My mother is the master of creating vignettes— her tablescapes are ever-evolving. She will add or take away items to suit her fancy, or swap out objects with the seasons.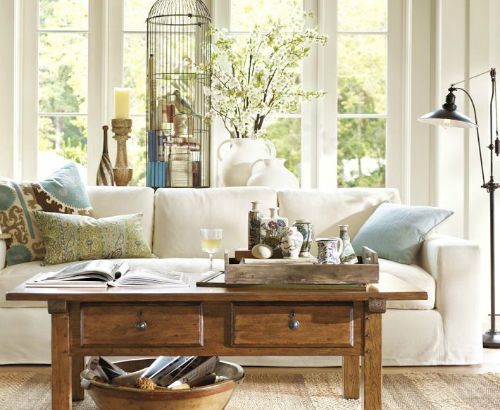 I want to live inside the Pottery Barn catalog! The people who design the rooms for photo shoots do an awesome job-- the vignettes are always stunning. Photo by Pottery Barn.
A vignette should look uncomplicated, spontaneous, and unstudied. Following are a few diy tips and tricks that will help you compose these delightful decorative scenes.
These "rules" are merely helpful tips to get you started. If you find something that works, even though it may not follow the rules, by all means, add it to your display.
Where to display a vignette
Vignettes can be displayed on practically any horizontal surface.
Casual shelf vignette
Create a vignette on a coffee table, console, shelf, windowsill, fireplace mantle, an upright piano, bookcase, kitchen counters, bathroom counters, as a dining table centerpiece, a nightstand, bedroom dresser, foyer table, even on the floor.

How to create a vignette
Vignettes should compliment the style, color, or theme of your room designs. 
Generally, when assembling a vignette, the accessories you choose should have at least one thing in common, some kind of connecting element. This rule isn't carved in stone, but it is a good place to begin if you're just starting out.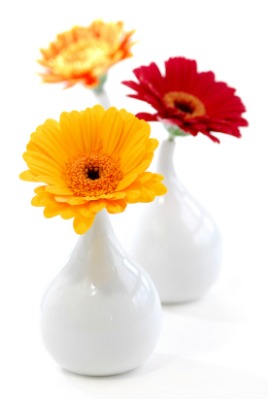 A simple vignette composed of identical vases in different heights
Common vignette groupings:
Color combinations: If objects are the same color, vary the shapes, height, or color shades. Or group like objects having different color schemes.
Shape: Vary the height and width of objects that are the same shape.
Vintage: A grouping of objects from your favorite vintage period can be charming.
Theme: Beach themes, nature themes, sports, movies, and so on.
Textures: Group objects that share the same texture, or vary textures to make your tablescape look interesting.
Collections: With any kind of collection, avoid staging with too many small pieces, which will only look like clutter from a distance. 
Sabrina Soto, interior designer from HGTV, advises us not to use any object "smaller than a grapefruit" when accessorizing.

What kind of objects can be used to build a vignette?
Anything, if it's done in good taste! 
Some ideas: Sculptural objects, vases, a stack of books, plants, flowers, paintings, photographs, and materials from nature like sea shells, starfish, sea sponges, and geodes. Candles, antique binoculars, an old globe, mason jars, lamps, baskets, mirrors, clocks, bowls, bottles, pretty soaps, boxes, picture frames…the list is endless.
Accessories can be divided into 2 groups: Functional and decorative. 

Functional accessories
Glass canisters hold bathroom essentials in this pretty vignette
This category includes accessories that are useful and pretty.

Examples of functional accessories include; Lamps, lanterns, clocks, vases, books, candles, mirrors, etc.
In the kitchen; a pretty breadboard, kitchen crocks, bowls, canisters filled with utensils or herbs, wine bottle and glasses, gorgeous appliances, etc. 
In the bathroom; bottles, pretty soaps, baskets for holding towels, candles, etc.
Decorative accessories
This group encompasses all other kinds of artwork such as; paintings, photographs, sculptures, and flower arrangements.
How to build a vignette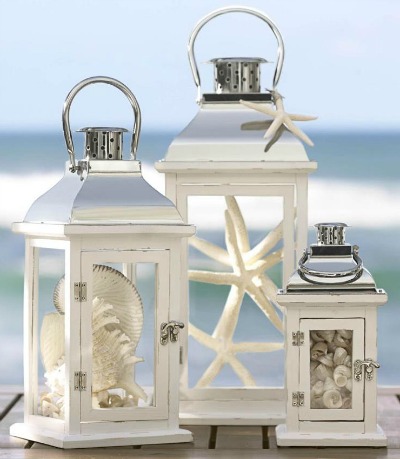 Odd numbers and varied sizes are more pleasing to the eye
A vignette, or tablescape, can be arranged in a triangle, or pyramid shape, or it can be linear, which is well-suited for a formal style room. 

Triangular, or pyramidal shaped vignettes
This style consists of objects arranged in different heights in a triangular or pyramidal shape.
Work in odd numbers, threes, fives, and so on. Odd numbered arrangements are the most pleasing to the eye-- they appear less studied. See art of accessorizing.
Avoid using too many pieces, which can often look cluttered.
The anchor piece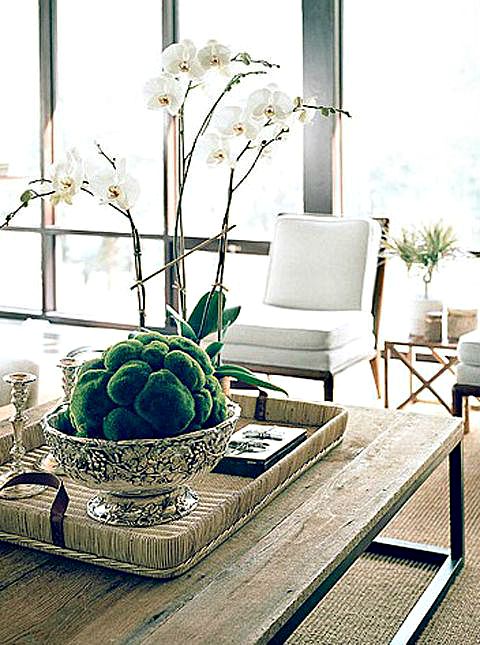 The moss grounds the vignette, while flowers add height and drama. The basket serves as a base and ties the arrangement together.
For the foundation of your vignette, select an object to be the "star" of the composition. Think of this as your "anchor" piece. This could be an object that has special meaning to you, fits a theme you are striving for, or just appeals to you and will look good with your home interior design.
The key element piece should be of considerable height or weight so that it's substantial enough to "hold" the arrangement together. 
Examples of objects that work well as anchors are; paintings, mirrors, sculptural objects, lamps, a tall vase of flowers, or a plant. Your eye should naturally be drawn to the anchor piece first.
Begin building your vignette by placing the anchor piece first and at the peak of the pyramid, (at the rear) and off center.

Next, fill in the rest of the triangle with objects of varying heights, finishing with the smallest and shortest object at the base and to the front, always keeping in mind the pyramid-shape, or "A-shape" as you are building. Overlap pieces so that a part of each object can be seen.
A good rule of thumb is to select objects that are half the size of the anchor piece. For example; to complement a 2' tall sculpture that serves as the anchor, select a 1' tall secondary piece, or pieces to arrange around it.
More tips on how to make a vignette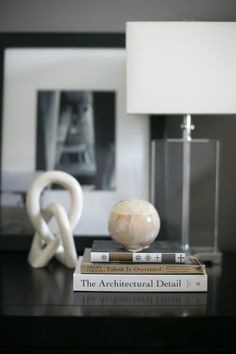 Using a stack of books as a base is a great way to elevate objects
Use a stack of books (hardcover!) as a base, or a mirror, a low basket or tray. Placing a mirror under a vignette will add depth as well.
Elevate smaller pieces with; a stack of books, fancy boxes or candle pedestals.
A lamp makes a great "anchor" piece, and the light will illuminate the arrangement.
Cluster objects close together for cohesiveness.
If the vignette looks too tight or studied, try moving the objects slightly apart from each other.
Overlap objects slightly, so that each item is visible. Objects can touch if desired.
Large heavy objects on the floor, like floor mirrors, shutters, or screens, look great when layered with live plants and sculptural objects, as long as the items are in proper scale. Don't scatter a bunch of small accessories on the floor; they will just look lost and forlorn from a distance.
Create vignettes to reflect the holidays!
Let your vignettes "evolve" by adding or taking away objects.
Asymmetrical and symmetrical balance
Symmetry, or formal balance, is for those who prefer an atmosphere of order, calm and formality in their home decorating. Arranging accessories symmetrically is fairly easy to do, because you are simply trying to "match" each side of a room, table, or mantle.

Asymmetry, or informal balance, is for those who prefer a bit more excitement, energy and creativity in their home decorating. If you like a casual or informal look, aim for asymmetry when building a vignette.
A properly executed asymmetrical arrangement should look effortless and unstudied, as if the items were just laid down.
Be aware of the "visual weight" of each object. Objects don't have to match perfectly to balance each other off. Learning how to balance unlike objects will keep your arrangements from being too stiff and boring!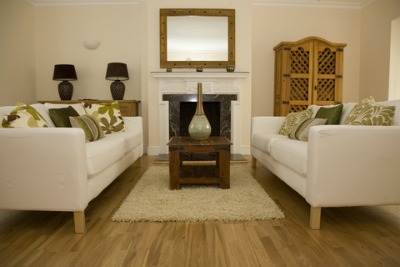 The dark color of the 2 lamps on the left "visually" balance out the taller armoire on the right
What is "visual weight or mass?" 
Visual weight refers to how much weight an object APPEARS to have when you look at it, not how much it actually weighs. Visual weight can refer to color, patterns, textures, design and the shape or structure of an object.
For instance, darker colors carry more visual weight than lighter ones. A black leather sofa will visually outweigh a white leather sofa of the same size. See space planning for more information.
Balancing "visual mass" in home interior design:
Dark colors carry more visual weight than light;
Busy patterns appear heavier than light-colored solids;
Heavy textures are visually heavier than smooth surfaces;
Vignette backgrounds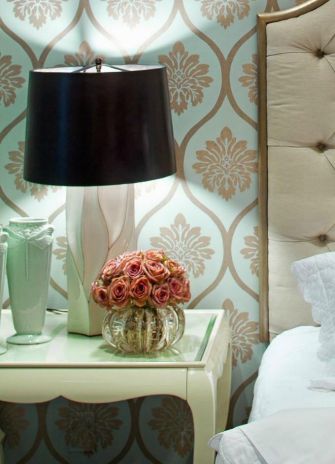 The objects on this bedside table vignette complement the background wallpaper
Always be aware of the surrounding decor in the room when building a vignette. The backdrop becomes an integral part of your vignette, so watch out for too bold color schemes or wild patterns that may conflict with the objects in your display.
Choose objects in colors and shapes that mirror or compliment the background of a room. 
If building a vignette in front of a painting or mirror, be sure they are hung low enough that they become part of the arrangement. When you place objects in front of the hanging artwork, be sure that each item is visible.
Mirrors make an interesting backdrop to a vignette, bringing dimension into the equation and bouncing extra light around the room. Be sure that objects you place in front of the mirror look as good on the backside as they do in the front.

The objects you use in your display can reflect the colors, shapes, or subject of a background painting or photograph.
How to make a vignette on a fireplace mantle
A fireplace mantle arrangement can be symmetrical or asymmetrical. The following home design tip is how to balance an arrangement without using symmetry.
An easy interior designer tip for decorating a fireplace mantle is the "three-plus-one" trick. This decorating tip can be applied to other long flat surfaces, as well, like shelving, or a long dresser. I like to use this method to dress up my upright piano, which is always a difficult piece of furniture in any room.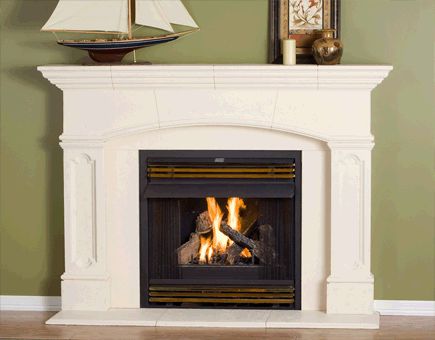 The "mass" of the sailboat is equal to the visual weight of the 3 objects on the opposite side
Begin this method by choosing 3 related decorative objects close to, but not of the same height. Place them on one side of the fireplace mantle. Remember to use the pyramid method when constructing these pieces; tallest in the rear, smaller in the front, overlapping, etc. Cluster objects together, not side by side.
On the opposite side of the mantle, place a single large object that is 2 to 3 times the size of the other pieces. The larger object should be "visually" equal in size to the 3 pieces on the opposite side. 
For the 3 objects: combine sculptures, vases, plants or flowers,  candles on pedestals, clocks, framed paintings, antique plates, lanterns, baskets…
For the single item: a sculpture or large urn, a tall plant, flowers or topiary, a painting, a large antique clock, a tall lantern…
Always consider your surrounding home decor and whether the accessories you choose will complement it. The objects you select may relate in some fashion by, color, shape, texture, or theme.
Design elements to consider when building a vignette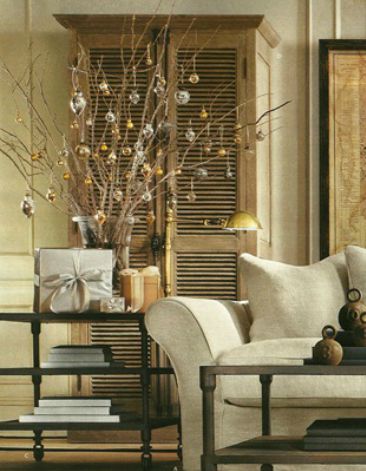 Create vignettes to reflect the holidays
Balance: Several objects of similar height or color placed at opposite ends of a mantle or table can create an offset arrangement. Balance each side with a tall central object, like a mirror or a painting, and a second grouping opposite.
Scale: Scale usually refers to the size of an object in relation to the human body, or to the room itself. Large room, larger objects in your vignette.
Proportion: Proportion refers to the size of an object relative to other objects in a room.
Line: The lines of your vignette should give it a feeling of movement and even atmosphere.
Rhythm: Rhythm is a key design element in successful home design-- it is the path that your eye follows when you enter a room or look at a vignette.
Color: The colors and patterns you choose should be evenly distributed throughout a room. Avoid placing all your accent colors (and patterns) on one side of a room and neglecting the rest of the space.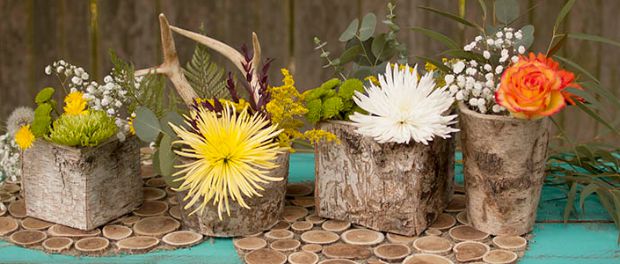 Linear vignette with outdoor elements
Pattern: Pattern is a decorative design or form that repeats itself. Patterns have a distinct effect on the look and feel of a room. For instance, light floral patterns will lend a room a fresh and open feeling, whereas, large heavy floral or busy patterns can make a room feel formal and stuffy
Texture: Vary the textures of objects to liven up your vignettes. For instance, shiny, satiny surfaces will illuminate a space.
Contrast: Combine various textures to create interesting contrasts in your vignettes, like; place a smooth surfaced vase next to a handwoven rough textured basket.
For home staging purposes, don't overdo it by creating vignettes all over your house, as the result may look too cluttered. Just enough to show the function of a room, to highlight a particular decorative detail in your home, or to create a focal point.
For more home design tips, go to home interior design rules.